You know that any conversation with Lee and Louise from Eat Sleep Cycle is going to be upbeat and engaging. They're the team who, with nothing more than a credit card (or 3), launched a dream business which came to define what great branding and customer experience looks like across a range of cycling related sectors: Travel and Tourism, Rental, Retail, and Hospitality. And they're not done yet.
Here Lee and Louise discuss the 'what', 'where', 'how', and 'why' of Eat Sleep Cycle.
It's easy to start by stating that we're going in the opposite way of a lot of other businesses in the cycling sector as a whole, because of course, we're not just talking about retail or cycling tourism. At Eat Sleep Cycle, we have 3 main business streams: cycling tour, cycling retail, and rental – bike rental, and equipment rental. It's the mix of those businesses, and that business model, which makes our business unique.
I remember, 5-6 years ago, so many people asking me why we bother with running different types of businesses? Why have that headache? During COVID, we've had investors tell us, 'Look, you just need to do one thing'. In reply, I say, "we're growing, and we're doing really well". Having more than one source of income, it diversifies the risk. What the pandemic said to me was, 'don't just focus on one thing'.
Doing these complimentary and overlapping things is working.
We do a lot of cross selling. So, what tends to happen is we have a tour group from the United States (we actually had 2 groups over the weekend. 6 in each group) and from these groups we see premium bike sales. High price point bikes sold with no discount.
The way we see it, we're making full margin sales – without discounting – because we're making these with customers who are really engaged in the Eat Sleep Cycle brand, through the experience they're having with us. We're either riding locally with them, they're on an Eat Sleep Cycle tour somewhere, or they're regularly in one of our cycling hubs. We believe it's that connection with the customer which has moved us away from discounting.
So, for us, we believe that a successful cycling business is almost the opposite of a transactional, price point based, retail business, be that online, purely bricks and mortar, or a hybrid model.
We think the future of bike shops is becoming more deeply ingrained within the local community, and local economy. A practical example: Engaging with people (cycling tourists) coming to cycle in your part of the world – being able to share those local connections and experiences with a far wider audience.
See yourself in the hospitality business, where experiences are the value, and service is the draw. Not solely and exclusively focused on shifting units (be they bikes or boxed products). Rather, facilitating and delivering memorable 'lived' experiences – which your customers will want to share with their cycling friends. All the things a holiday business does, including making sales which naturally complement and enhance the customer experience.
For Eat Sleep Cycle this sees us mix local customers with international tourists, all sharing the passion for cycling, no matter that everyone speaks a different language. Men, women, Spanish, Catalan – differing social, economic, religious, and ethnic backgrounds. Our customer base is extremely diverse. So is our team. As a business we've got about 10 different nationalities in our 40 staff. What brings everyone together is just this passion for cycling and in the end that sells.
Why do it differently?
Well, the cycling retail market has taken a significant dip. Since last autumn many brands have been overstocked. For many, one way to attempt to clear that overstock is heavy discounting online – dumping stock in a price point driven race to the bottom. Not great for retailers who have staff, rent on commercial property, and all the other bricks and mortar associated overheads.
Now what we've seen is that some brands realised really quickly that they needed to get much closer to customers if they were to sustain relationships and build on established brand loyalty. Here, we've seen that some of the smaller national and international brands have been much more effective, and, as a result, aren't suffering as much from discounting and margin decimation.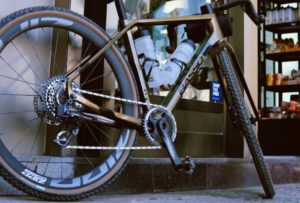 They're the kind of brands that we chose to work with when Eat Sleep Cycle started its journey. We've seen that these brands seemed to take more care so as not to overstock, and kept going through the shops, we've continued to build bonds and work with the smaller, specialist, brands. Basso is one that we work with, where it is still a family brand. They've grown but they've not gone over the top.
I actually think a lot of shops are moving away from big, mainstream, volume and aggressive growth-based, brands like Specialized. For a smaller purely retail business it doesn't make for a differentiated, sustainable, offering. You're left competing exclusively on price point. Not the best deal? Then the customer takes their money to the cheapest stockist. That's not a customer we want, or a brand model we would want to work with.
This way, we've been able to add major value, for customers, protecting the prices of those brands we work with.
More than just a box shifter!
We see 'trying before you buy' having a massive, positive, impact. It works.
Eat Sleep Cycle offer the only DT Swiss wheel test programme in the world, with about 20 sets of DT Swiss wheelsets, across road, mountain bike, and gravel. We take a small deposit which enables people to try as many wheels as they need. When they buy the wheels, we discount the deposit. Simple stuff, yet so effective. Our conversion rate for this is really strong. Where else do you get to try new wheels on your own bike, before you decide to spend money on them?
Of course, you've been able to get those wheels online for more than 20 years, but you can't try them, test riding them, and with wheelsets the box size means cost and damage in transit is a customer concern. Making a return is an even bigger concern. All things our customers avoid.
Another, recent, example; I was with a group on Sunday where we provided POC helmets. We've a partnership with POC which means customers demoing a POC helmet receive 10% off when they come into the shop. Again, a measurably successful testing programme.
And I think this is what brands are moving towards. So far we've got wheels, helmets, and bikes.
With bikes we're able to offer top of the range demo options, enabling customers to experience the dream before making it their own and buying a bike. Just as with wheels, we charge a fee for the demo, which we deduct on purchase of the bike.
With each of these examples it's also important to acknowledge that the discount offered via refunding the demo fee takes us a little closer to purely online discount focused businesses. It's not the same, but it's closer. So, it's kind of like a win, win, for Eat Sleep Cycle, and for our customers.
We're just getting started with shoes, and have Speedplay pedals – something not everyone's ridden, so an essential to experience in person. Our partnership with Wahoo means we have demo pedals, and GPS units. Here, we've also got Hammerhead GPS – they gave us units because they could see that with Eat Sleep Cycle customers having an amazing time in Spain, on a bike equipped with a Hammerhead unit, has a significant impact on customer purchasing decisions.
When you look at your demo programme, is that coming out of the marketing budget of these brands?
Yes.
5 years ago, when we asked brands for these same things, the answer was, 'no'. Now the Eat Sleep Cycle brand is well known. Enough that brands say 'yes'.  For example, Hammerhead have given us 10 units.
We now find that brands want to work with us, so they offer us terms and conditions that are commercially favourable.
What do brands see when they look at partnering with Eat Sleep Cycle?
Last year we had 60,000 tickets. That's 60,000 individual purchases. That's between the café, bike rental centre, and the shop. We're a really busy cycling hub. For this, we've started to see brands paying to work with us. As a deal, that includes cash, a display space, and the fixtures and fitting – they're paying to have their product displayed in a certain way.
Pause for a second and think about this.
Eat Sleep Cycle have created a brand, a business, which now has brands starting to pay to be in Eat Sleep Cycle. It's kind of like a renting fee. They still buy and sell in their tiered purchase and sell programme, but they actually give Eat Sleep Cycle extra money, which Lee and Louise confirm is coming out of their brand partners marketing budget.
The brands are using the marketing budget for digital, and for physical spaces like Eat Sleep Cycle or maybe VIA Atelier, in London. So VIA is another brand which has done exactly this. Brands are using marketing money to supply and fit furniture in the shop. It can be expensive, with €20,000 for furniture which the brand comes in and installs. That's very different from the bike shops of old, where the shop owner was investing all the money, and the business often didn't have merchandising expertise, which showed with the way product was presented, displayed, and maintained post installation. Today, the level of customer expectation is way higher. Brands won't settle for sub-par in-store experiences.
For Eat Sleep Cycle it has taken years to persuade brands to take this retailer partnership, brand activation, approach. It's taken a lot of grassroots work, and particularly with things like social rides and activation.
We host rides each week where anyone's invited; they're completely free. It's an investment of time and community engagement. We've also hosted with brands like MAAP, Assos, and Quoc. It's not uncommon for us to see 100 people come, plus you've got brand ambassadors joining the ride.
When you're running rides are retail staff leading these, or are staff who work on the holiday side of the business running the rides – just to understand where the budget sits there? Are you paying staff to ride?
Usually a member of the retail team guides the ride. Our social rides are really geared towards the local community, so they're essentially the people who we want to be bike shop customers, right? So it makes sense that that team, who are connecting with those people, will guide those rides and make those sales.
So at the moment a member of the team gets paid to ride their bike one morning a week. However, through the season, a lot of tourists join those rides as well. Here it's important to acknowledge that we also have a lot of volunteers that lead rides, and a lot of brand ambassadors, who we don't pay. Those who're unpaid ride leaders are often receiving kit from one of our partner brands.
That's one element of the model we work with these brands – you want us to sell your kit; we'll sell your kit, however, you'll have to come in and put a nice furniture in, and we want your ambassadors to run one or two rides per year. We do that with our main brands.
I'm certain that when you talk shop fixtures and fittings, having a business like Velodrom open in Girona doesn't do you any harm when asking for budget for shop fixtures and fittings – they can see the standards that are being set by the competition in the market.
Yeah, exactly. And honestly, Girona, we've been here since 2015; when we opened our first tiny little shop, there were only two other cycling businesses. Velodrom came from Barcelona, having seen what we, and others, were doing and they said, well, we need to open in Girona. Now Trek has just opened, and Castelli also.
Girona is becoming a bit more like Majorca, where the big players are coming in. Critically for us, we've carved an Eat Sleep Cycle shaped niche, one which brands demonstrate they see value in. A nice example of a brand investing in the space is PEdALED. We used to have PEdALED on a classic little rail, in the corner of the shop. Now we've opened a dedicated apparel store, which completed our whole hub set up. PEdALED invested in creating a brand space within our apparel store. Now they're our top seller. We've seen sales double.
The fact that PEdALED sponsors Team Armani has a tangible impact for the business as well. They launched Team Armani at the Eat Sleep Cycle Hub and hosted a social ride. We're kind of like an unofficial sponsor of that team, because they do training camps here. We accept a lot of deliveries for the team (kind of like a logistics hub) and, in turn, they'll host things at our hub. A win, win.
Over the Traka Gravel Race weekend, we saw a large number of South Africans customers drawn to PEdALED and the Team Amani kit. Those sales happen because of that relationship. Here you can see that thinking like a social entrepreneur, more than a businessperson – do the right thing – means the sales will also come. What I mean by that is doing the right thing might be doing things for free.
You might be doing favours to professional racing teams or professional riders because it's the right thing to do to help out a fellow cyclist, and it always comes back around with a benefit to the business. For example, we lent a bike to a young pro rider to compete in a gravel race. He went on to win it and gave us a nice shout out on his social media to say thanks. So there's a lot of that that we do, but it always comes back around. So you have to think like that. Here, in Girona, we've played a big part in creating a unique environment.
Listening to this, what Lee and Louise have described is less the traditional, purely transaction focused, retail based, business, and more a modern, customer experiences focused, hospitality business, where products are sold to enhance and elevate the customer experience. 
Practical examples
This happens with the best holiday experiences, where airlines and hotels look to deliver 'wow' for customers keen to make the most of their stay, whether relaxing on down time, or exploring and discovering.
It's also very much like the best content marketing, where the quality of the content is the hero -stunning images, engaging stories – and the product is presented as one part of the story. (The note I scribbled as we talk – 'facilitating experiences'; 2 words that really capture what Eat Sleep Cycle is about)
A call to action
Can any bike shop do this?
Possibly.
Is the business model Lee and Louise describe one that can be used as a template?
Definitely.
As a passion-based cycling business, facilitating experiences must evolve, moving beyond selling product as the only focal point. Selling experiences – building deep customer connections – isn't achieved by simply selling a bike.
Take the auto industry model, where prestige and performance brands offer customers membership to a club, where exclusive experiences are an integral part of the ownership. It definitely doesn't stop as the sale is closed, when cash is exchanged for the product. And after sales service isn't building uniquely valuable relationships. Every bike shop does it. Whilst servicing is essential, it doesn't differentiate your business (unless you have a MTB World Cup / WorldTour level mechanic).
Eat Sleep Cycle have created a community hub, a multi-facetted business which facilitates cycling experiences for a wide variety of customers, across a host of touch points. Critically, this delivers a variety of income sources for the business.
What does success look like for the bike shop of 2023 and beyond? You could do a lot worse than looking at a thriving business for inspiration.