Depending on where you live in the country, you probably can't go a single day without seeing someone on an adventure bike. They are one of the fastest-growing classes of motorcycles in recent years, and for a few good reasons. They are fast. They are powerful. They are comfortable. They are rugged. Lastly, they are ambidextrous when it comes to riding both on concrete and through the dirt. For an adventure bike, literally the entire planet is a road. Even though they first hit the market in 1980 when BMW released the R80 GS, it wasn't until the early 2000s when adventure bikes started to see mainstream popularity. Riding technology has managed to drastically evolve at the start of the 21st century, and these bikes really began to pick up steam with more curious riders in the 2010s. Whether it be due to the use of the internet, social media, or genuine curiosity, more and more riders began to get infatuated with the motorcycle that can ride in all the places that most models can't. It was a newfound territory for riders looking to get the burst of adrenaline elsewhere besides the highway, city streets, and curvy back roads. They had the natural world ready to be explored. So let's take a closer look at popular adventure bikes that really stood out during this pivotal decade.
Related: Best Used Adventure Motorcycles
1
2016 BMW G 310 GS
For a lot of people, the 2010s was their first rodeo in terms of riding an adventure bike. Chances are they previously rode dirt bikes, cruisers, and/or sport bikes, and were in the market for something new and exciting. That is where the BMW G 310 GS comes in. BMW, for the most part, had managed to carve a significant slice of the adventure bike pie for itself before more motorcycle brands like Harley-Davidson hopped on the bandwagon. But for those looking to enter the adventure bike world without biting off more than they could chew would hop on the BMW G 310 GS. This was the go-to for entry-level adventure bikes because it fared well both on the road and some light off-roading. Its reputation as a reliable adventure bike made it very popular among beginners, and helped them hone their skills before leveling up to something a little more hungry for the great outdoors.
Specs
| | |
| --- | --- |
| Engine Size | 313 cc Rearward-canted single-cylinder 4-stroke engine |
| Engine Output | 34 horsepower and 21 lb-ft of torque |
| Transmission | 6-speed |
| Mileage | 69.2 MPG |
2
2018 Triumph Tiger 1200 XCA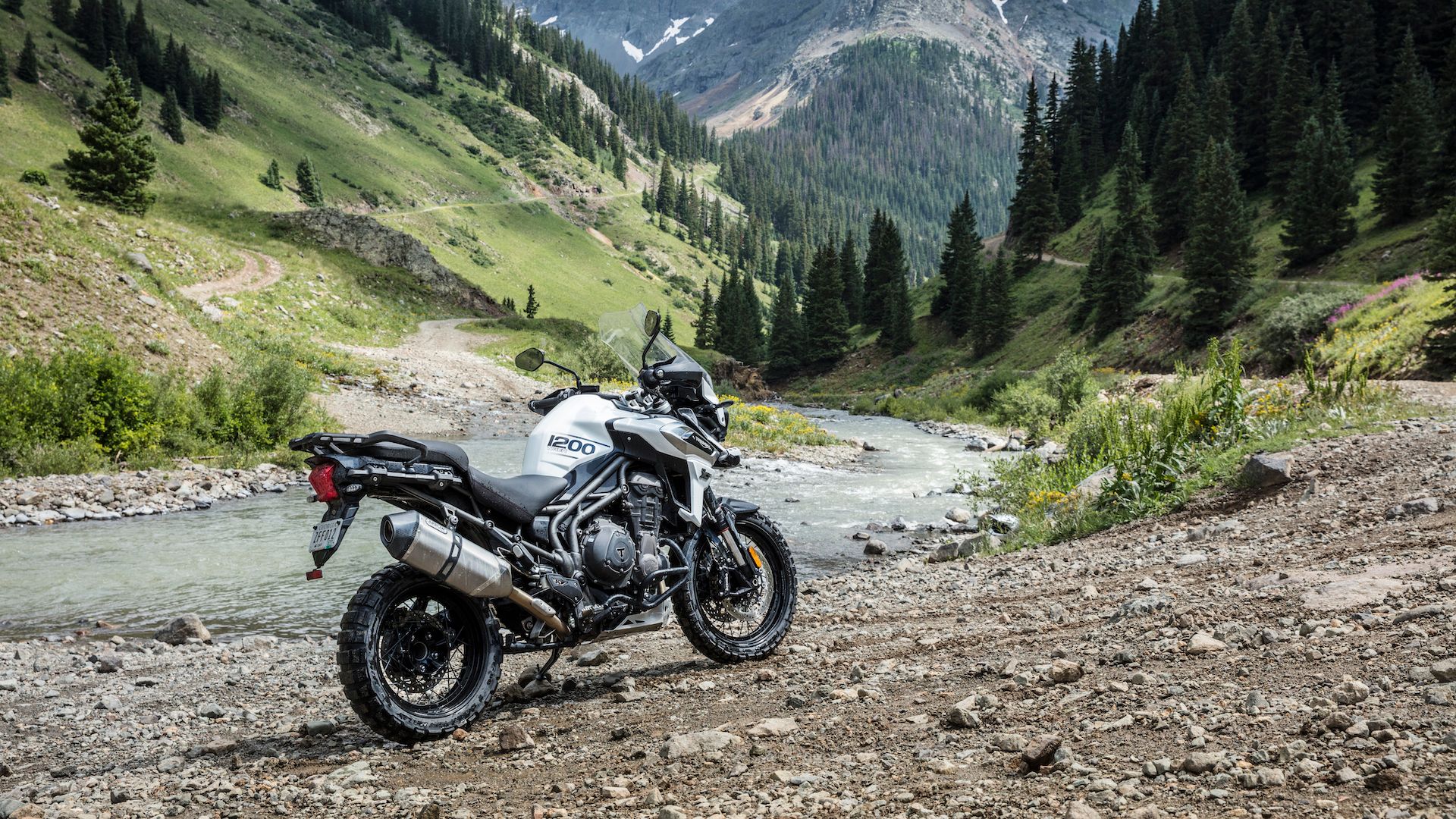 When you think of a tiger, you think of a mighty, ferocious beast capable of great strength that can dominate anything in front of it in almost any kind of environment. The same can be said about the appropriately-named 2018 Triumph Tiger 1200 XCA. This was an adventure bike destined with limitless possibilities. It can conquer mountains, rip through sand dunes, splatter its way through mud, and tear through dirt trails. But then it can also make short work out of the traffic on I-95 South too! You can credit this bike's WP semi-active suspension system, as well as its healthy assortment of electronics like its IMU (Inertial Measurement Unit), ABS, traction control, and engine mapping. In other words, whether you're riding through the concrete jungle, or the actual jungle, the Triumph Tiger 1200 XCA will remain fearless. It is just a little more matured than its predecessors.
Specs
| | |
| --- | --- |
| Engine | 1215cc liquid-cooled, 12 valve, DOHC, in-line 3-cylinder engine |
| Engine Output | 131 horsepower and 90 lb-ft of torque |
| Transmission | 6-speed |
| Mileage | 41 MPG |
3
2017 BMW F750 GS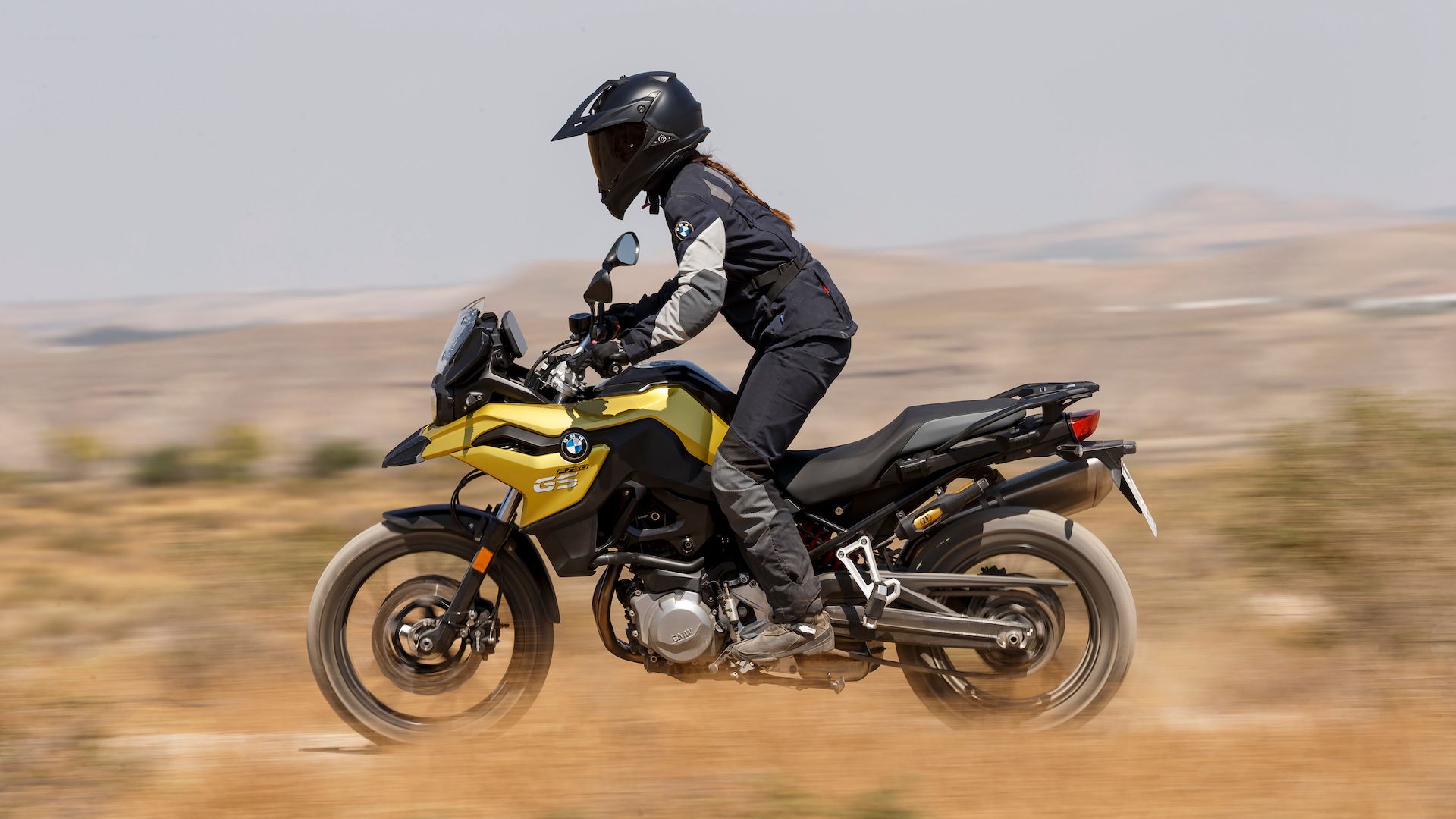 For riders looking to get a little more thrill out of their ride than the BMW G 310 GS, the next model on the list is the very versatile BMW F750 GS. Able to serve as a commuter bike in the city, and a durable trail-carver on the weekends, this bike excels in all the right places. The F750 GS really shines in its maneuverability, allowing its rider very generous amounts of control to boost their confidence when tackling tight curves and winding back roads. The same can be said for its touring capabilities as well. With enough room for two, as well as some additional storage options, and a very impressive fuel economy, the F750 GS definitely packs more "adventure" into an adventure bike. Though one of the minor drawbacks is its lack of wind protection, so hopefully you won't have to stay on the highway for too long.
Specs
| | |
| --- | --- |
| Engine | 853cc 4-stroke parallel twin engine |
| Engine Output | 77 horsepower and 61.2 lb-ft of torque |
| Transmission | 6-speed |
| Mileage | 57.37 MPG |
Related: 2018 – 2020 BMW F 750 GS / F 850 GS
4
2018 BMW F850 GS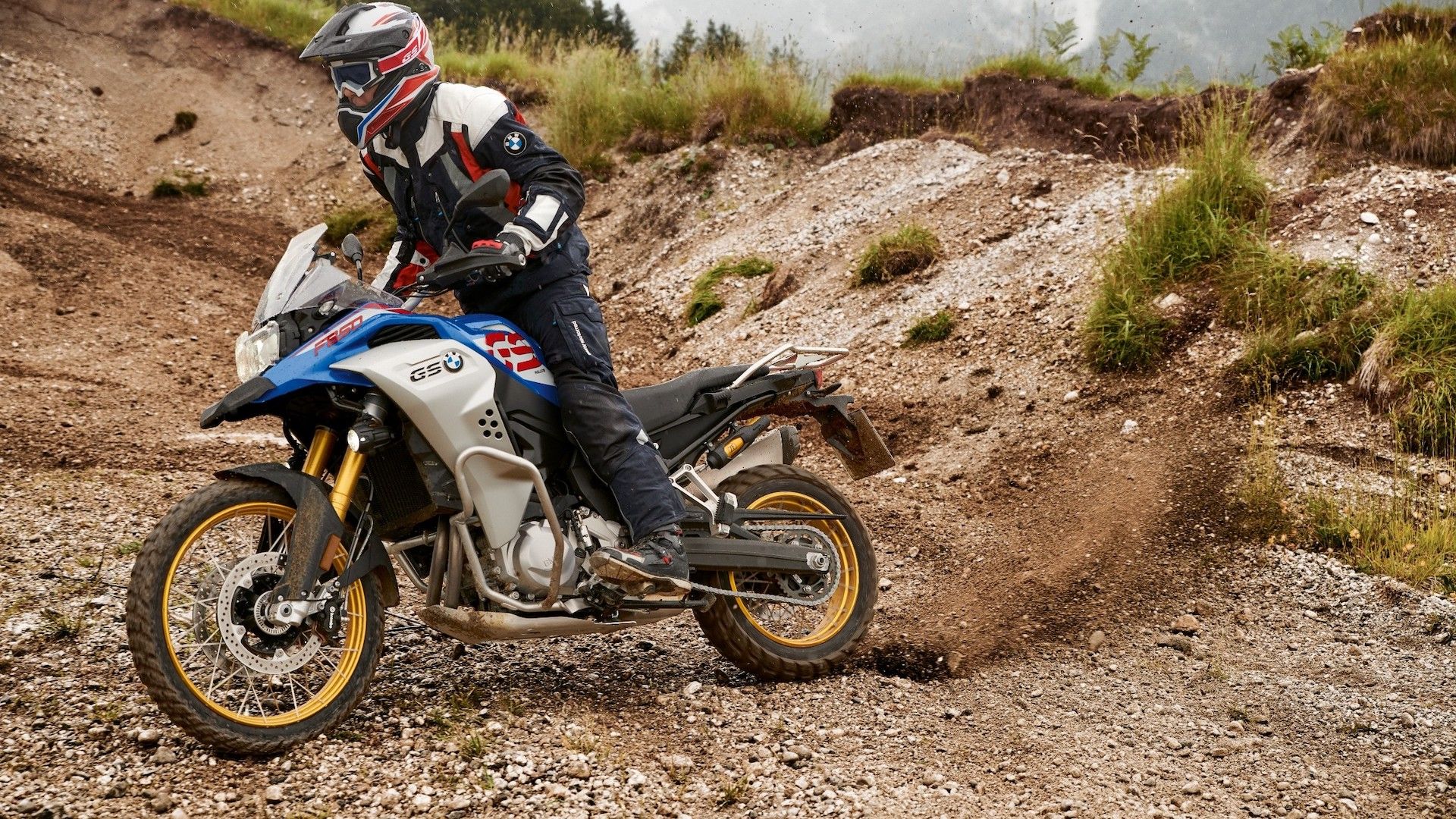 If you know the story of Goldilocks and the Three Bears, then the BMW F850 GS is the adventure bike equivalent to porridge. Some adventure bikes don't have enough power. Then there are some adventure bikes that have too much power. But it's the BMW F850 GS that is juuussstt riiiighhht. While its predecessor, the F800 GS was slightly less-powerful than the updated version, the F850 GS provided intermediate and casual riders the additional boost of power and performance they would require both on the streets and through the trails. It also featured an attractive list of electronics like its electronic suspension system, heated grips, LED headlights, and a 6.5″ infotainment system that doubles as its instrument panel. This bike has proven itself to be a very versatile, capable, and reliable adventure bike that has been able to keep its riders very happy for miles on end. Plus, it is fun being able to switch with ease between a comfortable seated riding position and an upright standing riding position.
Specs
| | |
| --- | --- |
| Engine | 853cc water-cooled 4-stroke inline twin-cylinder engine |
| Engine Output | 94 horsepower and 68 lb-ft of torque |
| Transmission | 6-speed |
| Mileage | 69 MPG |
5
2017 BMW R 1200 GS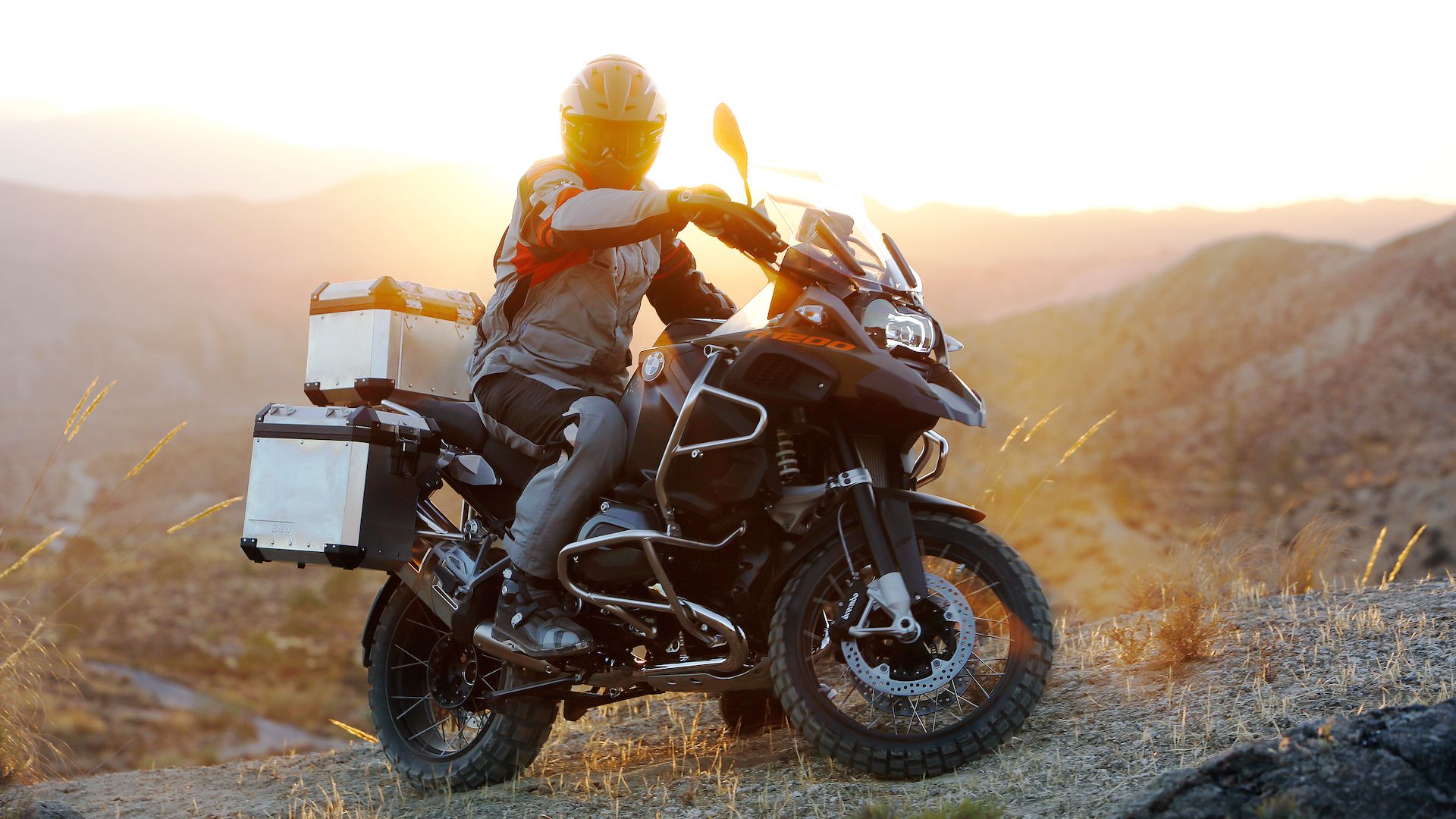 Now that we've seen a glimpse of what the other BMW adventure bikes, it's time to break out the big dog. The BMW R 1200 GS was one of the top-shelf adventure motorcycles of the 2010s. Packed with more power than its siblings, this bike makes easy work out of every kind of terrain it rides on. On top of having a bigger engine, the R 1200 GS comes with hand-guards, pannier fastenings, multiple ride modes, cruise control, dynamic traction control, ABS, heated grips, and a lot more goodies. Because this is designed to be one of the best adventure bikes on the market for the 2010s, it is meant for the kind of rider who is more than just a hobbyist who takes it out only a few weekends and then keeps it in storage for the rest of the year. This is a bike that is meant to be ridden by those with a strong desire for fun and excitement. Sure, you can use it as a regular A-to-B cruiser, but there is a whole lot more it is capable of.
Specs
| | |
| --- | --- |
| Engine | 1200cc 4-stroke 2-cylinder Flat-Twin engine |
| Engine Output | 125 horsepower and 92.2 lb-ft of torque |
| Transmission | 6-speed |
| Mileage | 44 MPG |
6
2010 Yamaha XT660Z Ténéré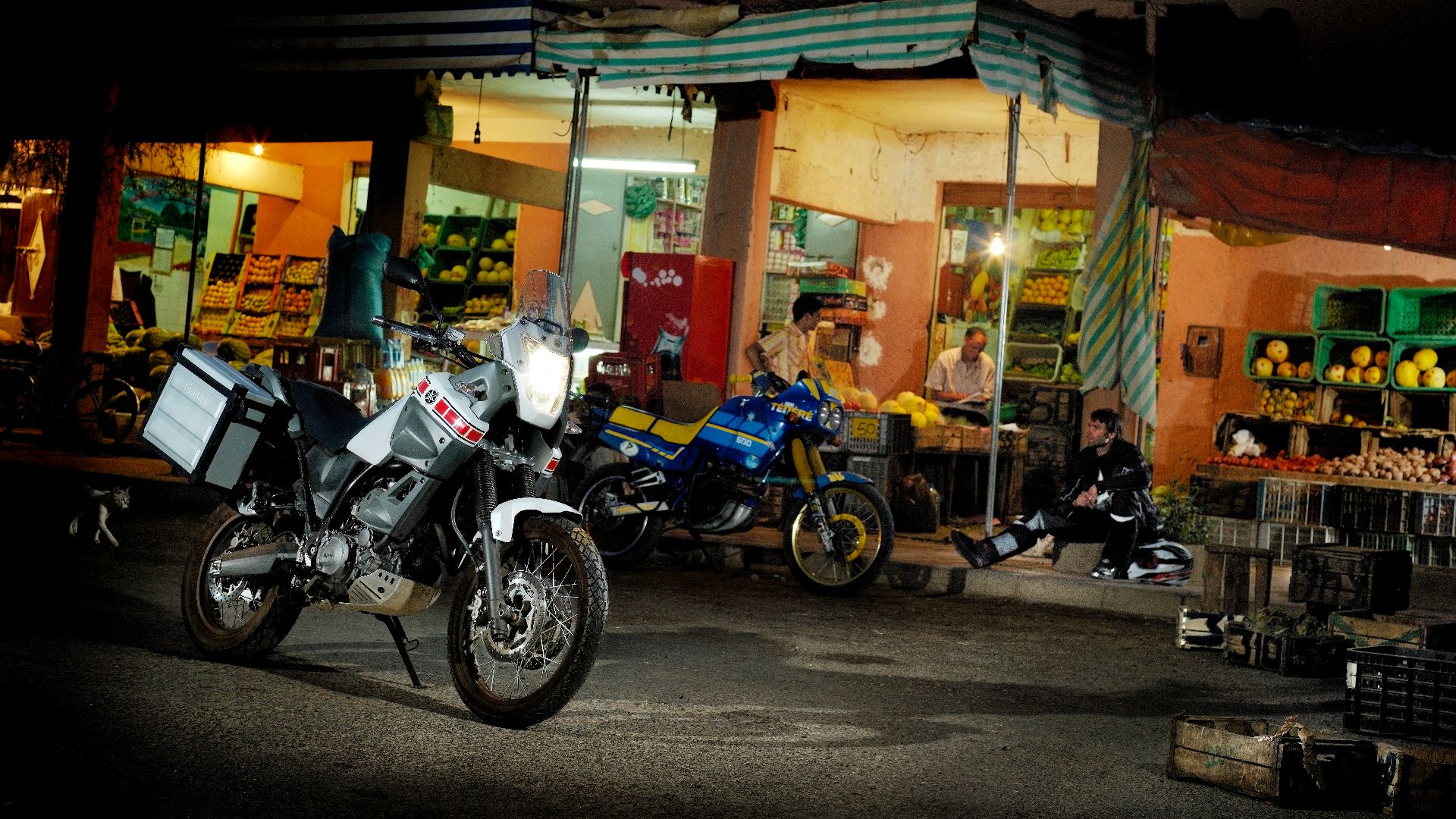 You didn't think that BMW was the only motorcycle brand in town with its own line of adventure bikes, huh? Not to allow the German automaker hog all the market space, Yamaha's XT600Z Ténéré was an example of an alternative take to handling rugged terrains and city streets with ease. But these bikes were not just some ordinary adventure bike built for the sake of competition in sales. It was actually named after a section of the most difficult motorcycle race in the world, the Dakar Rally. If this bike is capable of tearing through the unforgiving sands of Saudi Arabia, imagine how it will handle the local off-roading trails in the suburbs. The XT600Z Ténéré already had a high reputation for being one of the toughest bikes of the 2010s. So it only made sense that this bike expanded upon it by being seen as one of the best globe-trotting adventure bikes period.
Specs
| | |
| --- | --- |
| Engine | 659cc liquid-cooled, 4-valve, SOHC, single cylinder engine |
| Engine Output | 48 horsepower and 42 lb-ft of torque |
| Transmission | 5-speed |
| Mileage | 55 MPG |
7
2019 Honda CB500X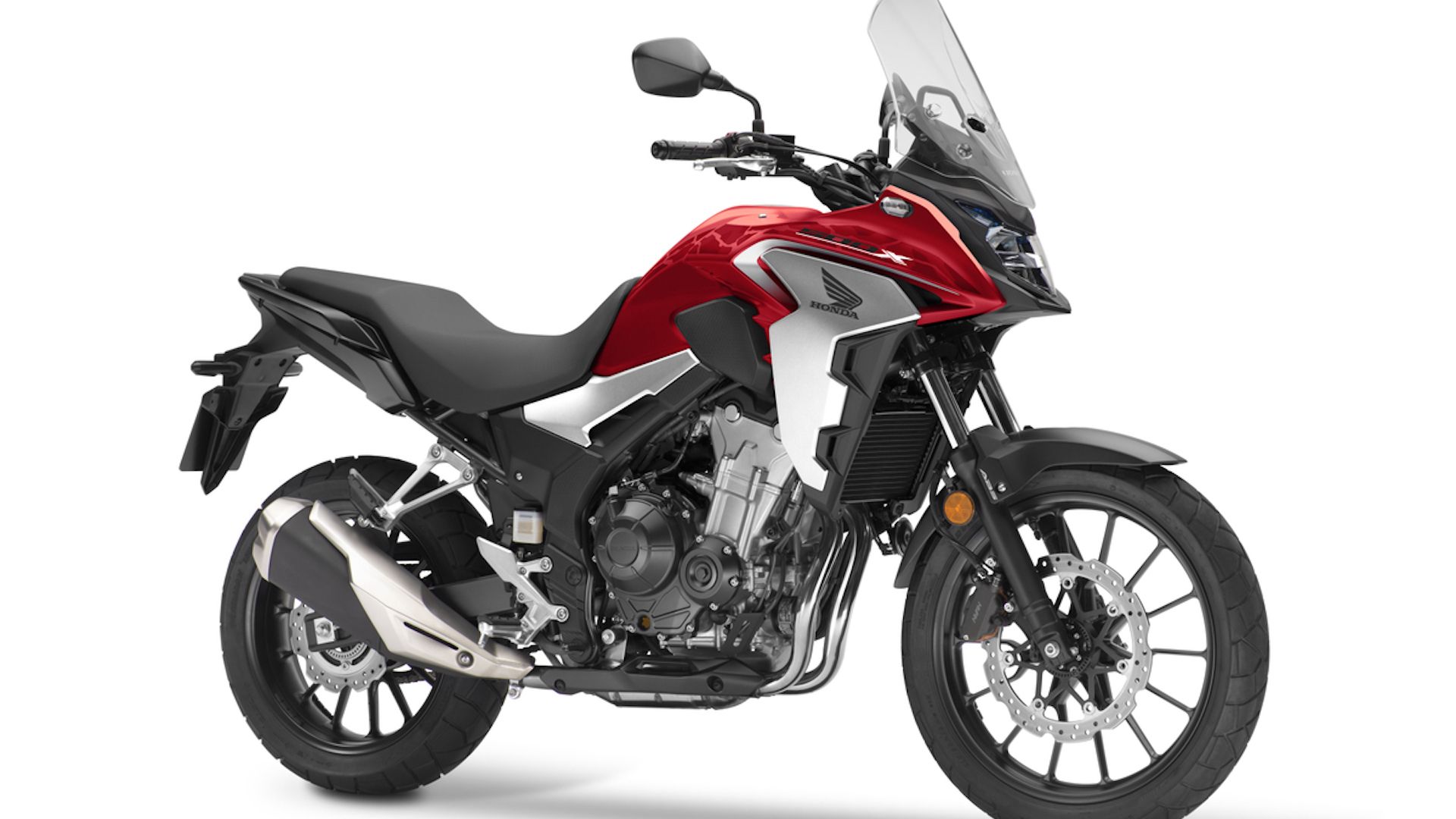 If we are going to talk about adventure bikes, you can best bet that Honda is going to appear on this list. Honda's CB500X first appeared in 2013 as interest in adventure bikes was really starting to swell. At first, it shared its platform with the CB500F and CBR500R. It was approachable, not intimidating, and set itself up to be another viable entry-level model into the adventure bike world. Of course, Honda didn't want the CB500X to be seen as an "adventure-inspired" bike that only appeared as an off-roader. The company wanted the riders of this market to take this bike seriously. Thankfully, many riders began doing some DIY modifications to this bike to really test its riding capabilities, which led to great success. Over time, Rally Raid, a British firm had developed a special upgrade kit that turned the CB500X into a more adventure-focused motorcycle, than how it came from the factory.
Specs
| | |
| --- | --- |
| Engine | 471cc liquid-cooled 20º parallel twin |
| Engine Output | 49.6 horsepower and 31.7 lb-ft of torque |
| Transmission | 6-speed |
| Mileage | 78 MPG |
Related: 10 Things We Like About The Honda CB500X
8
2019 Ducati Multistrada 1100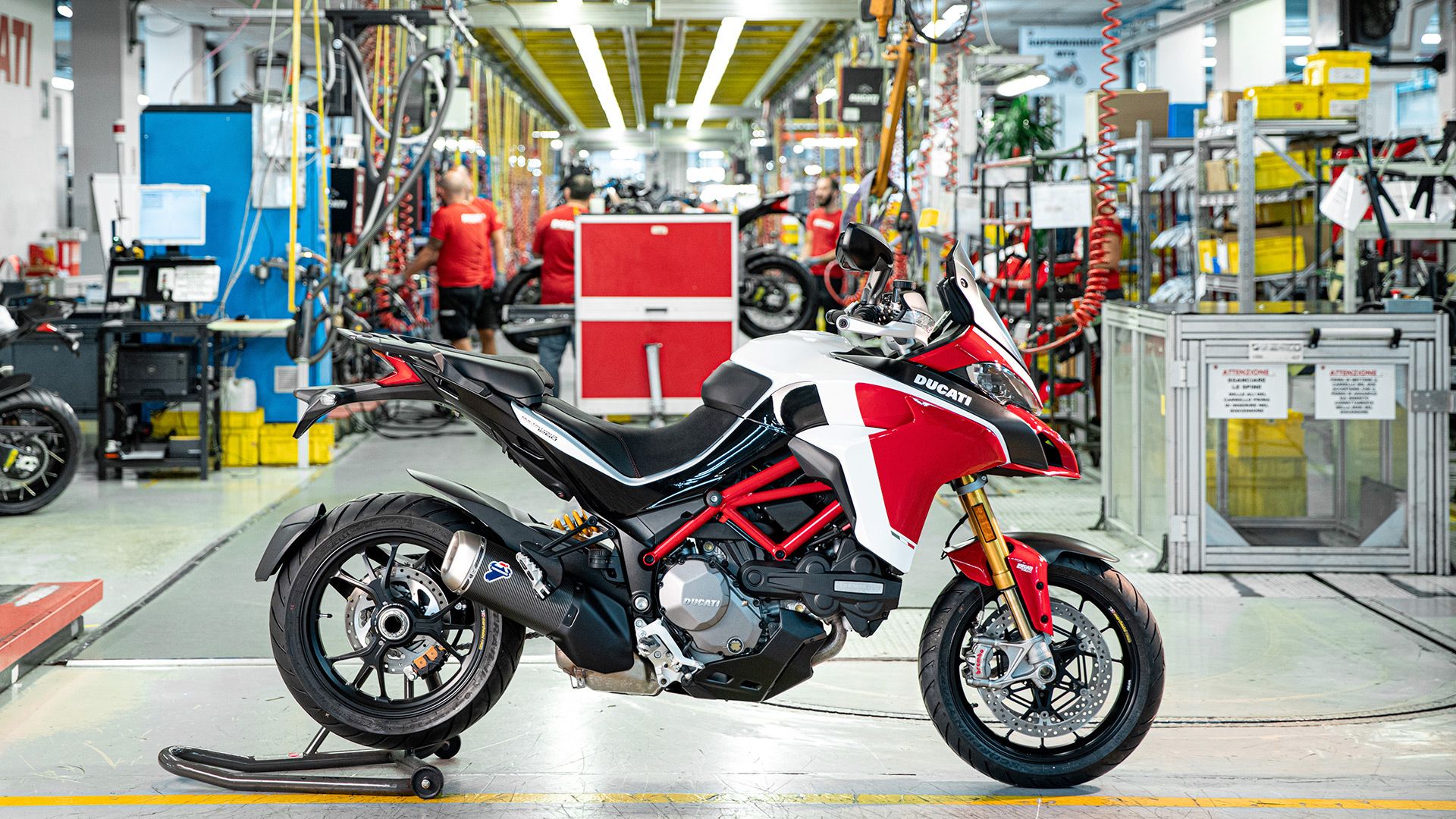 If there was a motorcycle brand that was synonymous with the words "power" and "performance", you can best believe it would be a Ducati. And considering the surge in growth for interest in the ADV market, it was only natural that the Italian motorcycle brand claim a slice of the pie for itself. And what better way to get the competition shaking in its boots than with the Ducati Multistrada 1100. While most of its siblings are strictly sport bikes, the Multistrada was like the red-headed step-child of the bunch. It was the black sheep, and it took pride being that. With the later models amping up its technical features like four ride modes (Sport, Touring, Urban, and Enduro), ABS, and traction control, the real special sauce flowing through this bike was by allowing customers to bring more of their own personal taste via customization.
Specs
| | |
| --- | --- |
| Engine | 1079cc air & oil-cooled, 4-stroke engine |
| Engine Output | 95 horsepower and 65 lb-ft of torque |
| Transmission | 6-speed |
| Mileage | 45 MPG |
9
2018 Honda CRF1000L Africa Twin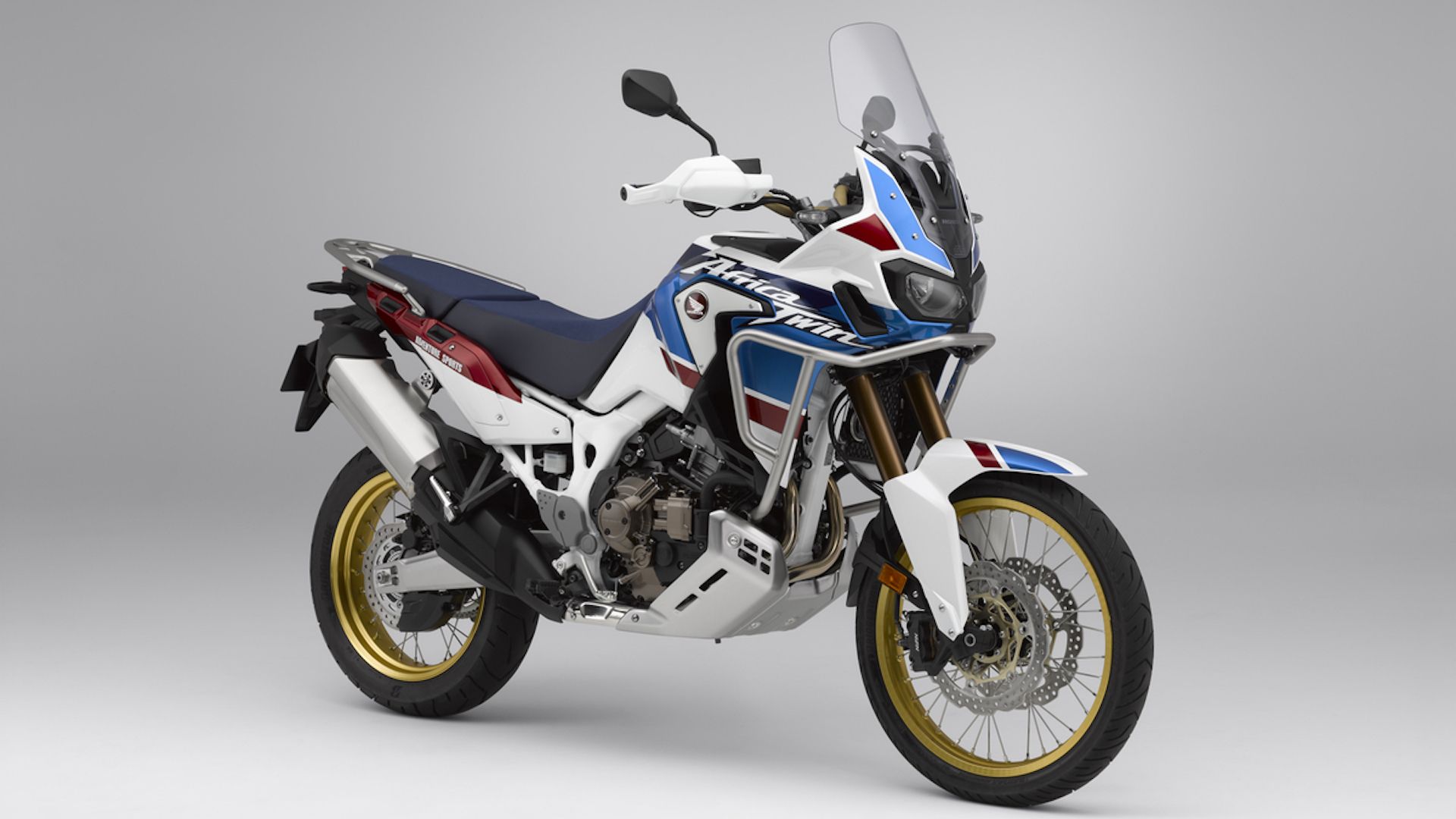 While we are still discussing Honda, let's get to the real meat and potatoes of the brand's ADV line, the CRF1000L Africa Twin. The 2018 model was a reboot of the previous Africa Twin, which saw worldwide success in its 2016 debut. In the updated version, this Africa Twin featured a larger airbox with longer intake, a new exhaust system with a more satisfying sound and midrange, lighter balancer-shaft weights to smooth out the rumble of the engine, and a lithium-ion battery that reduces its overall weight by 5.1 lbs. It also came with a new throttle-by-wire system, four selectable ride modes (Tour, Urban, Gravel, and a customizable User mode), wider foot pegs, a redesigned instrument panel, and more. Overall, the updated Africa Twin put more of the bike's performance and control into the rider's hands, allowing them to personalize its ride settings how they saw it best.
Specs
| | |
| --- | --- |
| Engine | 998cc liquid-cooled Unicam four-stroke 22.5º parallel-twin |
| Engine Output | 93.8 horsepower and 72.2 lb-ft of torque |
| Transmission | 6-speed |
| Mileage | 45 MPG |
10
2012 KTM 990 Adventure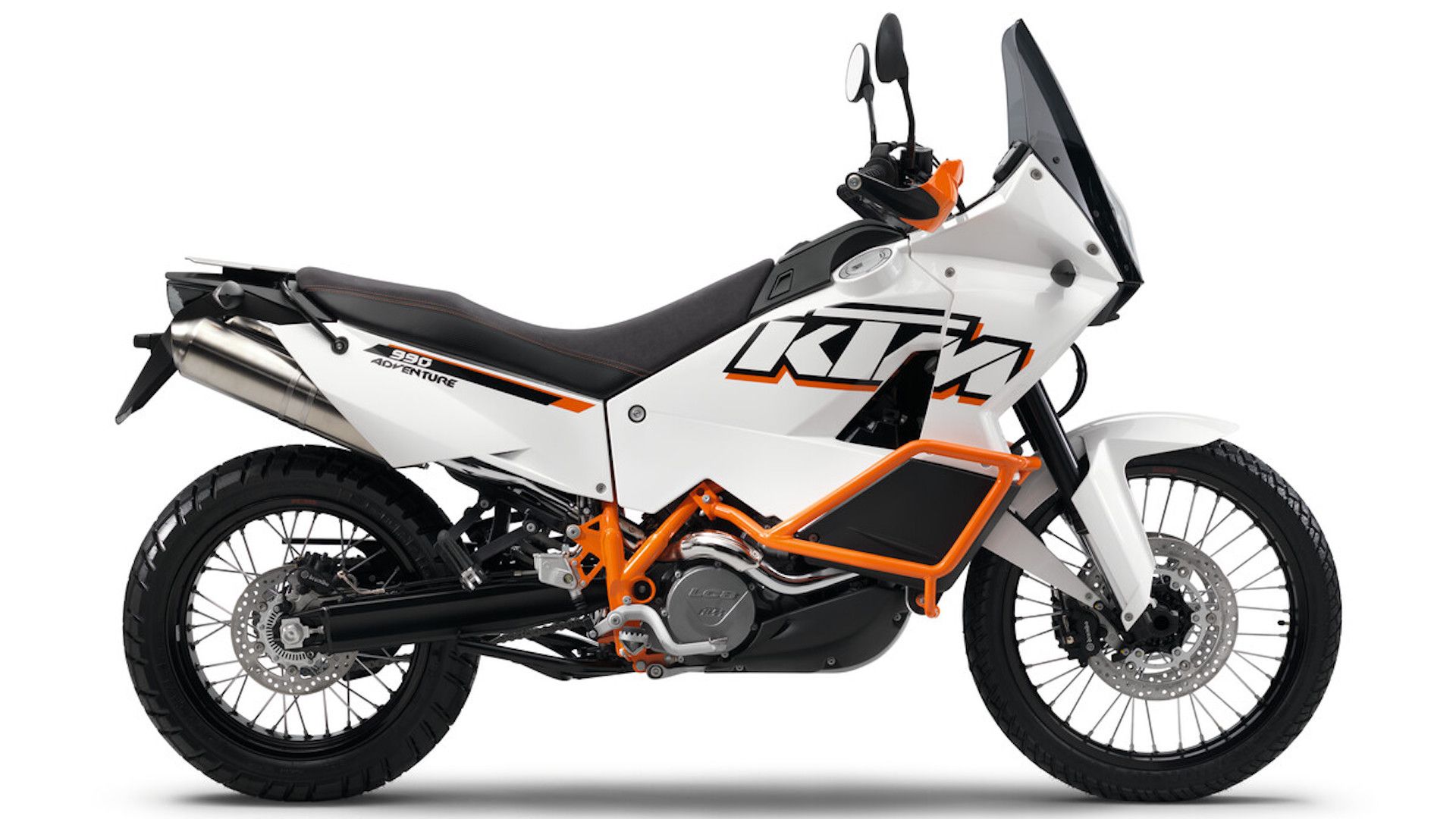 Out of all the motorcycle brands built for the dirt, it is KTM that reigns supreme. While many of its dirt bikes are built strictly for the track, KTM began to expand its horizons with its ADV line with bikes able to handle both on-road and off-road terrains easily. That is where the KTM 990 Adventure comes in. With dirt tracks baked into its DNA, this motorcycle is another perfect example of bridging dirt bike riders into the street-bike world, but also allowing them to move back-and-forth between them. Built tough for rides through the desert, and comfortable enough for rides across the highway, the KTM 990 Adventure brought a different kind of attitude to the ADV world. Because usually it is street bike riders using adventure bikes to develop their off-roading skills. With the KTM 990 Adventure, it was the opposite.
Specs
| | |
| --- | --- |
| Engine | 2-cylinder, 4-stroke, V 75° engine |
| Engine Output | 115 horsepower and 73.8 lb-ft of torque |
| Transmission | 6-speed |
| Mileage | 37.1 MPG |