MILWAUKEE – The Riverwest 24 kicked off Friday night, and it could be a rough weather night to be on a bicycle.
Cyclists battled mugginess in the early stages of the 24-hour bike race – no rain or drizzles – but spirits were high.
"We live in Riverwest, and we have for the past seven years," said cyclist Kira Nehmer. "This is like our neighborhood celebration."
SIGN UP TODAY: Get daily headlines, breaking news emails from FOX6 News
It's a celebration that puts your muscles to work.
"I'm sweating," said cyclist Michael Timm. "I came from Bay View to get here, and I feel like I've been in a swimming pool."
Riverwest 24 bike race on July 28, 2023
Timm and hundreds of other riders are spending the next 24 hours cycling up, down and all around Riverwest – just for the heck of it.
"(It's) like Disneyland lands in Riverwest for 24 hours," he said. "I just love it."
Timm said the excitement will keep him moving. Others cyclists mentioned the need for some liquid fuel.
FREE DOWNLOAD: Get breaking news alerts in the FOX6 News app for iOS or Android.
"Water and coffee," Tej Irrinki said.
"I'm going to stay hydrated with water and alcohol," said Tyler Duchateau.
The day-long journey isn't just for adults; 9-year-old Sophie Burns is going all-in to the adventure with her parents and younger sister, Cora.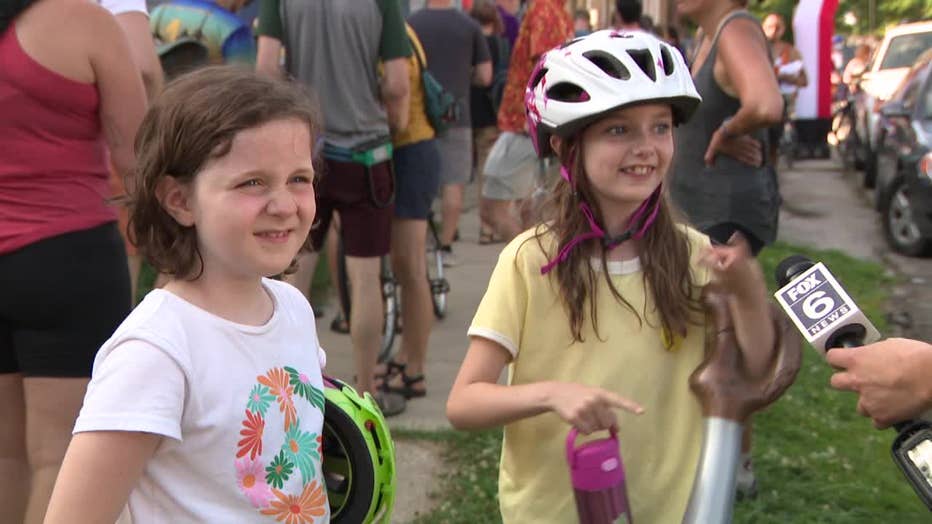 Sisters Cora and Sophie Burns excited for Riverwest 24
"It's biking, it's like Riverwest pride, it's like the community," Sophie said. "You can just dress up and do silly things, even if you're an adult. Also, we are planning to whack that guy with these swords."
And don't be surprised if the sisters are the first to the finish line.
"The end of the Riverwest 24, because at the end, last time we went there was a big party with popsicles and fun music," said 7-year-old Cora.
There are teams riding until 7 p.m. Saturday night. If severe storms come, organizers will advise cyclists to take shelter – otherwise, they'll ride rain or shine.