SAVANNAH, Ga. (AP) — Prosecutors want the rapper Quando Rondo sent back to jail after he crashed a car while free on bond pending trial on gang and drug charges.
The 24-year-old rapper, whose given name Tyquian Terrel Bowman, was indicted last month in his hometown of Savannah. He was released from jail June 26 on a $100,000 bond. Now prosecutors are asking a Chatham County Superior Court judge to revoke his bond.
Their court filing says Bowman crashed a car while driving at high speed Wednesday, and that emergency responders "administered Narcan as he was exhibiting signs of an overdose."
An accused hitman who federal authorities say was a top lieutenant for a Mexican drug cartel pleaded guilty in Fargo, North Dakota, on Thursday to federal charges.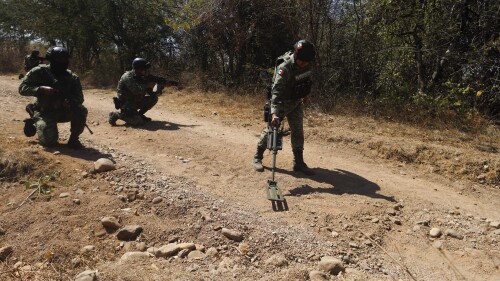 A drug cartel set a coordinated series of roadway bomb blasts in western Mexico that killed four police officers and two civilians.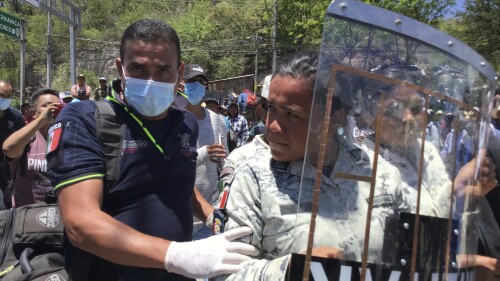 Mexican security officials have acknowledged that a large demonstration that blocked the main highway to the resort of Acapulco and abducted officials was organized by a drug gangs.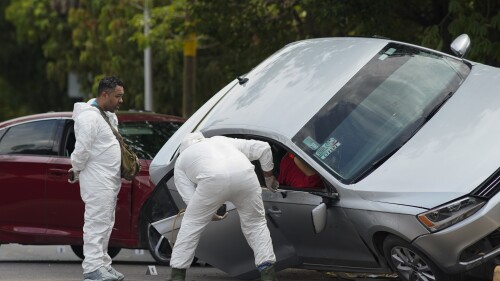 The drug cartel violence that citizen self-defense leader Hipolito Mora gave his life fighting against has flared anew just one day after he was buried.
Narcan is a drug used to treat opioid overdoses. Bowman was ordered to refrain from using illegal drugs as a condition of his bond, according to court records.
Bowman's attorney, Jonah Pine, did not immediately return a phone message seeking comment Friday.
Bowman and 18 others were indicted last month by a Chatham County grand jury. Bowman was charged with four counts, including being a manager of an illegal street gang known as "Rollin' 60's." His other charges include conspiring with others to distribute marijuana and to buy pills of the opioid hydrocodone.
Prosecutors said additional charges stemming from the car crash are pending.
As Quando Rondo, the rapper's singles "I Remember" and "ABG" led to a deal with Atlantic Records, which released his debut album, "QPac," in 2020. His follow-up album, "Recovery," came out in March.