When Mike Knapp sets out to bike across Iowa along with thousands of others, he does so decked out in neon pink. He tosses out neon-pink beads and neon-pink stickers from underneath his neon-pink feather boa, and so does his team of 26 others. They're collectively called the Pink Flamingos, and they've been riding RAGBRAI since 1983.
That's an acronym for Register's Annual Great Bicycle Ride Across Iowa, the world's oldest, largest, and longest recreational bicycle touring event—and 2023 marks the ride's 50th anniversary. It's Knapp's 40th time participating, and when I ask him to describe the event, he knows how to sell it: "It's like Mardi Gras. On wheels."
At least, that's what it is for the Pink Flamingos (and Team Caboose, Team Rawhide, Team Skunk, and dozens more), as well as the many casual day riders and visitors who want an activity while seeing what Iowa is all about. They'll pass through towns that shower them with beer or popsicles and put on festival-like music concerts while they rest up, before doing it all again the next day.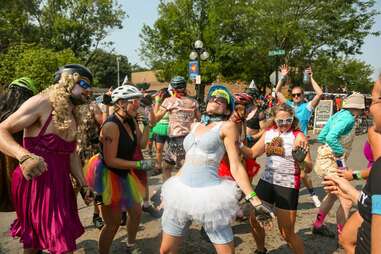 For others, RAGBRAI is about the challenge of a roughly 500-mile ride across the state in eight days. "The serious bikers, the greyhounds, are way out ahead of everybody," says Knapp, president of the Cedar Valley Bicycle Collective. 'They're measuring their heart rate, eating protein powder, riding to improve their time. It's a race within themselves." Even Lance Armstrong has shown up six times.
But for most—we're talking some 30,000 cyclists—RAGBRAI is a ride, it's an adventure, and it's about two things: Iowa camaraderie and a damn good time.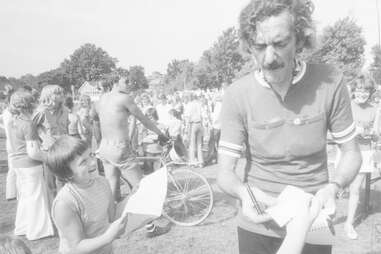 RAGBRAI began in 1973, when two Des Moines Register writers, John Karras and Don Kaul, set out to ride across the state, from the Missouri River to the Mississippi. Readers were invited to join with a six-week notice, and some 300 showed up in Sioux City, on the Nebraska border—114 made it to the Davenport finish line. Hundreds more were upset they couldn't make it, writing to beg Karras and Kaul to make it happen again next year.
And RAGBRAI was born.
By year two, 2,700 riders showed up in Council Bluffs, helmets at the ready; a decade later, there would be 7,500; by the late '90s, 13,000. There's now an 8,500-person cap on weeklong-riders, but day-rides are anybody's game, with numbers usually hovering around 20,000 (2019 saw 40,000 day-riders near Winterset). While many are Iowans—roughly 40%—most actually aren't. Participants span the globe, from Illinois to Arizona, from England to the Czech Republic, from Mike Knapp to Matthew McConaughey.
Organizing a ride on this level is no ordinary feat, says Jason Taylor, Head of USA TODAY Networks Ventures, Gannett, which operates the event. But after nearly 50 years, it's down to a science: The seven-person, full-time staff coordinates over 10,000 community volunteers, working with local governments, small businesses, and community organizations. "As soon as one ride is over," says Taylor, "planning for the next begins."
"There's first breakfast, second breakfast, lunch, post-lunch…"
To shake things up—and spread the economic windfall—the team selects a different statewide route each year. Pass-through towns are designated roughly every 10–12 miles, with overnight towns every 60–80 miles; a "century loop," or 100-mile ride, is offered every year, too. Even tiny pass-through towns set up with food vendors, lemonade stands, beer pens, the works. "You'll gain five pounds," says Knapp. "There's first breakfast, second breakfast, lunch, post-lunch—all you're doing is consuming food to keep up."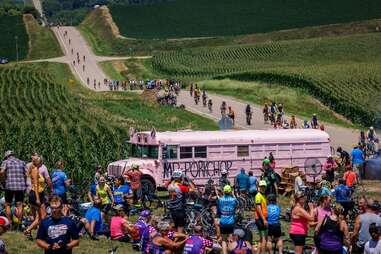 Flat as a… roller coaster?
Yes, you'll have to keep up, because no, Iowa isn't completely flat. "It's something I wished more first-time riders realized," says Anne Lawrie, cycling director at Ventures Endurance. Though the center of the state is gentle, the western edges mean the roller-coastering Loess Hills and the eastern region means the towering bluffs of the Mississippi. This year, there are several legs that clock above 3,000 feet of climb.
"There are enough hills that you wish they weren't there!" laughs Knapp.
While that general topography is pretty much guaranteed regardless of route, there is one thing that can't be accounted for—weather. You could get eight days of rain, eight days of sweltering 95º temps, or eight days of low humidity and 70º bliss. (More than likely, you'll get all three.)
"It's like a traveling circus."
The cultural experience varies, too. The northern part of the state is more populated than the southern, notes Gina Hanippone, two-time rider and past Waterloo organizer. "More population means more roadside stands, more adults tossing out beers, more kids handing out popsicles or offering refreshing cold water from their squirt guns." Churches, 4H groups, Rotary clubs—everyone shows up to get in on the action.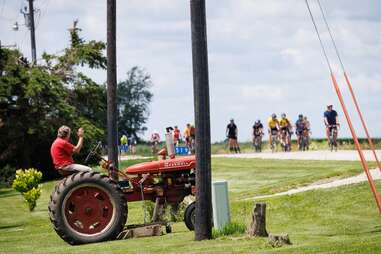 Less population means longer stretches of farmland, though farmers are known to show their support with drinks and snacks at roadside stands. Though that's not always a rule—Knapp remembers riding on a Sunday in northwestern Iowa, where the locals were shaking their fingers at riders for violating the Sabbath. When a gas station popped up along the route, Knapp recalls how the cyclists were so hungry, they chowed down while waiting in line; by the time they got to the cash register, the only thing left to pay for were thousands of empty wrappers. "There was no food left in the Casey's that morning," he says.
That's an outlier, of course—most of the time, you're riding one giant parade. Overnight towns go even more all-out than pass-through towns, with this year bringing in performances by the Spin Doctors, Bush, and Lynyrd Skynyrd. Thousands will flock to campgrounds and public spaces like county fairgrounds to overnight, with vendors, beer tents, games, and entertainment galore. "It's like a traveling circus," adds Hanippone. "One that moseys across the state the last week of every July."
Dress up with a group or be one of the larger whole
Many riders, like the Pink Flamingos, tackle RAGBRAI in teams. Support drivers haul all their gear from town to town, can help with breakdowns (both physical and mental), and set up tents before the riders arrive. Some teams also arrange staying in locals' homes or in their yards, making the event an annual reunion for repeat riders and hosts.
But there are just as many singles and duos as teams, Hanippone notes. Some ride in celebration; some ride in memoriam; some ride for charity. Many ride for a day, often near heavily populated Des Moines; others race to the finish line. RAGBRAI aims to have something for everyone.
If you don't have a team, RAGBRAI becomes your team.
To participate for any distance, you'll need to register—that's typically open through May 15th. Fees cover ambulance and medical services, bicycle repair stops, gear transport, campground assistance, and perks like entertainment, food vendors, and portable toilets. If you register for a day pass, you'll get issued a wristband for that specific day, which entitles you to all the RAGBRAI fun (and all of its services).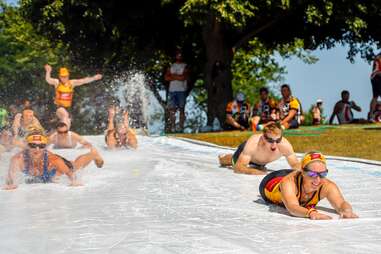 If you don't have a team, RAGBRAI becomes your team. Individual riders get access to RAGBRAI's semi-trucks—you simply toss in your tent and bag come morning, and grab it back out at night. "While you might be riding solo," says Lawrie, "there will always be someone to help you with a flat tire, share a meal with you, or even open their home to you. Community is at RAGBRAI's core, and there is certainly no shortage of it in Iowa."
And should you need someone to show you the ropes, just take a look around. The pink feather boas should be easy enough to spot.
Want more Thrillist? Follow us on Instagram, TikTok, Twitter, Facebook, Pinterest, and YouTube.
Jacqueline Kehoe is a writer, photographer, and geology geek. See her work on Instagram.