Lando Norris explains why McLaren's car does not suit his driving strengths; Norris does not expect McLaren to repeat Silverstone showing at Hungarian GP; watch the Hungarian GP live on Sky Sports F1; F1 Juniors is live on Sky Showcase and Sky Sports Mix on Sunday
Last Updated: 21/07/23 7:01am
Lando Norris says McLaren's car remains "far away from the car I want to be able to drive" as he explained how the MCL60 does not play to his strengths despite its recent upgrade.
McLaren have starred at the last two Grands Prix in Austria and Silverstone after introducing big updates to their car, with Norris finishing fourth in the Styrian hills before fending off Lewis Hamilton to finish second at his home race with team-mate Oscar Piastri fourth.
Despite those standout results, Norris revealed the upgrade package has not improved the handling of the MCL60 which is leaving him having to drive in a compromised fashion.
"You have to drive it quite one way but it's also a way that I don't want to drive or like to drive," Norris explained at the Hungaroring.
"I don't like to drive the car the way that I have to drive it now. I feel like it isn't to my strengths at all.
"I want to be able to carry minimum speed and U a corner and the last thing I can do in the world now is U a corner.
"I have to V the corner more than ever and I've never been the biggest fan of doing that and I don't like it that much.
A U corner means a driver rolls the car into the corner and keeps the momentum higher, whereas a V corner means the driver will brake a little later but the minimum speed will be lower and they will get on the throttle slightly earlier
"Basically the car only likes to go in a straight line, and it doesn't even go very quick in a straight line either.
"But we're very good in straight-line braking which is why we're so quick in the wet at times. I wouldn't say we're quick in the wet as a general note, we're quicker in the wet when braking is a big key like in Monaco – it builds tyre temperature, builds confidence – that's when we're quick but we're not actually quick in the corners when it's wet.
"There are certain things that allow us to be competitive. Just to be able to have scope to do different lines and drive in different ways. If the wind changes, if conditions change, different fuel loads, tyre degradation we still always have to drive in one specific way and it's not one that I currently like, it's one that I've had to adapt to.
"Even last year, it still changes every year, you have to adapt a lot as a driver and far away from the car I want to be able to drive."
The 151st Open – July 20 to 23 – LIVE on Sky Sports Golf
Fourth Men's Ashes Test – July 19 to 23 – LIVE on Sky Sports Cricket
Premier League Summer Series – from July 23 – LIVE on Sky Sports Premier League
Hungarian Grand Prix – July 21 to 23 – LIVE on Sky Sports F1
F1 Juniors: Hungarian GP – July 23 – LIVE on Sky Sports Mix
World Matchplay Darts – July 17 to 23 – LIVE on Sky Sports Action
Women's World Matchplay Darts – July 22 to 23 – LIVE on Sky Sports Action
IBF Lightweight Title Eliminator – July 23 – LIVE on Sky Sports Action
Enjoy live action from The Open, F1, The Ashes, Premier League and more with NOW
Norris expecting more difficult weekend in Hungary
McLaren stunned the paddock at Silverstone as they were the second fastest team on merit with Norris and Piastri lining up second and third on the grid and then pulling away from those behind before the timing of the Safety Car saw Piastri lose out on a possible first F1 podium finish.
But the high-speed flowing nature of the Northamptonshire track is very different to the slow-speed corners of the Hungaroring this weekend and Norris doubts McLaren will be able to repeat the showing of two weeks ago.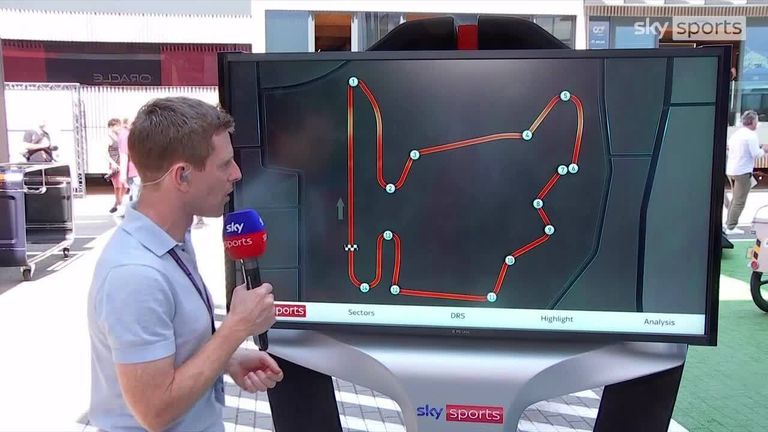 Sky F1's Anthony Davidson explains the challenges of the Hungaroring track ahead of this weekend's Hungarian Grand Prix
"No matter what the outlook of it all is, we're not very good in the slow-speed [corners]," Norris said.
"I guess we're not terrible if you fully focus on slow speed, if you look at Monaco we're usually not too bad in Monaco.
"I guess when you have to start making compromises there are much bigger wins for us by performing well in high speed than focusing so much on the low speed.
"I guess we're not bad here, if you look at last year it was not a bad weekend for us with a car we struggled a lot with at the beginning of the season. I still want to be hopeful but I doubt it's going to be as good as Silverstone as there are no high-speed [corners].
"I think there are still going to be some tracks that are bad for us, I don't think this is a bad track for us…I think we will have bigger tests of how bad is it going to get in some other tracks that are coming up. I think it will be a good test mainly because we have no high speed.
"It will be a better test of where we stand. I think the last two tracks have made us look better than where we stand over the longevity of a whole season."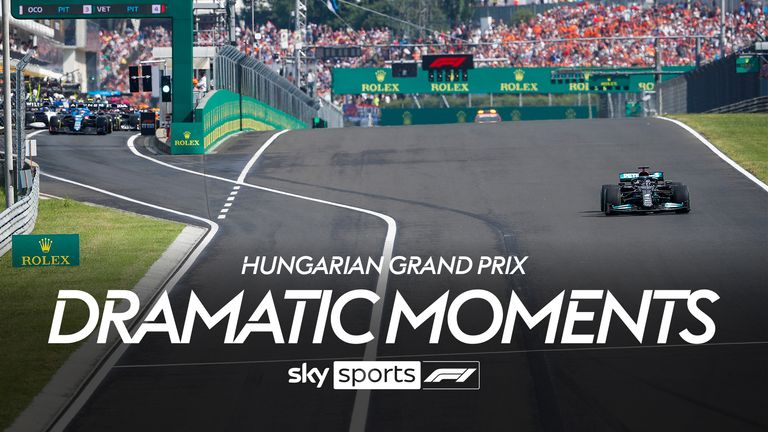 Look back at some of the most dramatic moments throughout the years at the Hungarian Grand Prix
Sky Sports F1's live Hungarian GP schedule
Friday July 21
8:55am: F3 Practice
10am: F2 Practice
12pm: Hungarian GP Practice One (session starts 12:30pm)
2pm: F3 Qualifying
2:45pm: F2 Qualifying
3:40pm: Hungarian GP Practice Two (session starts 4pm)
5:15pm: The F1 Show
Saturday July 22
8:45am: F3 Sprint
11:15am: Hungarian GP Practice Three (session starts 11:30am)
1:10pm: F2 Sprint
2:15pm: Hungarian GP Qualifying build-up (Sky Showcase)
3pm: HUNGARIAN GP QUALIFYING (Sky Showcase)
5pm: Ted's Qualifying Notebook
Sunday July 23
7:20am: F3 Feature Race
9am: F2 Feature Race
11am: Porsche Supercup
12:30pm: Grand Prix Sunday – Hungarian GP build-up
1:30pm: F1 Juniors: Hungarian Grand Prix (Sky Sports Mix and Sky Showcase)
2pm: The HUNGARIAN GRAND PRIX
4pm: Chequered Flag: British GP reaction
5pm: Ted's Notebook
Daniel Ricciardo's return and first F1 Juniors broadcast headline the Hungarian Grand Prix! Watch all the action live on Sky Sports F1 from July 21-23. Stream the Hungarian GP and more with NOW for £21 a month.