Yasha adopted a second dog, and her two-door Mini Cooper is no longer ideal for two pups. She wants something with a bit more space but doesn't want anything giant. She is also looking for something that is reasonably fun and has a bias against anything with a CVT. What car should she buy?
'Ride of Your Life' Sneak Peak: Music Row Camaro
(Welcome back to What Car Should You Buy? Where we give real people real advice about buying cars. Do you want us to help you find a car? Submit your story on our form.)
Here is the scenario.
I adopted a dog two weeks ago after years of wanting one but not being able to give them a good life while still being a functional adult with a full time job. She doesn't even have a name yet but I already decided I need a new (to me) car for her! I currently have a 2016 Mini JCW 2-door manual that I absolutely adore, but not having a second set of doors is a pain with the new pup, and with the backseat now occupied, cargo space is even more at a premium! I do all of the work on my car, learning as I go, from suspension bushings and shock care, fluids, pads & rotors, engine mounts, and exhausts (plus after 2.5 years with a mini, I have become an interior-rattle-finding ninja). We just moved to WI, and my partner is an opera singer so I do a lot of road trips to see her perform.

I want something bigger than the Mini but not too big. My wish list is – Leather interior, heated (did I mention WI?) front seats, a fun powertrain (please no CVTs!), carplay (I can swing an aftermarket upgrade too), fuel economy. Flush roof rails would be great for a roof rack, but I can always install a hitch mount for a rear carrier. I prefer a hatch or a station wagon as I'm not a huge fan of tall cars, but a super compact SUV with good cargo space would be great, too! I would also really prefer an AWD car.

The budget is up to $30,000
Quick Facts:
Budget: up to $30,000
Location: Madison, WI
Daily Driver: Yes
Wants: 4 doors, small-ish, fun
Doesn't want: A CVT
Expert 1 – Tom McParland: The Devil You Know
Yasha, you may not like everything that comes with owning a Mini but you seem to enjoy the overall driving experience, size, and quirkyness of that brand. So why not just get the bigger, slightly more practical version of your Cooper? The Countryman offers 4-doors, available AWD, and the zippiness you would expect from driving a Mini.
It also has leatherette or full leather seating, roof rails already installed, respectable fuel economy, and all the tech you could want from a premium English/German small car. Finding one with three pedals probably isn't in the cards, but the BMW-sourced eight-speed automatic moves through the gears very well.
There are several Mini Certified examples for under $30,000 with reasonable miles, which should give you plenty of warranty protection for the next several years. Here is a very cool example in metallic orange with only 13,000 miles. This Countryman S is going to be a little down on power compared to your JCW, but that can be remedied in the aftermarket with an ECU flash and a few other upgrades.
Expert 2 – Andy Kalmowitz: Das Dogo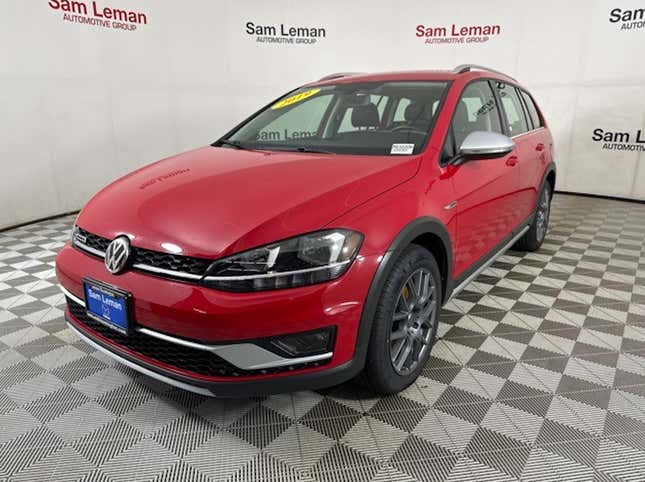 Yasha, my friend. I've got the perfect car for you. Sure, you could go with another Mini, but that's old news. It's time to look toward the future. It's time to look toward Volkswagen. What you need is a Golf Alltrack. When I say it has absolutely everything you're looking for, I really do mean it.
Baked into this little package is all-wheel drive, four doors, a manual transmission, Apple CarPlay, leather-ish heated seats and enough room in the back you'll consider getting a third dog. There is literally nothing more you could want out of a car. Sure, the 1.8-liter turbo four isn't going to be the most heart-stopping powerplant in the world, but there's plenty to be done in the aftermarket that'll fix that one little issue. I'm also positive you're not going to be worried about reliability. I mean, you've been driving a Mini for God's sake.
As we all know, I'm a super swell guy, and because of that fact, I've found the perfect Golf Alltrack for you. It's got a clean CarFax, and it's located not too far from you. I don't know. The midwest is vast. Anyway, the Golf has a little over 28,000 miles on the clock, and coincidentally it also costs a little over $28,000. That's right in your budget. You are welcome. Yasha, I don't usually make very rational choices when it comes to WCSYB, but this time, I know I'm right.
Expert 3 – José Rodríguez Jr.: The Ultimate Little Driving Machine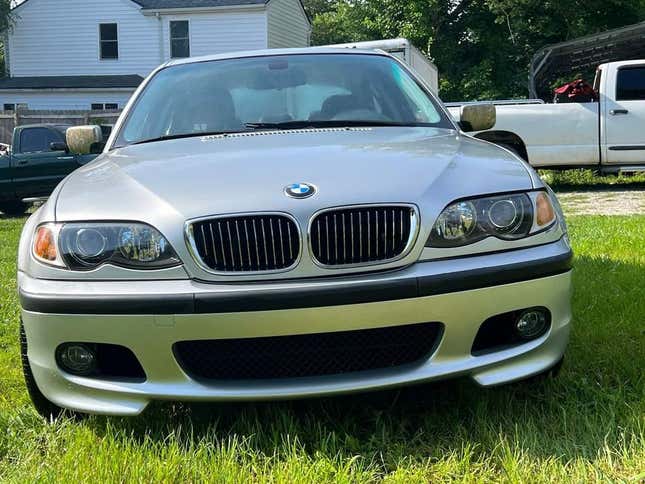 It's a little-known fact that the fourth-generation BMW 3-Series is one of the best in the historic lineup of the sports sedan. Not only because of its good looks and naturally-aspirated straight six, but also because it was close enough — chronologically speaking — to the classic BMWs of the golden era. You know? Back when BMWs were still driver's cars and before model bloat truly set in.
The 1999-2005 BMW 3-Series, otherwise known as the E46, is close enough to the E30 and E36 that it can still be called a true compact sports sedan. And from what I gather, Yasha, it seems you want a car that's both big and small. That's why I recommend the nicest E46 you can find locally or a bit beyond. Something like this manual 2004 BMW 330xi, which costs less than a third of your budget at $7,500.
That's quite a bit of money for a car that's almost 20 years old, but the thing about these BMWs is that, other than some potential headaches with VANOS, they're not as unreliable as people think. They're extremely fun daily drivers, and get great gas mileage despite their performance. You're not gonna be outracing modern sports cars in the all-wheel drive 330xi, but if performance is what you're looking for, then I'd recommend tracking down an E36 M3 sedan, though that'll be harder to find for under $30,000. People are getting hip to the strengths of the E36 and E46, for better or worse — mostly worse for those of us holding out hope for a fun, small BMW.
Expert 4 – Collin Woodard: It's Project Car Time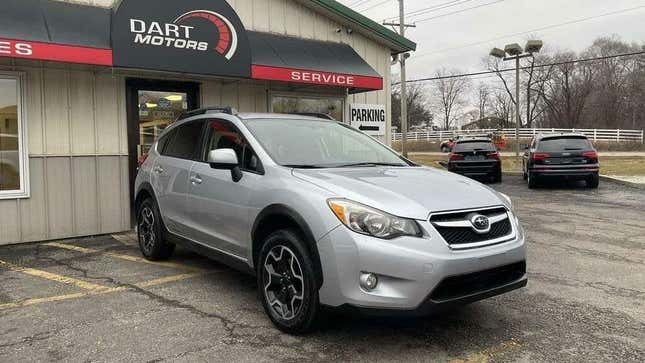 Reading what you're looking for, it sounds like what you're looking for is a Subaru Crosstrek. It's got four doors and should have plenty of space for your dogs, all-wheel drive and a higher ride height that could help you in the winter and isn't a big, bulky SUV. There's only one downside — it's not exactly fun to drive. That's partly because new Crosstreks are CVT-only but also because the engine isn't particularly powerful.
But don't worry, I have a solution. All you have to do is buy a used manual Crosstrek and WRX-swap it. You'll have the perfect fun-to-drive winter-ready dog car. Should you actually do this? Probably not. But you learned all those wrenching skills for a reason. Don't you want to at least give it a shot? Come on. You know you do.
It's a crazy idea, especially since you said you also value fuel economy, but hear me out. Here's a 2014 first-generation Crosstrek not terribly far from you that has a manual and costs just under $12,000. That gives you an extra $18,000 to do the swap and add Apple CarPlay. Will that be enough to cover it? Who knows. I certainly don't. I'm just an idiot giving out bad advice on the internet. But come on. Don't pretend you're not tempted at least a little.