Hyundai's Tata Punch rival is feature-loaded and well-packaged to ride the SUV wave.
If the Grand i10 Nios hatchback is too mainstream and the Aura's sedan body style is a bit passe, Hyundai's latest offering in the shape of the Exter aims to catch the buyers' fancy. Squarely aimed at those aspiring to own an 'SUV' without breaking the bank, the Exter is priced between Rs 6 lakh and Rs 10 lakh, packs an expansive features list and is available with a petrol engine with manual and automated manual transmissions, as well as a petrol-CNG powertrain with a manual gearbox only.
H-patterned LED DRLs look stylish; projector headlamps are placed below.
Hyundai Exter exterior design
The Exter has all the ingredients that lend it an 'SUV' flair – a flat bonnet, an elevated stance, muscular wheel arches and 185mm ground clearance. Silver skid plates with exposed faux rivets lend it a butch look, as do its distinctive, exaggerated haunches and oversized squared body cladding. These, however, dwarf its dual-tone, 15-inch alloys, and there's no hiding the sheer visual bulk of its rear three-quarter due to a thick C-pillar and its upright stance. Smart detailing such as H-patterned LED inserts in its daytime running lamps and multi-dimensional gloss black panelling on the front grille, on the C-pillar and boot, add character to its design.
Thick C-pillar, oversized squared wheel arches dwarf the 15-inch alloys.
The Hyundai Exter is based on the same platform as the Grand i10 Nios, and measuring 3.8m in length, it is the smallest compact SUV. In fact, it is shorter in length and height (minus its roof rails) and is narrower than its core rival, the Tata Punch. However, despite its tiny footprint, the Exter boasts a wheelbase of 2,450mm, if only 5mm longer than the Punch's, resulting in a surprisingly spacious cabin.
Sunroof is likely to be a huge draw for buyers.
Hyundai Exter interior
Its interiors are rather familiar since most bits are shared with the Nios, which isn't a bad thing. Fit and finish levels are top-notch, and even though there are hard plastics inside, the quality and tactility of stalks and buttons feel great. The high-quality leather-wrapped steering and beautifully finished gear lever, as well as the digital instrument cluster and sunroof, add loads of appeal, but its single-tone black colour scheme simply doesn't feel as airy or welcoming as the Nios' bright grey interior.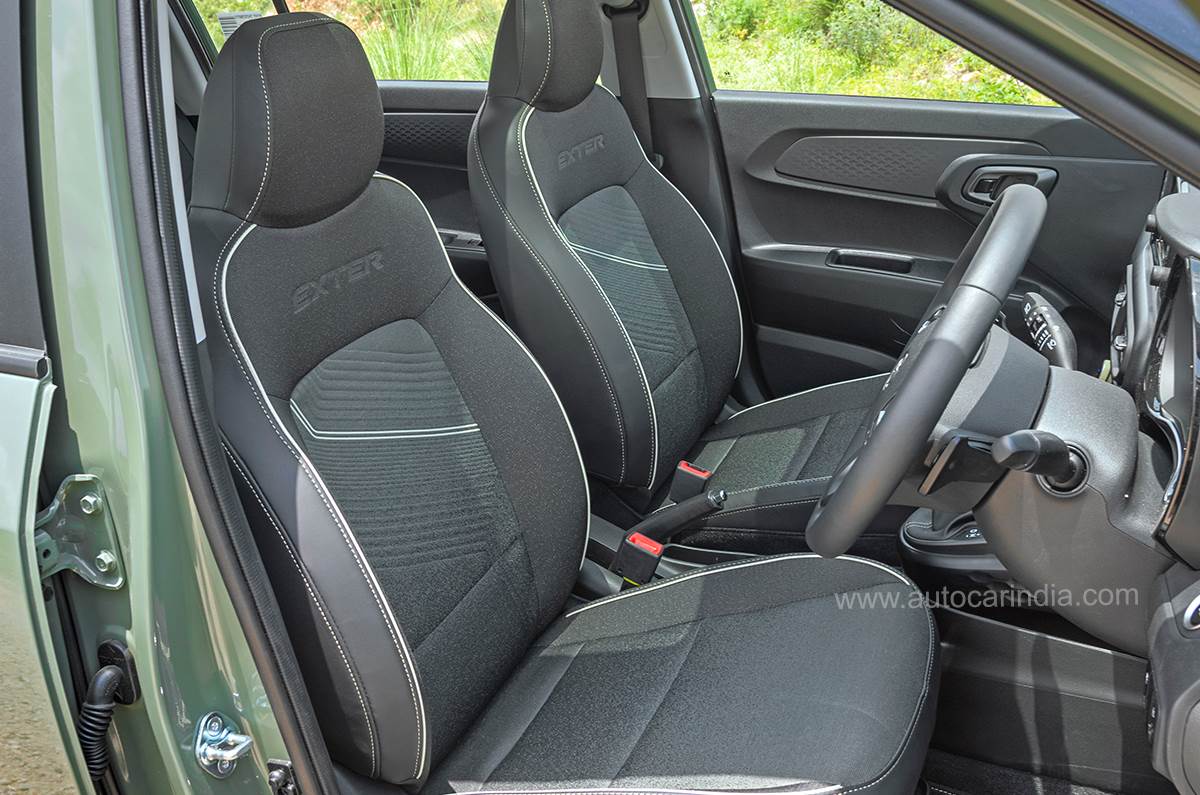 Those with larger frames could find the front seats a bit lacking in terms of support and bolstering.
Like its hatchback counterpart, ergonomics are spot on and even seat comfort is good, but those with larger body frames might find the front seats a bit small and lacking in support and bolstering. Its rear bench has a sloping seat base and coupled with reclined backrest, it makes for a rather comfortable experience, with good support and space on offer. Head, knee and foot room is ample, even for tall folk, and Hyundai has cleverly scooped out the front seat-backs to enhance space. The cabin is quite narrow, so three adults abreast will be a tight squeeze. Rear AC vents are available, but an armrest for rear occupants is missing.
Rear bench is nicely angled and a spacious place to be. Seating three adults abreast will be a tight squeeze.
Storage areas are well-thought-out with large door bins, cup holders, a large glovebox and ample space to stow your smartphone and other knick-knacks. Another talking point is the Exter's cavernous 391-litre boot, which is larger than most compact SUVs on sale. Boot space can be increased further by folding the rear backrest, but it misses a 60:40 split function.
Hyundai Exter engine, gearbox, performance
Hyundai's 1.2-litre four-cylinder petrol is known for its refinement, and we're happy to report that in the Exter, it feels as smooth as it does in the four other cars it does duty in, namely, the Grand i10 Nios, Aura, i20 and the Venue. Specs on paper are modest at 83hp and 114Nm, but factor in its 999kg kerb weight and its responsive nature, and performance feels more than adequate to keep most owners satisfied. Acceleration feels crisp, power flows in a linear manner and it has satisfactory pep lower down the rev range to potter around town or cruise on the highway. The mid-range is satisfactory and it continues to pull till 4,500-5,000rpm, but power delivery tapers from thereon. And even though this motor revs to 6,600rpm, the journey to its redline gets progressively slow and it sounds quite boomy, so there's little merit in maxing the revs.
Its 1.2L petrol engine feels creamy smooth and refined, and offers a satisfactory performance.
The manual's clutch is light and shifting the 5-speeder is effortless, with light and positive shifts. The automated manual transmission with electric actuators is rather smooth and at part-throttle, the pause between shifts is barely perceptible. Sure, it is not as smooth as a torque converter, and the lag between gear shifts is pronounced, particularly under hard acceleration. Uniquely, the AMT version gets paddle shifters too, and what's impressive is that these are quick to respond to both upshift and downshift, and you'll also enjoy taking occasional manual control so long as you aren't expecting DCT-levels of quick shifts. Even in manual mode, the AMT doesn't hold on to gears and it will rev till its redline before upshifting automatically.
Hyundai Exter ride, handling
.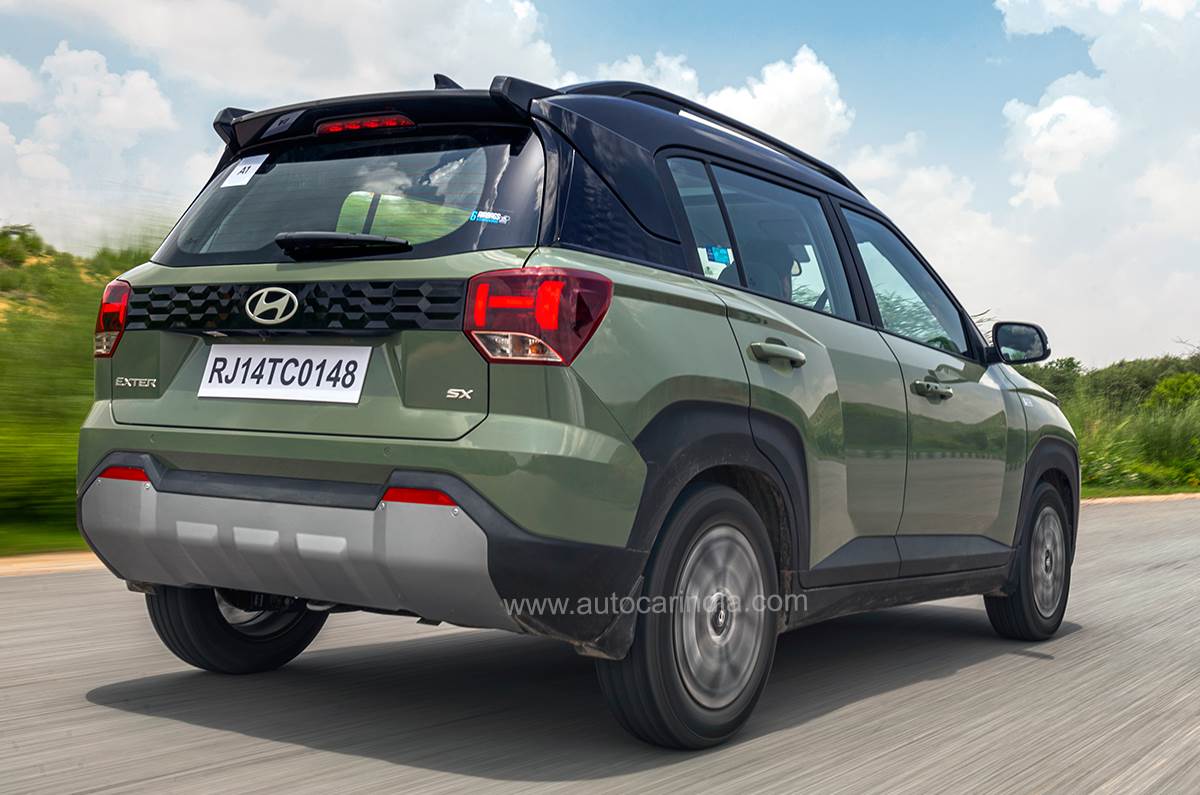 Body movements are well in check and its long wheelbase makes it an able highway cruiser.
The Exter is a high-riding vehicle with a ground clearance of 185mm, and compared to the Grand i10 Nios, a car it is based on, its suspension has been reworked too. It soaks up road shocks and absorbs bumps really nicely and only when you hit sharp potholes will you feel a thud inside. What's nice is that the Exter drives with more sophistication than its hatchback sibling, and feels almost as grown up as a Venue from behind the wheel. Appreciably, body movements are well in check, and thanks to its 2,450mm wheelbase, the Exter feels like a stable highway cruiser, and while its steering is light and turning radius is good, it weighs up satisfactorily to give the driver confidence at speeds. The car isn't a sporty handler, but its handling manners feel rather neutral and predictable, with some roll-around corners.
Hyundai Exter features
Hyundai has equipped the Exter with six airbags as standard, and buyers also have the option of ESP right from the base variant. While the Exter hasn't been crash-tested as yet, the company is confident that its performance is likely to be satisfactory.
Touchscreen is responsive, user-friendly and packed with connected car tech, as well as Android Auto and Apple CarPlay.
Additionally, it gets segment-first features like wireless charging, a sunroof, a digital instrument cluster as well as a dashboard camera. Interestingly, the latter features dual lenses, allowing users to record activities on the outside and inside the cabin simultaneously. It gets a familiar 8-inch touchscreen with connected car tech as well as Android Auto and Apple CarPlay; the screen is slick, responsive and very easy to operate. Uniquely, owners can choose from 12 languages for the user interface on the touchscreen and MID, including English, Korean and 10 other regional languages. Cruise control, auto projector headlamps, 15-inch alloys and a cooled glovebox are some other noteworthy features. Sport metal pedals and paddle shifters are exclusive to the AMT version.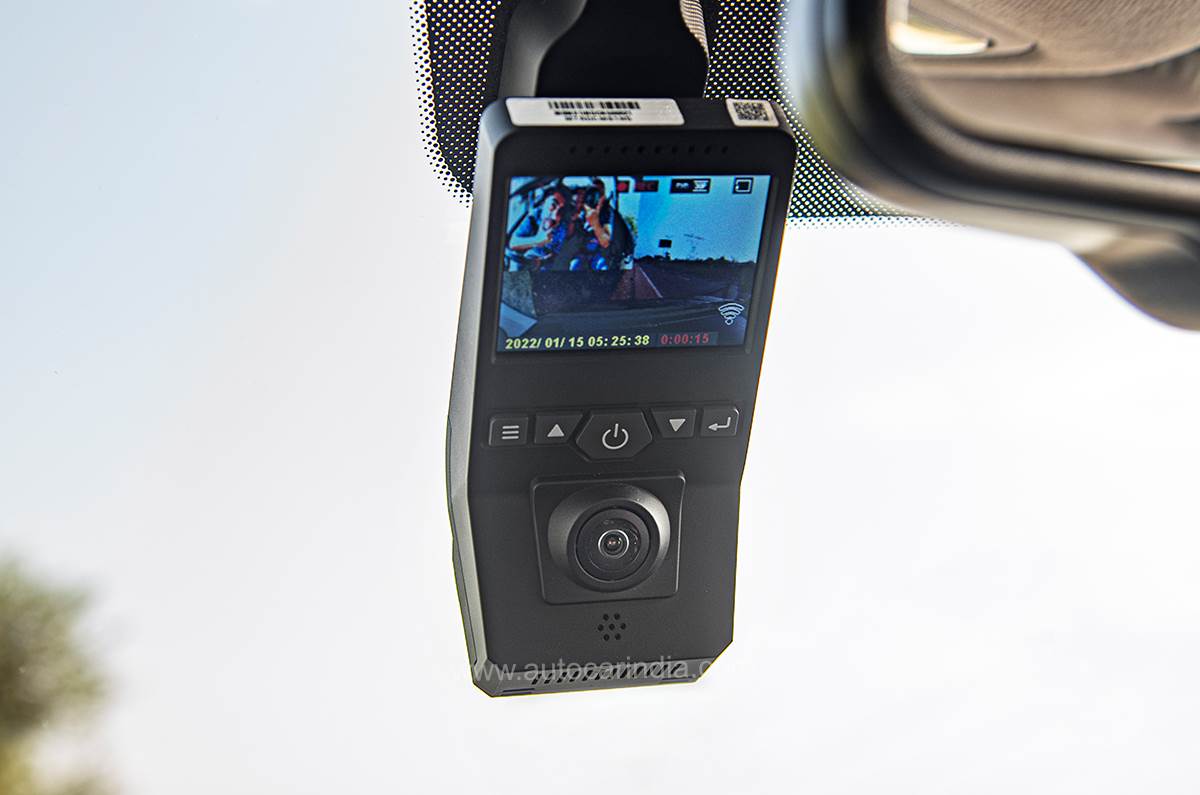 Dual-lens dash camera records activity outside the car and inside the cabin simultaneously.
Hyundai Exter price, verdict
The Hyundai Exter is extremely user-friendly with a smooth engine and light controls. Its cabin is spacious; the boot is massive, and with a laundry list of features, including six airbags and the option of ESP across the range, Hyundai has got the packaging spot on. Moreover, with an introductory ex-showroom price of Rs 6 lakh-10 lakh, it spells good value. Sure, it doesn't feel sporty to drive and the cabin is not wide enough to accommodate three abreast. But when viewed in a broader light, the Exter is a well-rounded offering with strong fundamentals that has all the makings of being yet another blockbuster.
The AMT is surprisingly smooth and the pause between gear shifts is shorter than most mass-market AMTs.
Also see:
Hyundai Exter video review