Mark Turnbull, global head of consulting at Cap HPI, explains why Chinese EV brands are serious prospects for the UK market and how they could eclipse established Western OEMs. 
We need only look at MG's meteoric escalation in the new car sales charts as a sign of Chinese brands' ambitions for the UK. What was a sub-10,000-unit national sales company in 2018 was the country's 13th best-seller last year and, as of July, up 58.03% year-to-date. 
Look at the product, and you can see why. Yes, MG sells other cars, but competitively priced electric SUVs – plus a rare electric estate – are absolutely what the market wants.
In an arena where many established OEMs have been hampered by supply chain issues and are managing the switch from ICE, SAIC – MG's parent company – got in quickly and exploited the trend using a traditional franchised retail model.
Chinese car brands, such as BYD, NIO, Chery, and plenty more, represent a huge opportunity for UK retailers in the run-up to Net Zero. The lack of product availability at some established national sales companies means ICE phase-out targets cannot be achieved with them alone, so a nation of equivalents offering plug-in cars at attractive prices – and fielding its own oversupply and home market saturation issues – represents an immediate leg-up.
The cars themselves are far superior to the country's former efforts. Compare and contrast, say, one of Great Wall's iffy, low-grade pick-ups (pictured left, the Great Wall Steed in 2011), with a contemporary BYD Atto 3 (pictured below), and the quality is poles apart. 
Chinese OEMs are striving to be perceived as mature brands with stylish and well-equipped models rather than the cheap and cheerful option, bolstered by a broader range, instead of the one or two models that would have been available previously.
Japanese manufacturers made a similar move in the seventies and eighties, followed more recently by Korean NSCs.
That Hyundai, Kia, Nissan and Toyota counted themselves in last year's UK top 10 is a testament to the blueprint.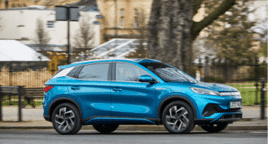 Many Chinese brands also have an inherent advantage in their access to key components and raw materials, with BYD among the best examples. It built batteries before vehicles, so it knows what it's doing with EV parts, and its production lines include ancillary components such as semiconductors, which bodes well for supply. 
All the above aside, the tail rarely wags the dog when it comes to the market, and there are forces moving in favour of nascent manufacturers (in the UK, at least) with EVs at the ready.
The looming, ICE/hybrid phase-out deadlines of 2030 and 2035 will foster a sense of urgency in some new car buyers, rendering them more willing to jump ship to a lesser-known brand, especially if their usual brand choice has nothing to offer.
The encroaching agency model could also have a similar effect of undermining customer loyalty to long-term franchises and established brands. 
Fleets, leasing firms and company car drivers already have the enormous carrot of 2% benefit-in-kind for electric cars (fleets and businesses made up 66.7% of new BEV registrations in 2022 and 74.7% of the volume gain, according to the SMMT) and environmental, social and governance (ESG) policies are having increasing sway, particularly with larger organisations, which could see them prioritise decarbonisation above existing commercial relationships. 
It's hypothetical, but there's always the possibility of a Chinese EV brand setting up a UK production facility.
The cost of such expansion would likely drive up prices of the cars themselves, but a local footprint ingratiates customers and governments – see Nissan and Toyota for details – even more so if they play white knight to a community that may have shuttered a well-known OEM's factory. 
You could say the same about staff.
Restructures and redundancies at big-name brands are no secret, so there is talent ripe for the picking. Equally, that talent doesn't necessarily need to be out of a job when new brands come knocking.
MG, for example, counts many ex-Hyundai employees among its ranks, who followed commercial director Guy Pigounakis across. 
Established OEMs must evolve to keep up with this new competition.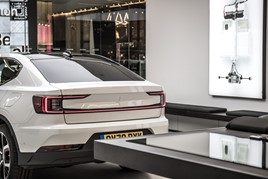 One way could be to clearly distinguish their EV brands from legacy ICE business. Polestar is a good example (if conflicting – although European, it's owned by Chinese firm Geely), because it is very much independent of Volvo, from which it was spun off.
Though relatively low volume – it registered 7,345 units last year – year-to-date sales were up 142.72% as of July, and those are high-value, premium cars.  
An alternative for mainstream brands is to play on their heritage which, MG aside, is what the Chinese brands lack. Retro designs such as the recent Renault 5 Electric is a terrific throwback to the original and undoubtedly appeal to customers of a certain generation. 
But will younger consumers still care about brand heritage in the brave new world of electric cars?
Author: Mark Turnbull, global head of consulting, Cap HPI