The number of electric vehicles (EVs) being purchased in South Australia is outpacing the rollout of charging stations, according to new figures. 
Key points:
Electric vehicle sales in 2023 so far have already outpaced the number of vehicles sold in 2022
The RAA is rolling out charging stations at locations across South Australia
A trip to regional SA proves challenging for one EV driver due to limited locations for fast charging
The Motor Trade Association reports 2,103 EVs have been sold in the state this year so far, compared to 1,426 for the whole of 2022.
The Telsa Model 3 has been SA's most popular, with 584 sold this year.
It comes as the Royal Automobile Association (RAA) this week announced its EV charging network's first 150-kilowatt rapid site had come online in the Barossa, north of Adelaide.
The Nuriootpa charging location is the first of more than 50 rapid or ultra rapid charging locations to be built as part of a wider network, which will also include 90 slower charging stations.
The RAA opened its first 150-kilowatt rapid charging site in Nuriootpa this week. (Supplied: RAA)
Ten additional charging sites will be rolled out in coming months, including at regional locations including Port Augusta's Wharflands Esplanade, Barmera's Main Street car park and Morgan's Railway Terrace car park.
A challenging regional tour
But for Ryan Hothersall, a recent EV road trip from Adelaide to regional SA posed challenges.
"We thought we'd just go for a drive to Jamestown to see how it goes on a bit of a longer trip," he said.
"So we got to Clare and we were going to do a quick top-up [charge] there but we ran into our first problem."
He found a charging station but it was stationed on private accommodation.
"So we plugged into that one, then the lady who runs the accommodation business said it's for guest use only, really," Mr Hothersall said.
"I was under the impression that these chargers were public."
They reached Jamestown where public chargers were available at the local council office, but they were slow chargers and the only available fast charger was at another private accommodation site.
Stations to be made public
RAA Electrical Vehicle Charging program director Andrew Howard the the rollout included destination and rapid chargers.
"Their [destination chargers] purpose is for guests of overnight accommodation and people with a longer dwell time," he said.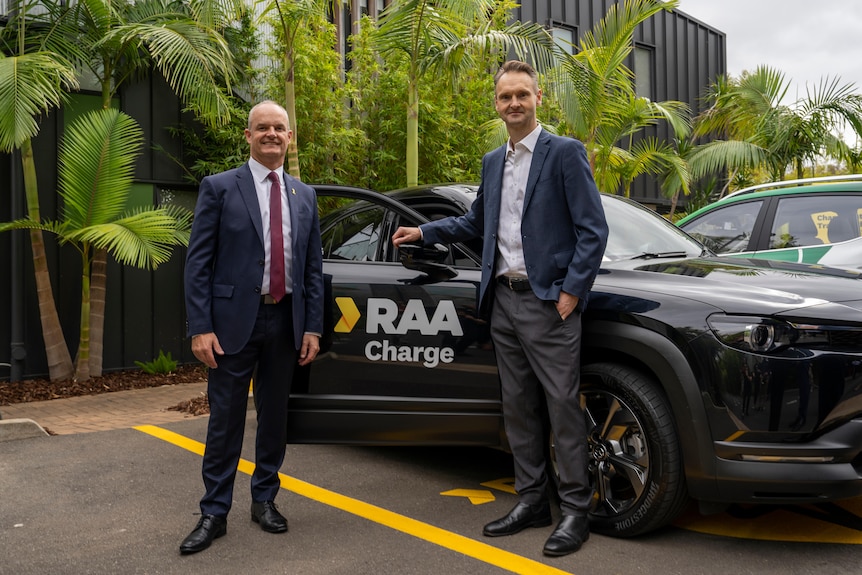 RAA CEO Nick Reade with Andrew Howard while promoting the network rollout. (Supplied: RAA)
"The purpose is for guests and our site hosts to have processes in place that allow non-guests to come in and use the infrastructure when guests aren't."
He said the rapid, and ultra rapid, charging stations that were coming online would be made public.
Department of Energy and Mining Future Industries manager Peter Nattrass said regional charging points were a priority in the EV rollout.
"It is a challenge for electricity networks at the edge of the grid where they're not used to that level of electricity demand or power in a short burst," he said.
"SA Power Networks is working very closely with the RAA to find solutions to make these chargers possible."