Buying a road bike isn't an easy process. Just this morning, I had a conversation with one of the people from our IT department, who despite being brand new to cycling, had already spent two months poring over the decision of what to buy. He had sought advice from friends, bike shops, and even myself as he tried to make sense of things like carbon vs alloy, endurance vs race geometry, Shimano vs SRAM and size guides vs a bike fit. 
Even if you're not new to the sport and you've got all those bases covered, it's still not an easy process. Trying to weigh up the pros and cons of one bike versus another, comparing different specs and trying to balance that against the difference in price, working out geometry charts to see what will fit you best. It's no wonder many of us turn to a spreadsheet in the process. 
Our content here at Cyclingnews always tries to help people in that process, answering queries like 'what size bike do I need?' but ahead of our inaugural Cyclingnews Awards, Myself, Tom and Will decided to go one step further. According to research completed by our employers Future Publishing, the next bike that our audience is looking to buy will fall at an average rough price point of £3000 – £4000 (or equivalent in local currency). We took this bracket, reached out to as many brands as we could think of, and requested their best road bikes that met the criteria. The usual suspects were represented from the biggest names in the industry; the likes of Specialized, Giant, and Canyon to name a few, but we also tested out options from smaller brands too like Fairlight to get a better handle on the current state of play.
Upon receipt, we built them up, pored over the spec sheets, dove into the geometry charts, and spent a couple of months testing them back to back (…to back, to back, you get the picture). 
We did the same with gravel bikes too, and you can read that in our gravel bike field test. 
The original aim was that we'd choose one single winner, but nothing's ever that simple. In the end, we came away with a 'race bike' favourite, a 'value proposition', an 'honourable mention', and the closest we could come to a one-bike winner: our Editors' choice.
This is because, in the same way, that gravel bikes have diverged into two categories of racing and adventure, not all road cyclists are the same. The best road bike for an 18-year-old aspiring professional who does three criteriums a week (ah, those were the days) isn't going to be the same as someone with a passion for audaxing, or someone whose cycling entails Sunday cafe rides with the pub club.
Without further ado, then, we'll get into it. 
Best Race Bike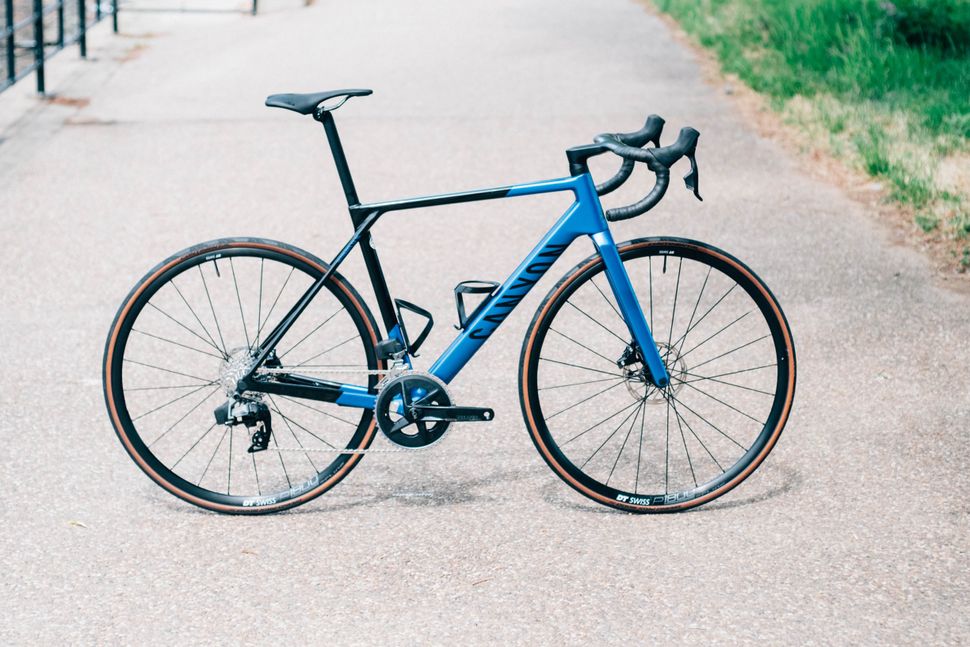 Canyon launched this iteration of the Ultimate in the autumn of 2022. Prior to that, it was the brand's definitive lightweight bike, but the latest model gave it more of the en-vogue semi-aero vibe. This model, the Ultimate CF SL 7 eTap, is our pick as the best road race bike from those that we tested.
At £3,649.00 ($3,999.00), it has almost everything you need to train and race. The only thing we'd perhaps change is to replace the shallow DT Swiss alloy wheels with a deeper set of carbon wheels. The same could be said for pretty much all of the bikes we tested at this price point, though. The only one on test that had deeper carbon wheels was the Giant TCR Advanced Pro Disc 2, but that was beaten to this award on a couple of other points. 
One of those points is the SRAM Rival eTap AXS electronic groupset, which even though we like the 11-speed mechanical Shimano 105 (as found on the TCR), we do think it's getting a bit long in the tooth (as evidenced by last year's launch of 105 Di2). The other reason we chose the Ultimate is the inclusion of a power meter. It was the only bike in our test to do so. 
The Ultimate is based on a nice-riding, lightweight but aero-optimised carbon fibre frame, with race-ready geometry and direct handling. At 8.04kg it was very nearly the lightest on test (that accolade goes to the Vitus Venon Evo at 8.02kg) and it was something we all remarked on each time we hopped onto it. The other thing we praised was the adjustable aero cockpit; it's the same one that you'll find on the top-tier Ultimate and Aeroad models, and while the novel quill-style stem does mean you'll be unable to swap for an aftermarket model, I see no reason why you'd want to. It's already aerodynamic, you can adjust its width thanks to clever slide-out drops, and that has the side effect of being easier for travelling if ever you choose to. It also comes with the brilliant Continental GP5000 tyres, which we'd be more than happy to race on straight out of the box.
All in all Will put it best in his notes: It's as close to a plug-and-play racer as you're likely to find at this price point. 
Best value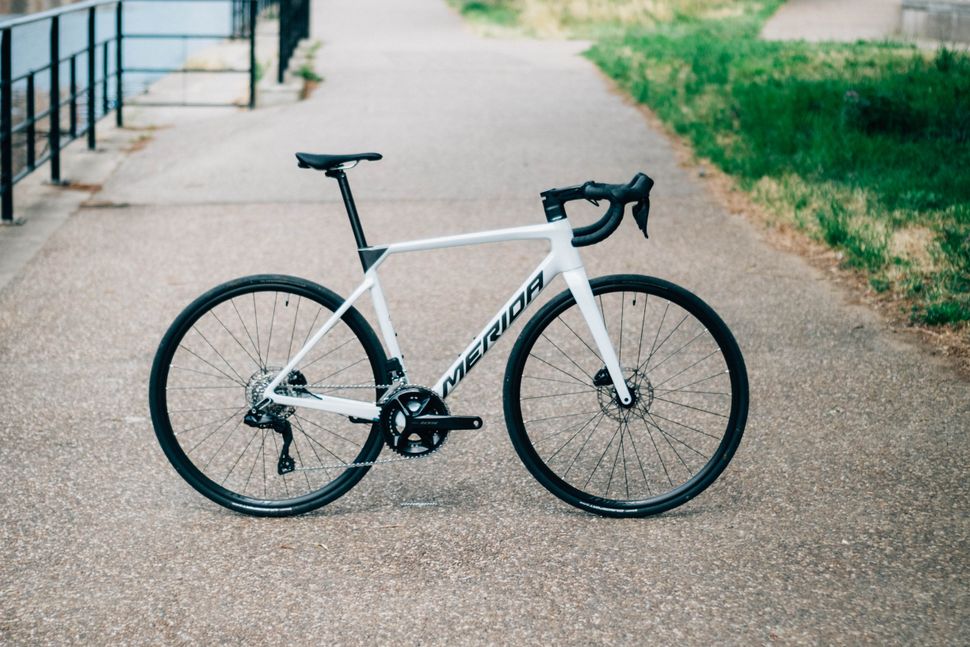 At £3,300, this wasn't the cheapest bike on test. In fact, we also lumped the £2,325 Trek Emonda ALR 5 into our test as a rogue choice despite it falling outside of our preset criteria – Rules: we make 'em, we break 'em! – As a result, the Merida was over £1000 more than the cheapest on test, but based on the spec you got for that price, we're awarding it the best value option on test. 
The Emonda's alloy frame was the big downgrade that you made when saving the money there, and as much as it was a good bike in its own right, it was unable to punch above its weight in comparison to the others here on test. Given our criteria assumed that the theoretical customer had the money to spend, we felt that the Merida (and in fact the others) were worth it. Of course, the caveat is that if you do only have £2k to £2.5k to spend, then the Emonda is a viable option. 
One of the key takeaway points surrounding the Merida was how good an upgrade platform it represented. Like the Canyon above, it had a carbon fibre frame, an electronic groupset and alloy wheels, but where the Merida takes scalps is in the finishing kit. The semi-integrated cockpit combines an FSA stem with a round handlebar, meaning that although you get an aesthetically pleasing integrated front end, you don't have a proprietary system (like the Canyon) that could cost you a lot of money to replace if ever you need or want to down the line. It also had round bars, meaning no need for an aftermarket computer mount, and a round carbon fibre seatpost, which is a benefit in its own right, and another easy and cheap replacement if ever the need arises. There's no power meter here, but at £350 less (£3,300 vs the Canyon's £3,649), you'd have enough money to make that purchase if you wanted.
It is the same price as the Giant TCR mentioned earlier, and in honesty, they were both close calls for winning this award. However, the deciding factor was that the Scultura comes with Shimano 105 Di2 and alloy wheels, whereas the Giant had mechanical 105 and carbon wheels. You can pick your poison here; you might prefer mechanical shifting and if that's the case, go with the Giant. But the cost to upgrade a groupset is pretty significant, and will probably require the help of your local bike shop, which itself will come at a cost. Upgrading to carbon wheels is also not cheap, but we do think it'll be cheaper than a new groupset, and it'll be much easier to do yourself so potentially saving money there. You'll also have a second set of training wheels if you choose to keep the old pair, which will double the lifespan of both pairs as you swap them back and forth. 
Interestingly, the Merida nearly didn't win. Before Tom or I had ridden it, Will was adamant that it wasn't a winner. He didn't like how it rode, calling it wooden, saying "It's fine, nothing more". In comparison to the £3,599 Vitus Venon Evo RS, he thought the Vitus was easily worth the extra price for what he feels is a better riding bike. Tom and I took the pair out together to verify Will's thoughts, swapping over a couple of times mid-ride, and our findings highlighted something important to share: fit is very important. Personally, I preferred the ride of the Merida to the Vitus, Tom preferred the Vitus but still liked the Merida. The Merida sizes up big, and as the tallest of the three, fitted me best. It also put you into a more aggressive riding position, further forward over the bars and over the bottom bracket. Again, I like this, but others might not. Given everybody is different, it highlights the benefit of test riding a bike before buying if you can. 
To summarise, the Merida is a solid semi-aero frame with a genuinely excellent groupset, a well-specced finishing kit that's all easy to live with, and a totally workable set of alloy wheels. It's ready to go straight out of the box, and a prime platform for upgrading down the line if you feel the desire. 
Honourable mention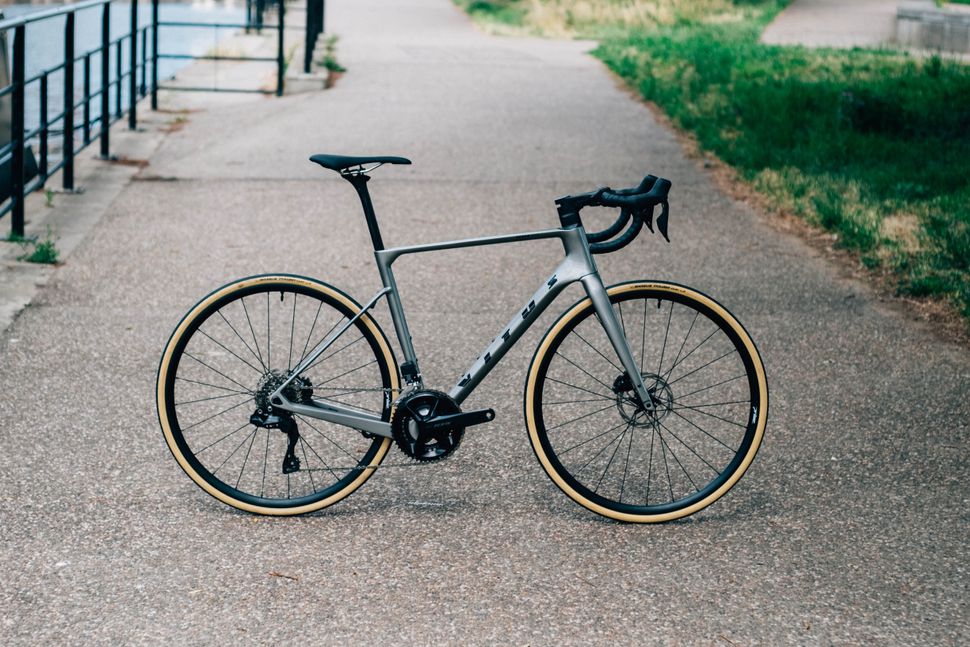 It's already got a mention above, but now the Vitus is getting an honourable mention award because it is a two-sided blade. Or in English, it's a bike that with a switch of wheels, can be turned into a gravel bike.
I know that this isn't the first to offer such a party trick, but most of its peers are focused more on endurance and comfort; bikes like the Fara All-Road and the Trek Domane are prime examples. The Vitus Venon Evo, however, is a no-holds-barred race bike. It has steep angles, aero profiling and a short wheelbase. Its handling is snappy and direct, its power transfer is immediate, it holds speed well on the flat, and it was the lightest on test (just) at 8.02kg. 
While you'd be forgiven for thinking a two-in-one bike would have to make too many compromises, and would therefore struggle to compete against dedicated road or gravel options, this bike proves the theory wrong. We have all ridden it in both road and gravel guise, and unanimously agree that it's perfectly at home in both scenarios. In fact, upon riding the road version seen here a month or so after riding the 'GR' gravel model, two of us (I won't say who) didn't even realise they were based upon the exact same frame. 
Spec-wise, it largely mimics that of the Merida above with its 105 Di2 groupset, alloy wheels, FSA semi-integrated cockpit, and carbon seatpost, but the price is £299 higher at £3599. Given its dual-purpose ability, you might argue it actually offers better value, but that does, of course, require you to spend the extra money on gravel wheels. 
We were also impressed by the Michelin Power Cup Tubeless tyres, which felt fast and looked great. The fact that it can also take full-length mudguards is just showing off, really. The only real downside we found is that the seatpost would slip (on three different test bikes), so be sure to stock up on carbon assembly paste. 
Editors' choice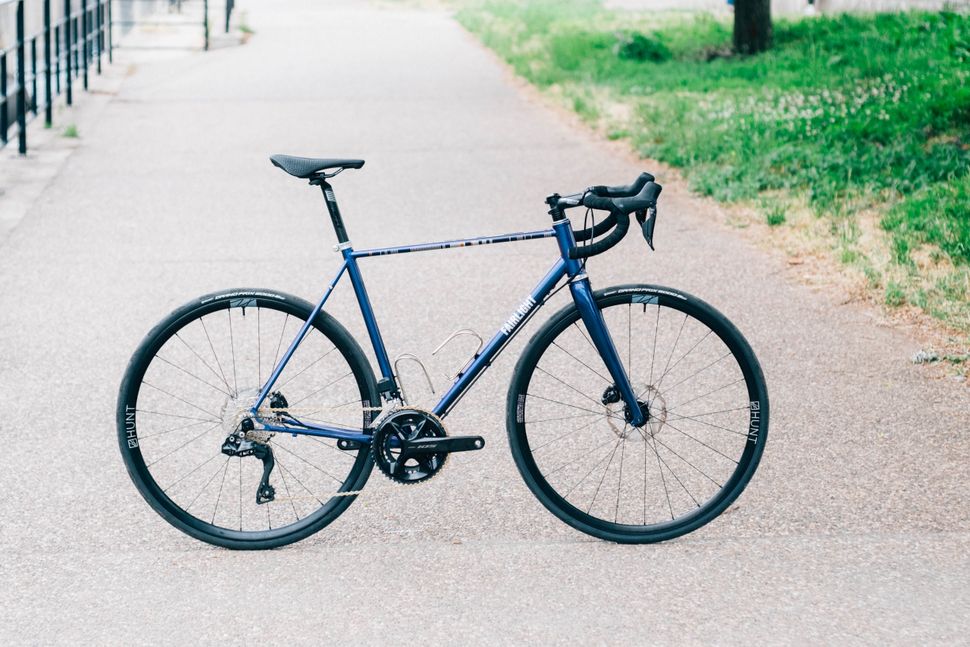 The closest we could get to choosing an overall winner was when we all agreed that if we all had to buy one of the bikes from not only these tests, which comprised nearly two dozen bikes but all the bikes we've each tested over the past year, we'd all willingly buy the Fairlight Strael 3.0.
In this very guise (excluding the fancy Specialized Power Mirror saddle that Will had swapped onto it prior to photography for his ride home) it will set you back £3,409.00, that's complete with a Shimano 105 Di2 groupset, alloy Hunt Four Season wheels, FSA cockpit, GP5000 tyres, a carbon fibre fork, and of course the steel frame which comes in a choice of two heights. This one is the shorter of the two, and the ride quality it offers is smooth and comfortable while also being direct and agile. 
The steel frame does mean it's on the heavier end of the scale in this test at 8.91kg (albeit not as heavy as the alloy Emonda ALR5), and while it didn't have quite as much zip on the ascents as the Vitus in my opinion, no doubt a combination of the more supple frame material and the extra grams, it was absolutely by no means a slouch, and when we needed to get back to base quickly because the heavens opened and I'd forgotten my rain jacket, it barrelled along the flat roads with gusto. 
Reynolds 853 tubing makes up the frame, with eyelets for full-length mudguards and three bottle cages. The 36mm tyre clearance is more than wide enough for a road ride, and while it isn't marketed as being a gravel bike, all-road or any sort of dual-purpose machine, it felt more than happy on light off-road surfaces when fitted with the appropriate tyres. 
Going against the convention of many modern road bikes, it avoids integration wherever possible. The brake hoses are routed fully externally, and I'm not just talking about the cockpit here. The rear brake hose is routed along the underside of the downtube, and while the Di2 groupset is semi-wireless, the same would be said for brake cables if you get it with a mechanical groupset. 
And that leads me on to another great benefit of the Strael: you can spec it to your preference. Each bike is custom built to order, meaning you choose your colour, select from a long list of spec options and buy the bike as you want it, rather than having to make compromises that you'll later have to swap. 
As mentioned, it's a genuinely excellent bike that rides every bit like a racy road bike, with the comfort that steel frames and wide tyres provide, all while, let's face it, looking bloomin' lovely in the process.