Estimated read time: 3-4
minutes
MIDVALE — Gregg Johnson is an artist who sculpts carpets and does gold leaf and decorative borders. He also loves trucks, so he brought the art and trucks together.
Johnson owns seven trucks, using a 1977 Ford F-250 as his daily driver since 1987. He said it has been through four or five paint jobs and one body-off restoration. He also lists a 1935 Ford, 1956 Chevrolet big-window resto-mod, 1969 GMC two-wheel drive long bed, and 2023 Ford F-150 Tremor. He said he has loved trucks since he was a kid, first inspired by his Dad's 1961 International Crew Cab, which he described as "ugly," but wishes he had now.
His 1929 Ford, called "Moonstruck," gave him the chance to bring his artistic talents to bear on something unique. Johnson's mother's family name is Moon. His business name is Half-Moon Studio because he is half Moon. If you put a little pause in the right place, "Moonstruck" sounds like "Moon's Truck." The tail art on the tonneau cover has a capital M and T.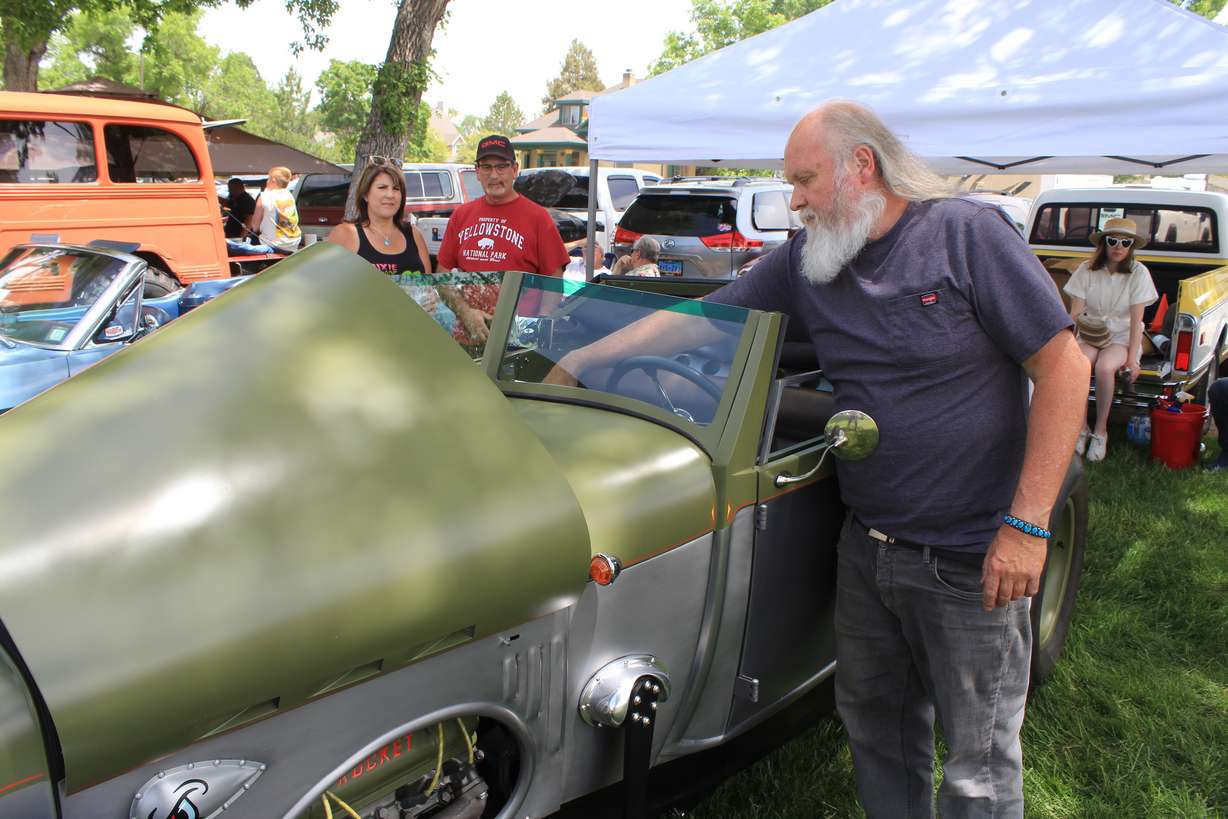 It was a project to get the Utah Division of Motor Vehicles to recognize Moonstruck as a 1929 Ford Roadster pickup. It has brand new sheet metal and a custom-built frame. The DMV likes to know a vehicle isn't stolen or made of stolen parts before they assign a VIN, so Johnson documented the major parts like the frame, soft top and engine.
The frame was made in Colorado, but Johnson had a tough time with the shop; it took too long and was an inch-and-a-half crooked in back. Things improved when Johnson got the project to White Desert Rods in Grantsville. And things got creative when Johnson saw a Duvall-style windshield, which reminded him of the windshield on a World War II B-17 bomber, and he picked up more warbird influences from there.
He wanted bare metal for an aircraft look, but went with olive drab paint. You may have seen the P-40 shark mouth on other cars, but Johnson went a milder route, making a cutout around the engine and using just the eyes from the iconic fighter plane's art. He added aircraft-style blisters, and his tail art, a Rat Fink-style Donald Duck, would've been nose art, but there was not enough room up front. Yes, Johnson can do the Donald Duck voice.
He clear-coated the whole thing with satin paint to keep down the shine. Inside, there are leather seats and map pockets. The military aircraft theme can be seen throughout Moonstruck, even in the wheels.
Making it go is a 1956 Olds 324 Rocket engine, built by Bob's Garage in Tooele. It came from "a guy in Colorado," and had been in pieces 40 to 45 years. Most of the parts were there, but they had to scrounge for some. It has a beefed-up crank and has been bored, but is not your typical hot rod build. The fuel-injection is a bolt-on from Edelbrock. It has a reproduction air cleaner cover from a mid-1950s Cadillac. The transmission is a Ford C4 automatic. Johnson guesses the truck makes 320-350 horsepower, and says it's really easy to do 80-90 mph on the freeway. There is no power-steering because he didn't want it to get squirrely, and the steering, itself, is on display.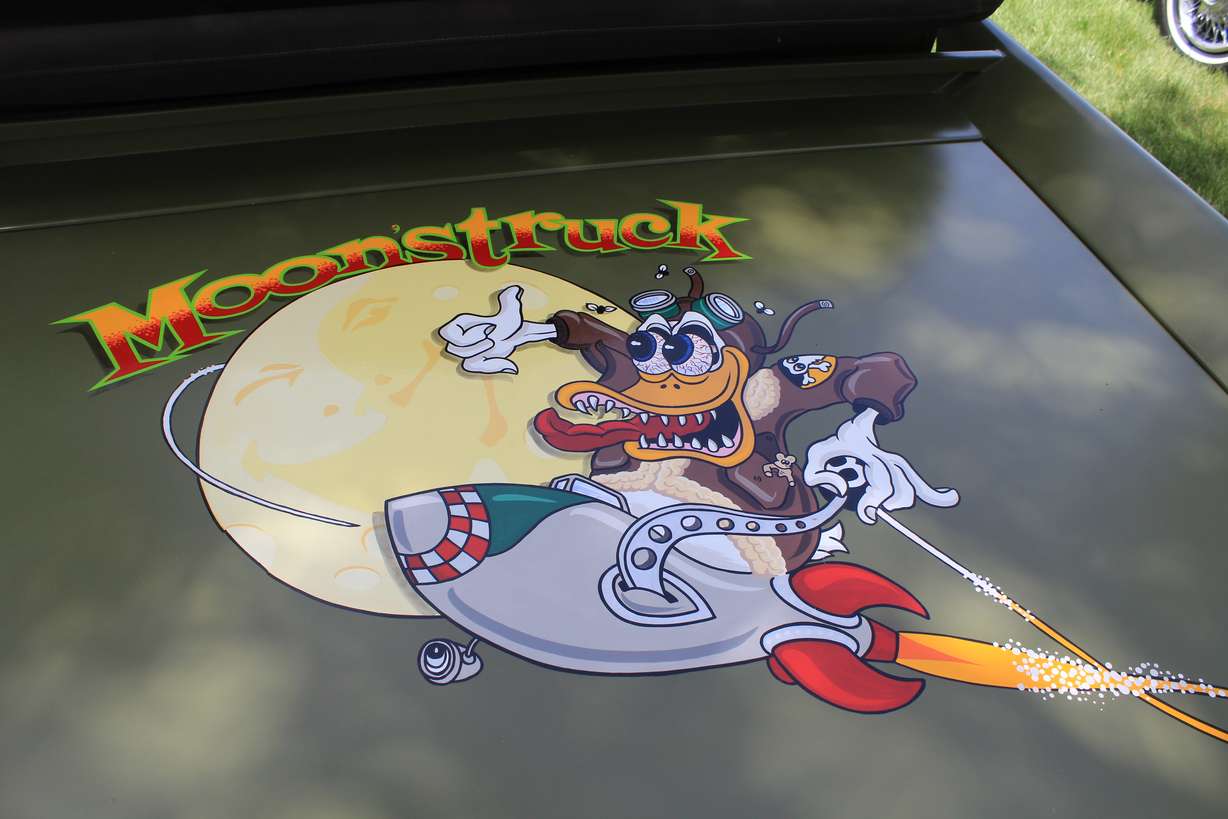 Besides what has already been mentioned, the truck has a list of credits:
Bruce Lee, of Perfect Stitch Upholstery in South Jordan, did the interior.
Matt Wood, of Leonardo's Customs in Magna, did the tail art.
Tim Jennings, of Falcon Collision and Customs in Grantsville, did the pinstriping.
Home-builders and critics would call Moonstruck "bought, not built." Johnson understands that, making no apologies and not getting too concerned about other people's opinions. He served as art director, project manager and chief funder for the build.
He gets lots of thumbs-ups. He said he usually takes it to JC Hackett car shows, and gets a lot of positive reactions and a few awards. He likes that people enjoy it and recognize it for what it is — what he calls "one man's quirky obsession."
×
Photos
Most recent Cool Cars stories
More stories you may be interested in