With technological advances, cars have undergone a sea change in the last decade. It's no more just about mobility needs. Cars are offering a lot more these days, be it safety or lifestyle features. Here's what you need to keep in mind before making your choice.
Almost a year ago, Delhi-based businessman Kailash Arora started his search for a car for his five-member family. He was clear in his mind what he wanted in his budget of Rs 10 lakh.
It had to be a petrol car, which could comfortably accommodate three individuals in the second row, have high fuel efficiency and adequate features, including touchscreen infotainment, automatic climate control and airbags. After comparing and checking out several premium hatchbacks, compact sedans and compact SUVs, he finally booked a car last week.
That Arora took about a year to make up his mind isn't unusual. The search for a new car is exciting, it's mind-boggling too.
With cars having changed phenomenally due to technological advancements, buyers are looking at new factors and features, that weren't anywhere on the horizon a decade back. They are no more about steering and four wheels.
The new options present a challenge too — which car to buy and why?
THEN Vs NOW
While a decade back, the total cost of ownership, including acquisition and running costs, and resale value were the prime concerns for car buyers, they are now looking at value-for-money models, which not only provide better driving experiences but are loaded with multiple tech and safety features.
Even the vehicles being offered by car makers now reflect the aspiration and expectations of buyers. The vehicles have superior powertrains and boast modern bells and whistles.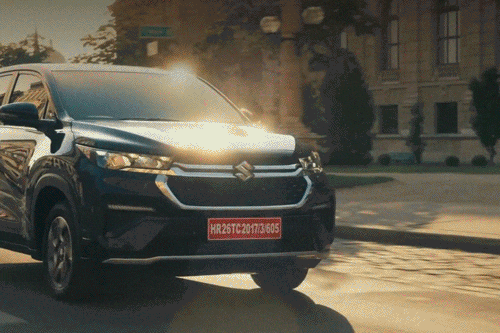 Though the additional safety and lifestyle features have pushed up car prices, a rise in the disposable income of buyers meant the demand stayed strong.
According to industry research, features (safety, driving and interior), looks, value proposition, comfort (seats and space) and brand (visibility and prestige) are the top buying parameters for customers at present.
Kailash Arora's year-long search for a premium hatchback ended last week as he finally booked the Maruti Suzuki Baleno.
The country's largest carmaker, Maruti Suzuki India, once famous for its affordable and fuel-efficient cars, is now offering some segment-leading and segment-first features in its models.
Its cars now have a head-up display, 360-degree camera, panoramic sunroof, 9-inch touchscreen infotainment, wireless Android Auto and Apple CarPlay, ventilated seats and airbags, among other features. The Maruti Suzuki Grand Vitara has a strong hybrid powertrain as well.
The features that Maruti Suzuki has added to its cars reveal how the Indian car buyer has evolved with the change in technology and options on offer.
Maruti 800 was launched in December 1983. The first mass-produced small passenger vehicle in India was an instant hit as it took care of people's mobility needs. India has come a long way since then.
For starters, safety has become a benchmark for evaluating cars. From airbags and seatbelts to forward collision warning, pedestrian detection, rearview camera, surround-view camera, parking sensors, lane departure warning and automatic emergency braking, the progress in safety features has been glaring.
For Amit Kumar, safety was his topmost priority when he upgraded his car. He booked the Tata Nexon, which has scored five stars for adult occupant protection at Global NCAP crash tests. Kumar was also considering Maruti's Brezza. However, a higher safety rating and lower waiting period worked in Nexon's favour.
Though this is not to say that Indian customers aren't asking, "Kitne ka hai (how much does it cost)" and "Kitna deti hai (What's the mileage)". But they are going beyond the price-mileage binary.
"India is a price-sensitive market so pricing has always been a critical aspect while buying a car. Affordability and value for money are important considerations. However, there are other factors that today are equally important for consumers like safety, comfort and ease of driving," Tata Motors Passenger Vehicles marketing head Vinay Pant tells India Today.
Like with Amit Kumar, a lot many buyers now decide on a car going by its safety features.
"Safety being a significant consideration, buyers are looking for advanced features like traction control, lane-departure warning, rear-view camera and stability control. Customers often compare prices, features, and performance across different models to find the best balance between cost and quality," he added.
Besides, the demand for SUVs in the Indian car market has shot up manifold.
The share of the SUV segment in India's passenger vehicle market climbed to 43 per cent in FY 2022-23 from just 16 per cent in FY 2015-16. SUV sale volume stood at 1.7 lakh units in FY 2022-23. Also, the number of SUV models has jumped from 27 in FY 2015-16 to nearly 50 now.
Upright driving stance, high driving position, better ground clearance and flexibility of space usage are among the top reasons for the rising popularity of SUVs.
All of these, in addition to lots of features and a high safety rating, made Rahul Kumar book the Mahindra Scorpio-N last week.
It was similar factors that influenced Amit Rai's decision when he recently upgraded from the Volkswagen Polo to the Volkswagen Taigun. He wanted to stay in the Volkswagen family and was looking for an SUV with a powerful engine and a high safety rating. And for him, the Volkswagen Taigun fit the bill.
"Car buyers today are highly discerning, seeking a comprehensive package while selecting a vehicle. The priorities have shifted from the traditional functional requirements as a means of mobility to a 360-degree perspective," Ashish Gupta, brand director, Volkswagen Passenger Cars India, tells India Today. "Now, customers focus on the overall design and presence of the carline, performance and ride quality, infotainment and connectivity solutions."
Gupta said safety features were one of the crucial factors for customers these days.
"Increasingly, customers are prioritizing safety features, which are becoming one of the key considerations while making the buying decision. They also expect a value-for-money proposition in terms of ownership experience," he adds.
Experts India Today spoke to advise that safety and lifestyle features should be a key consideration while buying a car. Value-for-money, comfort, engine power and performance and after-sales support were the other aspects that also need to be kept in mind, they suggest.
Volkswagen's Gupta says new technological solutions have made customers more connected to their vehicles.
"Today, the products have become far more advanced be it in terms of engine and transmission technology, enhancing the performance and ride quality or with respect to connected solutions that allow them to use navigation, voice command solutions, infotainment that offers a comfortable driving experience," he added.
DO YOU NEED THESE IN YOUR CAR?
What features you need in your car depends on how much you drive and where you drive.
For example, if you drive to the hills on weekends, hill hold assist and hill descent control would be useful for you.
Similarly, depending on where you stay, a rear windshield wiper could be of great use. A 360° camera and tyre pressure monitoring system come in handy always.
Smart apps help you locate the car in the crowded parking lot of a mall and also assure you that your car is safe.
When you reach a car showroom and look at the models and variants, this list might come in handy.
1) Six airbags
2) Wireless charging
3) LED lights
4) Keyless entry
5) Telescopic steering
6) Height-adjustable seats
7) Rear windshield wiper
8) Hill roll assist/ Hill hold
9) Heads-up display
10) 360° camera
11) Tyre-pressure monitoring system
12) Follow-me home lights/ Automatic headlights
13) Smart apps (For car location, overview)
14) Automatic climate control
15) Good music speakers
x
Creative: Rahul Gupta
Infographics: Arun Uniyal
Concept, Narration: Yudhajit Shankar Das
Visuals: Maruti Suzuki India, Tata Motors, Mahindra & Mahindra, Volkswagen, Global NCAP, India Today