Pakistan artist Ali Salman Anchan has received commissions from across the world. His "truck art" – known as Phool Patti in Urdu – appears in buildings in Europe, North America, the Middle East and Asia. Most recently, his vibrant designs have brightened up the Pakistan embassy in Beijing.
But it was a commission to paint a van used to transport medical supplies after last year's devastating floods in his home country that has been the most fulfilling, he says, adding: "It was an honour to be part of this project."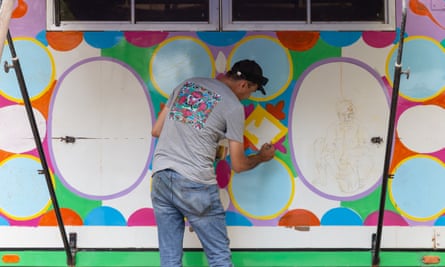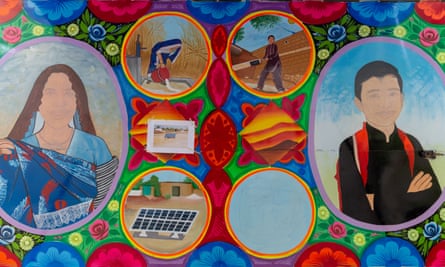 Truck art dates back to the 1920s, when Bedford trucks imported from the UK were embellished with colourful floral patterns and landscapes, animals and birds. Over the years, the indigenous art form has become a method of storytelling, used to share messages or celebrate moments and milestones. The designs, often painted by hand and largely by self-taught artists, can be seen on vehicles across the country, including tuk-tuks and buses.
In January, Anchan was asked by the Disasters Emergency Committee (DEC), an umbrella group of UK charities that coordinates funding appeals, to tell the stories of some of the survivors of Pakistan's worst floods on the sides of a vehicle that was used as a mobile clinic.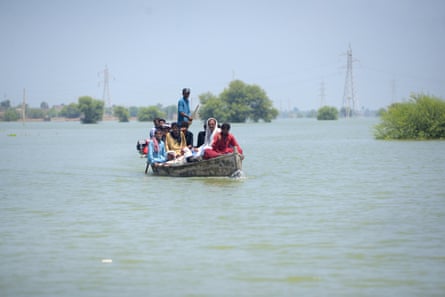 Between June and August last year, monsoon rains killed at least 1,700 people, damaged 2m homes, and destroyed crops and livelihoods. Sindh and Balochistan provinces were worst affected.
Anchan, founder of the Phool Patti, a social enterprise project to promote Pakistani truck art around the world, was sent photographs of potential subjects to paint, and in May he and his team of artists travelled to Sindh to meet them. Anchan says hearing their stories was "eye-opening".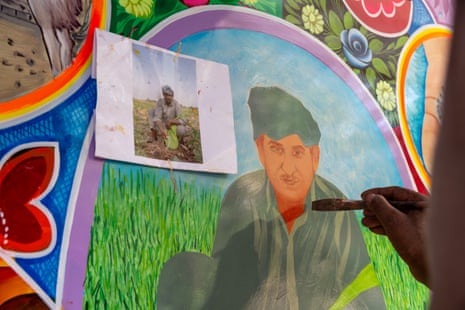 Maula Dinno*, a farmer in Sindh, says he thought he was "witnessing judgment day" when the floods arrived. "So much water entered our homes. We could not even sit on our charpoys [woven beds] as the water rose above them.
"Everything was destroyed in the water. The cotton crops we had sown, the animals … we lost it all. I saw people falling so ill. We were compelled to seek shelter in tents on the nearby main roads. My family – my mother, my wife, Nusrat, and our children – spent two months living on the road.
"My land was inundated, and by the time the water dried, the land was barren and unusable. We did not have the funds to plough the land or purchase the seed. The situation was so dire that I gave up. I felt as if I would never be able to use the land again."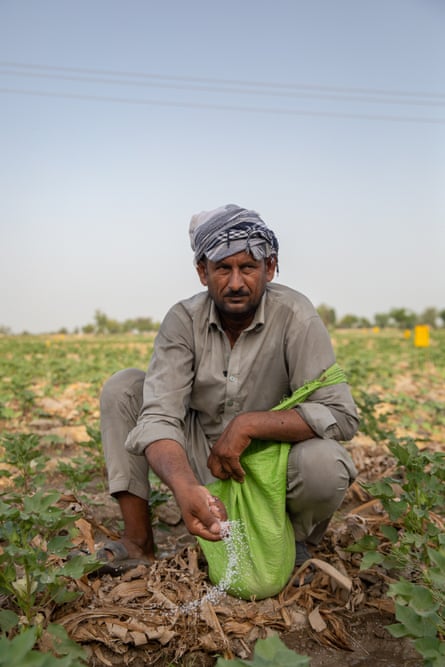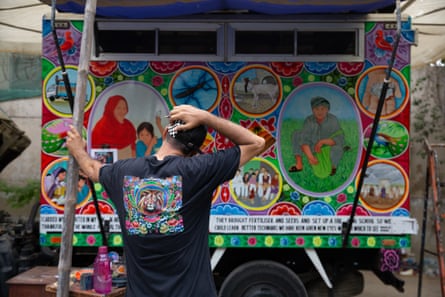 Dinno received saplings, seeds and fertiliser from the NGO Concern Worldwide, and one year on, crops are beginning to grow back. "Yesterday, I carried mountains of troubles and trials, but now I am relieved [of them] and I am in a happy phase," he says.
Arslan, 11, remembers flood waters reaching as high as his neck. "I had never seen so much rain in my life," he says. "I felt really scared. I didn't know what would happen."
He says there was little food. "We could not get food like vegetables or rice or oil. I love to eat bhindi [okra] but nothing like that was available. The water had some dead fish in it but we were scared we would get sick if we ate that. Even flour was so expensive. Our school was damaged and we were really worried that we would not be able to continue our education."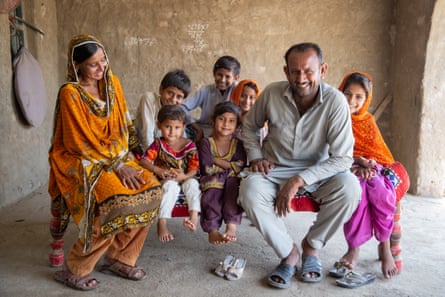 Arslan, whose family are still living in a tent after their home was destroyed in the floods, is studying in a temporary school set up by Save the Children.
"I remember my first day at the tent school. I was so happy, I felt as if my dream of becoming a police officer was still possible. When it felt like we would not receive an education, I thought I would lose that and I would have to do manual labour to earn a living like most of the people in the village."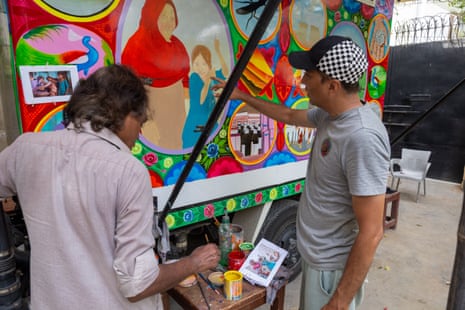 When Lakshmi, 35, returned to her village six months after the floods, she found it in ruins – homes had been destroyed, crops gone and livestock killed. But she says the tragedy formed new bonds between people.
"Everyone was so devastated by loss that the distinctions were erased," says Lakshmi, who lives with her husband and seven children. "Whether you were Hindu or Muslim, it didn't matter. We forgot all the things that separated us or made us different and we had to come together as a community to take care of ourselves. We had all lost everything – that was the common factor."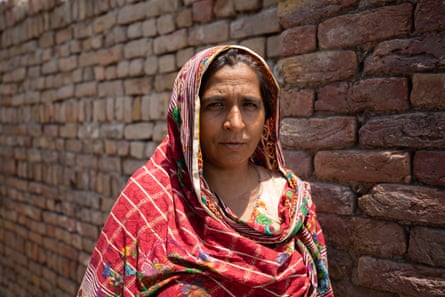 Sultana says her house was "inundated with water" that stayed for about four months. "The water was as high as my knees and it was everywhere. We were afraid to go out on to the roads to seek shelter because there was so much water surrounding us," she says.
She worries how much damage could occur during this year's rainy season, which has already killed more than 50 people.
Sultana's daughter, Arya Fatima, 10, had to be taken to a clinic after she contracted malaria from the mosquitoes that bred in the stagnant water surrounding their home. She also became malnourished. "I vividly remember carrying her in my arms into the clinic. She was not conscious, and I feared for her life," says Sultana.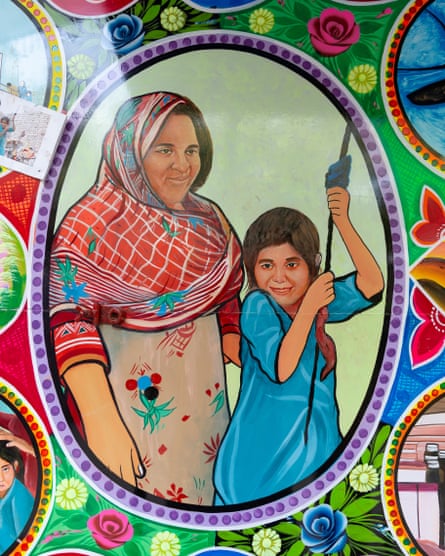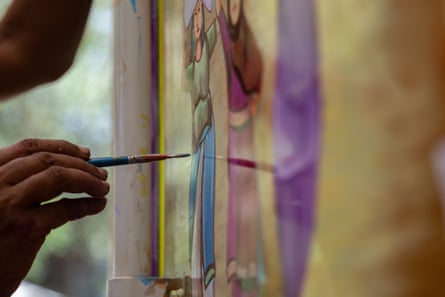 Arya Fatima recovered and Anchan says he remembers the excitement and joy on her face when she saw her portrait on the van.
"She was excited, but also the whole village was excited. She was a celebrity on that day because everyone, all the other girls, were congratulating her," he says. "She was still recovering from malaria, but after everyone saw her, she felt better."
Painting the van was a "brilliant idea", says Anchan, "because the villagers in the affected areas are suffering a lot of things. But when we parked the truck up, the villagers celebrated and were all so excited.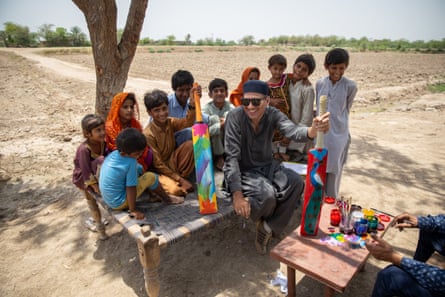 "Everyone came to see the truck to see if they could recognise who has been painted, if they knew someone."
Anchan says the project has changed his life. "I've decided I want to do more social projects after this. Sometimes projects change your thinking. I saw this devastation my own people suffered and I decided I can do more, not just through painting and art, but through any type of voluntary work."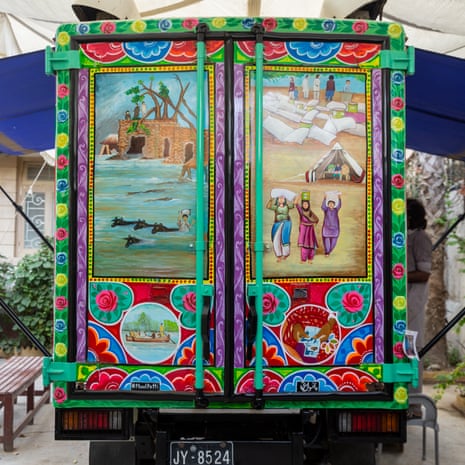 * All interviewees are referred to by their first names only to protect identities