LAKELAND, Fla. – Eight passengers were injured after an Amtrak train derailed during a crash involving a semi-truck in Lakeland Friday evening, first responders said. 
Authorities rushed to the scene of the crash near US 92 at Canal Avenue. They said the train slammed into the semi-truck, which was parked on the train tracks on Canal Avenue. 
Lakeland first responders said the Amtrak train was heading to New York after departing from Miami. The train had also previously made a stop in Tampa before the derailment. 
Police say that as the train approached Canal Avenue North, the engineer saw the truck and began blowing the train's horn.
The crossing arms and lights activated, and the driver of the truck Albert Carrazana Bermudez, and his passenger, jumped out of the truck, according to authorities.
Police say Bermudez has been issued a citation for insufficient clearance at a railroad crossing.
Officials said 173 people were onboard the train, including 163 passengers and 10 crews members. Of those who were on board, seven people were taken to an area hospital with non-critical injuries. 
Fire crews said 1,600 gallons of diesel fuel was in the front engine compartment which rammed into the semi-truck. 
Officials did say fuel did leak from the derailment, but they have not confirmed how much. 
The Lakeland Police Department also responded alongside multiple other agencies. Officers are currently assisting in relocating the passengers who were on board.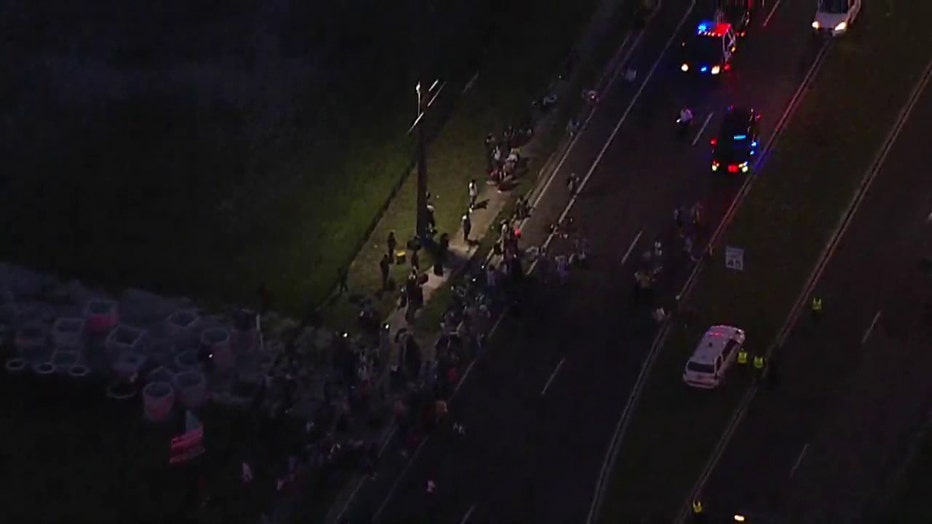 Officials said the Polk County School Board also helped arrange for school buses to take passengers to the RP Funding Center in Lakeland while they await further transportation. 
Initial estimates indicate that damages to the train, tracks, CSX property, cost of cleanup, and losses due to track downtime are estimated to cost between 6 and 10 million dollars, according to officials. 
Authorities said the Polk County Sheriff's Office is taking the lead on the crash investigation.