The adventure motorcycle segment has become vastly important to manufacturers as adventure bikes have overtaken sports bikes as the best-selling models. Starting with the BMW R80GS in the early 1980s, there have been hundreds of adventure models from virtually every motorcycle manufacturer, but that's not to say that every adventure bike has been successful or even particularly good. When buying a used adventure bike, there will be hundreds on the market but which ones should you avoid, and which should you keep a look-out for?
Related: 5 Adventure Bikes To Buy (And 5 To Avoid)
10
Buy: BMW R 1200 GS
2009 – 2015
BMW R1250 GS in blue, facing right
For some, it's the ultimate expression of adventure bike engineering, for others, it's a heavy, overpriced, style-over-substance poseurs bike. The truth lies somewhere in the middle, but there is no denying that the BMW GS is the most successful adventure bike on the market. Yes, it is rather large, but if you have the height to cope with it, then it is actually a fabulous motorcycle on- or off-road, with more ability than you would expect. The R 1200 GS was available first with an air-cooled engine and, from 2013, with liquid-cooling: both make excellent used buys, with dozens on the market at any time and many of them with plenty of after-market accessories.
| | |
| --- | --- |
| Engine | Boxer twin |
| Power | 125 horsepower |
| Torque | 92 foot pounds |
| Weight | 525 pounds |
9
Avoid: Moto Guzzi Quota
1992 – 2001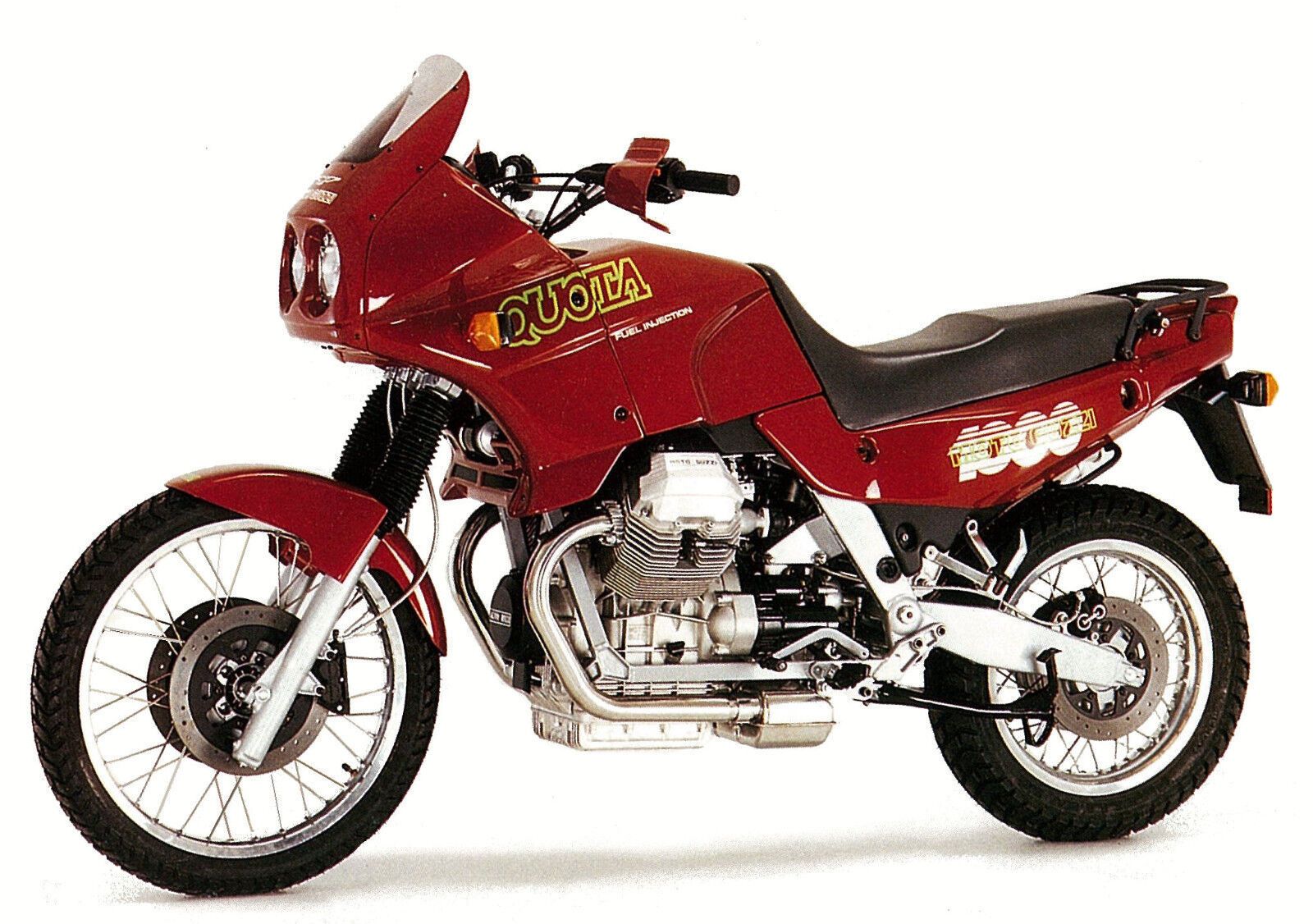 Moto Guzzi Quota 1000 in red
Moto Guzzi is possibly the least likely adventure bike manufacturer, saddled as it is with that heavy transverse V-Twin engine. That doesn't mean Guzzi hasn't tried, although maybe it should have not bothered, if the 1989 Quota is anything to go by. The original 1000cc model had a paltry 69 horsepower and an all-in weight of 660 pounds, so it could barely get out of its own way, and you certainly didn't want to be picking it up after a fall. Guzzi build-quality at the time was dire, reliability worse, the seat height was a very high 900mm and there was no way you would want to even show the wheels a bit of dirt, let alone ride on it. Even BMW-like shaft drive couldn't save the Quota and you should walk away quickly if someone tries to persuade you that it's a good buy.
| | |
| --- | --- |
| Engine | V-Twin |
| Power | 69 horsepower |
| Torque | 58.5 foot pounds |
| Weight | 660 pounds |
Related: Get Set, Moto Guzzi's New ADV Has Inched Closer To Life
8
Buy: Triumph Tiger 1200
2012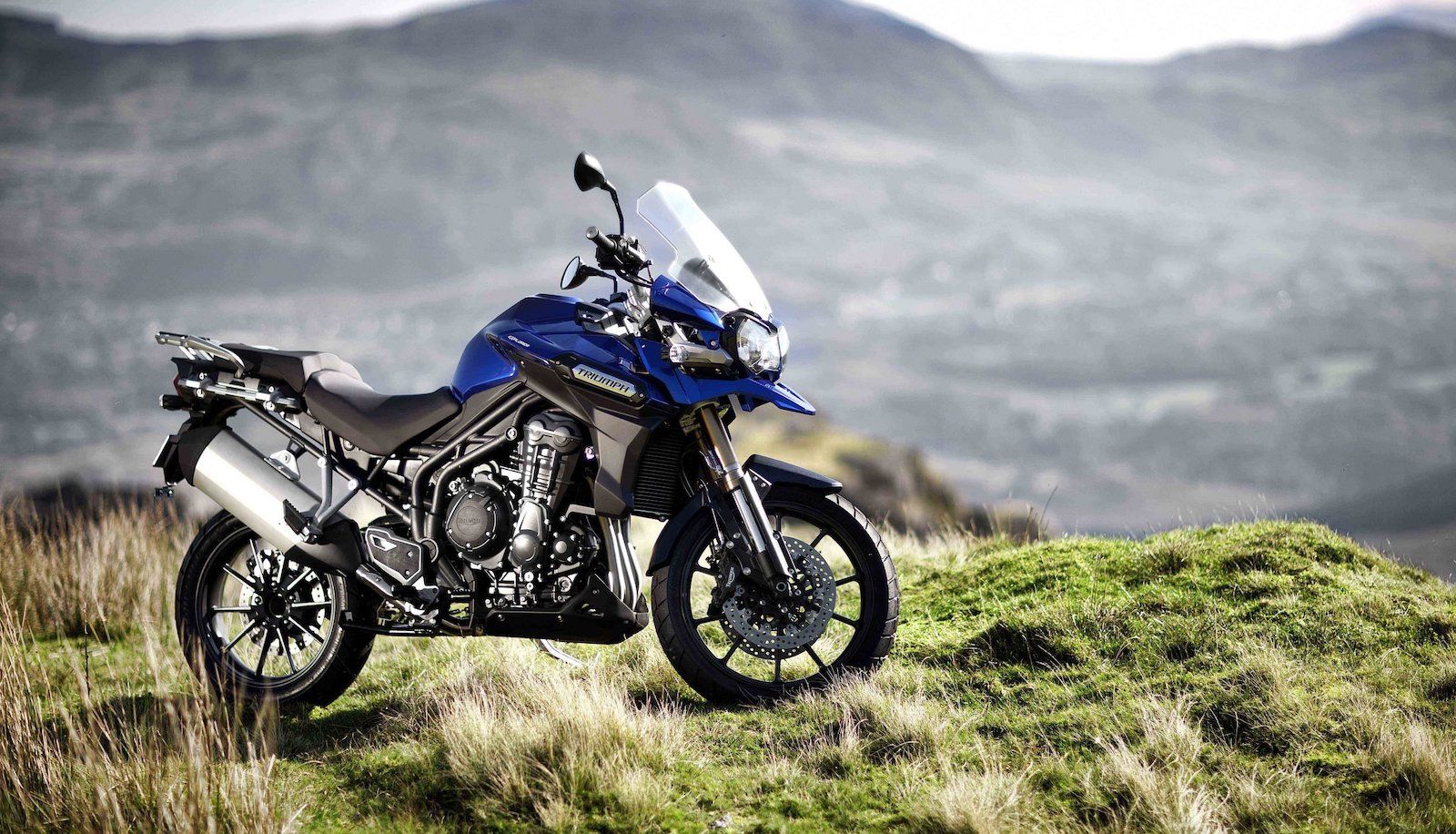 Triumph Tiger 1200 in blue, facing right
The original Triumph Tiger in 1993 arrived before adventure bikes started their upward trajectory in the market and manufacturers were forced to endow their models with actual real-world adventure capability. Triumph soon cottoned on to this and the Tiger gradually improved to the point, with the Tiger 1200 of 2012, where it could be considered a worthy rival to BMW and KTM. The lusty three-cylinder engine combined the best of both the BMW boxer twin and KTM V-Twin, with impressive performance in any situation. The result was an adventure bike that was as good on road as it was off-road. Shaft drive and Triumph build quality and attention to design detail make this an excellent choice in the used market.
| | |
| --- | --- |
| Engine | Inline triple cylinder |
| Power | 148 horsepower |
| Torque | 96 foot pounds |
| Weight | 575 pounds |
7
Avoid: Buell Ulysses
2005
Buell Ulysses in yellow, against a white background
Years before the Pan America, Harley-Davidson and Erik Buell debuted the Ulysses adventure model, based on the Buell XB platform. It was powered by the 1200cc Harley Sportster engine, the weight of which gave it an immediate disadvantage, not helped by the short wheelbase and steep steering head angle which gave nervous handling. It retained all the Buell innovations such as rim-mounted front brake disc, frame doubling up as the fuel tank and the swing arm as the oil reservoir, but it was never going to work properly and nor did it. Tall and top-heavy, with poor ground clearance thanks to the under-engine exhaust. Early models suffered from poor fit and finish and even if it was a brave move by Buell, you won't thank yourself for buying one today.
| | |
| --- | --- |
| Engine | V-Twin |
| Power | 103 horsepower |
| Torque | 84 foot pounds |
| Weight | 425 pounds |
6
Buy: Aprilia Caponord 1200: 2013 – 2017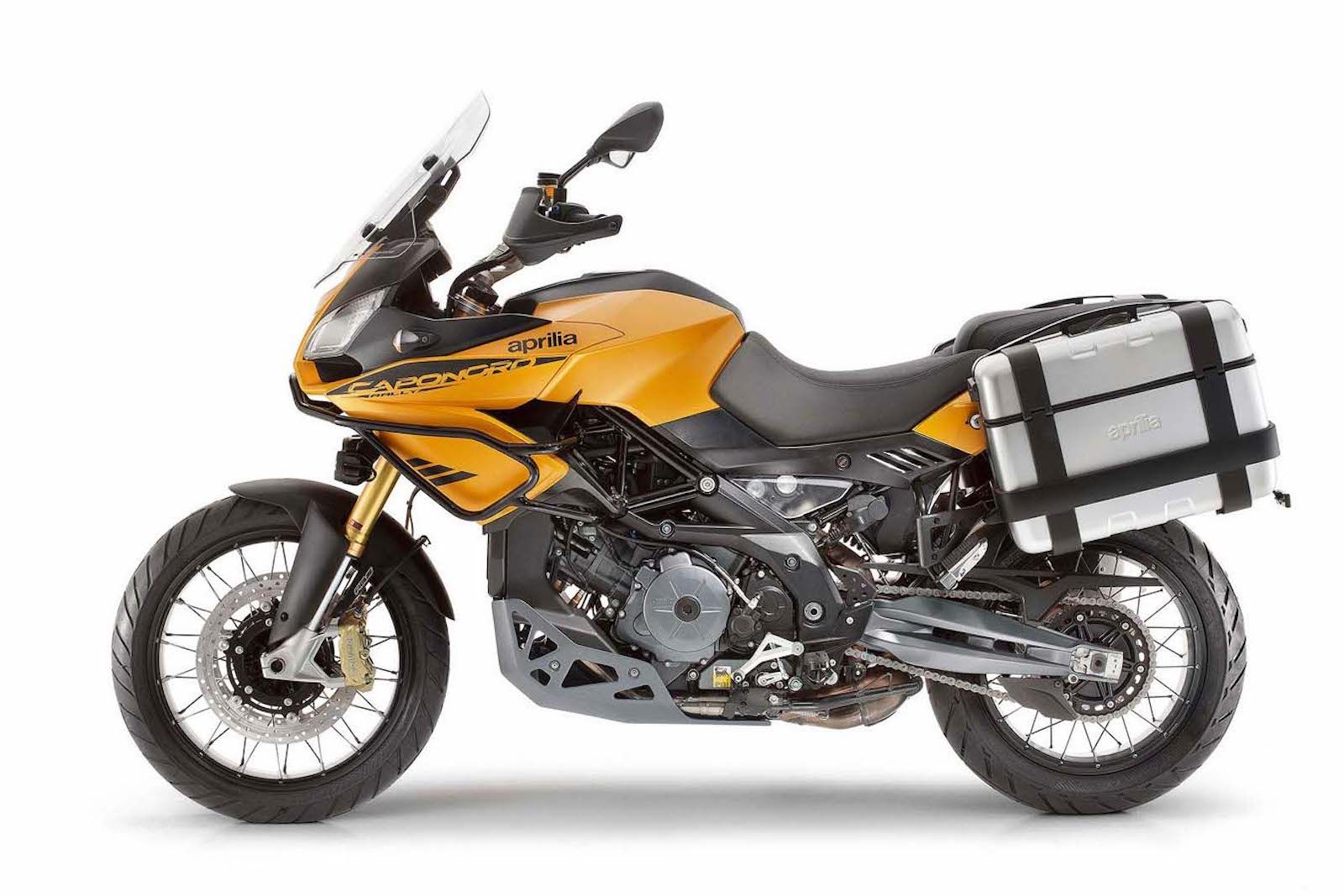 Aprilia Caponord with luggage, facing left
Adventure bikes typically have excellent road manners which is just as well as the majority of them will never see a spot of dirt, despite owners who will equip their bikes with every conceivable extra. The Aprilia Caponord 1200 should really be designated an adventure-tourer as its forte was road riding, while its style suggested there might be some off-road ability there as well. Powered by a 125 horsepower, 1,187cc V-Twin had a broad spread of torque and a much more sporting character than you might expect in an adventure bike. Electronic rider aids were excellent for its time, it came with panniers as standard and the fuel tank was a useful 6.5 gallons. It's a proper looker, as well and just something a little different with a whiff of exotica about it. Brilliant to ride, with a great exhaust note.
| | |
| --- | --- |
| Engine | V-Twin |
| Power | 125 horsepower |
| Torque | 84 foot pounds |
| Weight | 502 pounds |
5
Avoid: Yamaha T7 – 2019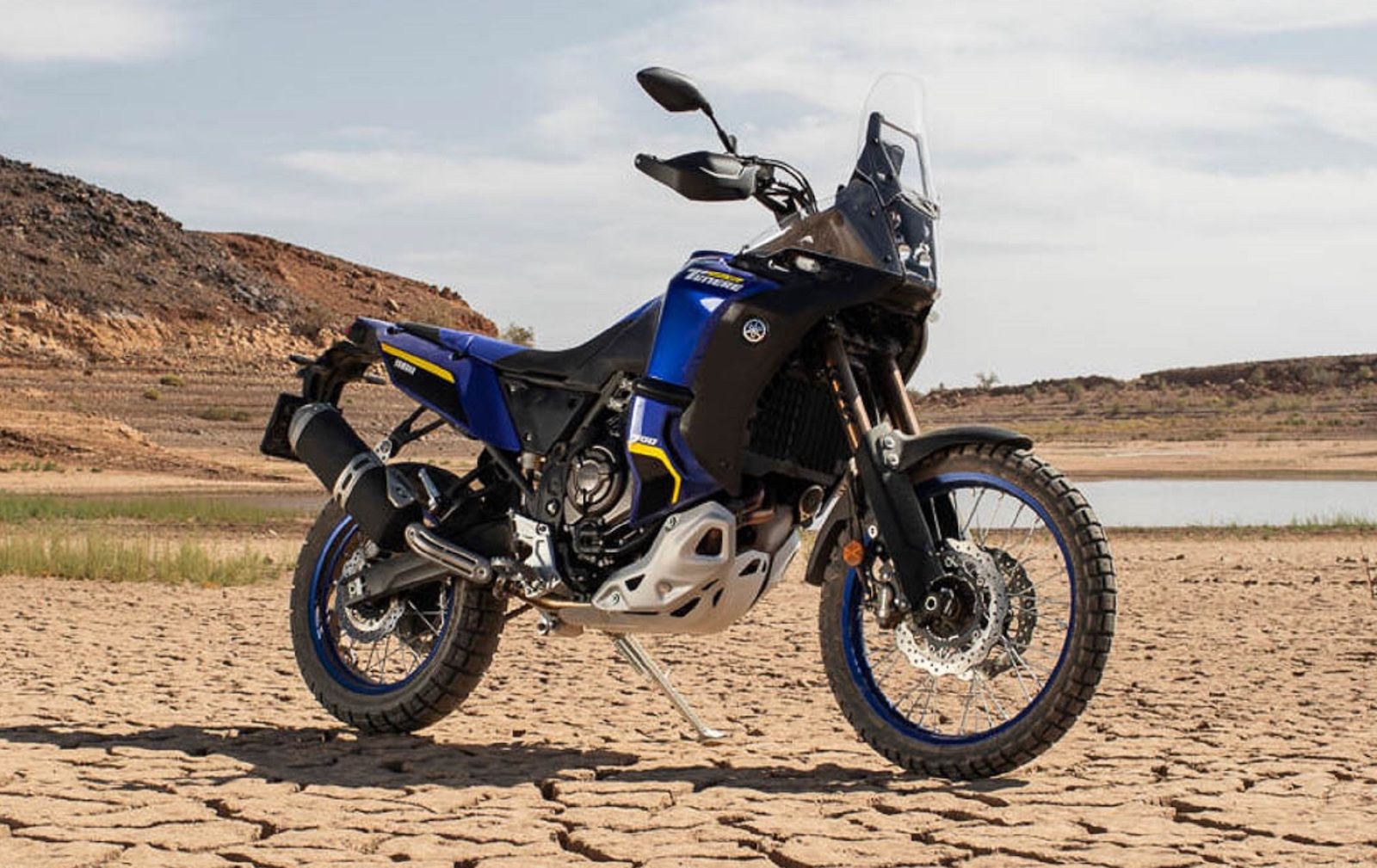 Yamaha T7 standing in the desert
It might be a little controversial to put the T7 in the 'avoid' column but, while there's nothing wrong with the T7's ability off-road – quite the opposite, in fact – it is very biased towards such riding, meaning it can be uncomfortable on long road journeys. Also, it is one of the most basic adventure bikes, in terms of electronic rider aids, which is great if you have the skill of a Travis Pastrana but many of us need all the electronic intervention we can get to keep things rubber side down in the soft stuff. The other problem is that it's only around $1,500 cheaper to than a used BMW R 1250 GS. Because of its nature, it is likely to have been ridden hard off-road, meaning that used examples might be more worn out than an adventure bike that has spent most of its time on the road.
| | |
| --- | --- |
| Engine | Parallel twin |
| Power | 73 horsepower |
| Torque | 50 foot pounds |
| Weight | 449 pounds |
Related: Here's Why The Yamaha Tenere 700 Is The Adventure Bike You Really Need
4
Buy: Kawasaki KLR650
1987 – today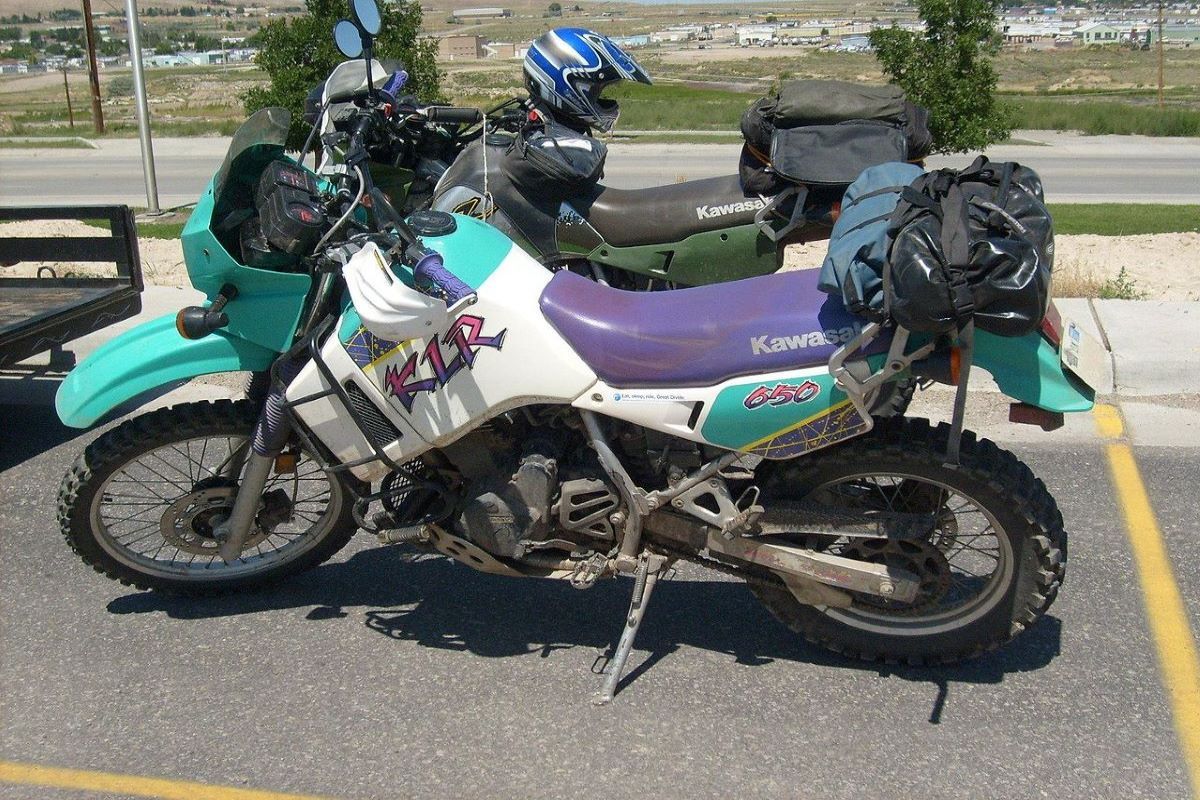 A pair of Kawasaki KLR650s sitting in a parking lot unloaded from trailer
The old warhorse, dinosaur, throwback, whatever you'd like to call it. If the Yamaha T7 is basic, then the KLR650 is positively anorexic! It's the last of the big single-cylinder engined trail/adventure bikes, and it's been around for decades, in largely the same form, Kawasaki having avoided spending any money upgrading it for most of those years. Of course, this simplicity has benefits in that there's very little to go wrong, and it can be fixed roadside with a few simple tools. With the new price sitting at around $7,000, there's not much reason to buy used but, if you do, you could pick up an adventure bargain which will go forever and still get you wherever any of the new, expensive, highly technological adventure bikes will go.
| | |
| --- | --- |
| Engine | Single cylinder |
| Power | 48 horsepower |
| Torque | 38 foot pounds |
| Weight | 416 pounds |
3
Avoid: Kawasaki Versys-X 300
2017 – today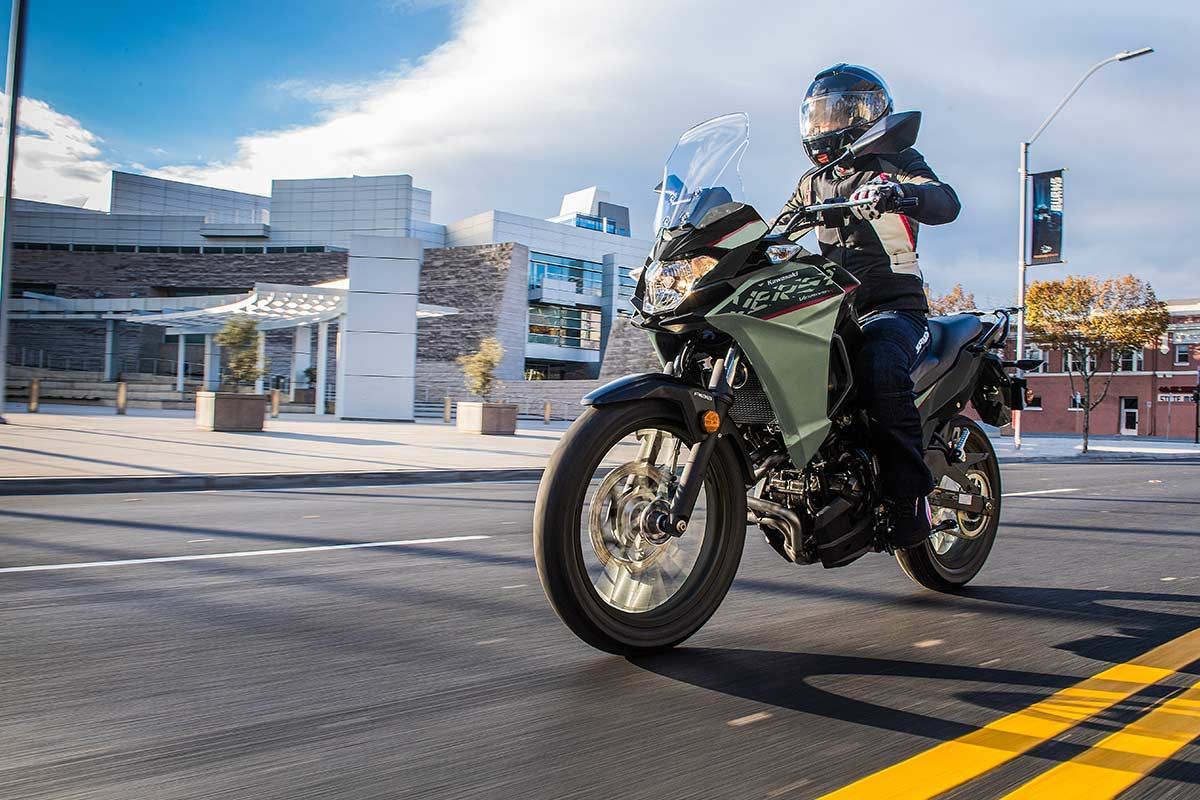 Kawasaki Versys X-300 being ridden in an urban environment
Of all the Japanese manufacturers, Kawasaki has taken less notice of the adventure craze than Honda, Suzuki and Yamaha. The KLR650 aside, when Kawasaki has tried, the results have been a little underwhelming. There's nothing wrong with the Versys-X 300 as such, but its off-road ability is limited, despite the adventure styling and comfort isn't great for long road trips. The engine is a 296cc parallel twin which sets it apart from its rivals and gives decent enough performance, even if you have to work the engine hard to access it. More expensive than the BMW G 310 GS or Suzuki V-Strom 250, the Versys-X 300 just doesn't have the off-road chops to be called a full adventure bike.
| | |
| --- | --- |
| Engine | Parallel Twin |
| Power | 40 horsepower |
| Torque | 19 foot pounds |
| Weight | 385 pounds |
2
Buy: Yamaha Super Tenere
2010 – today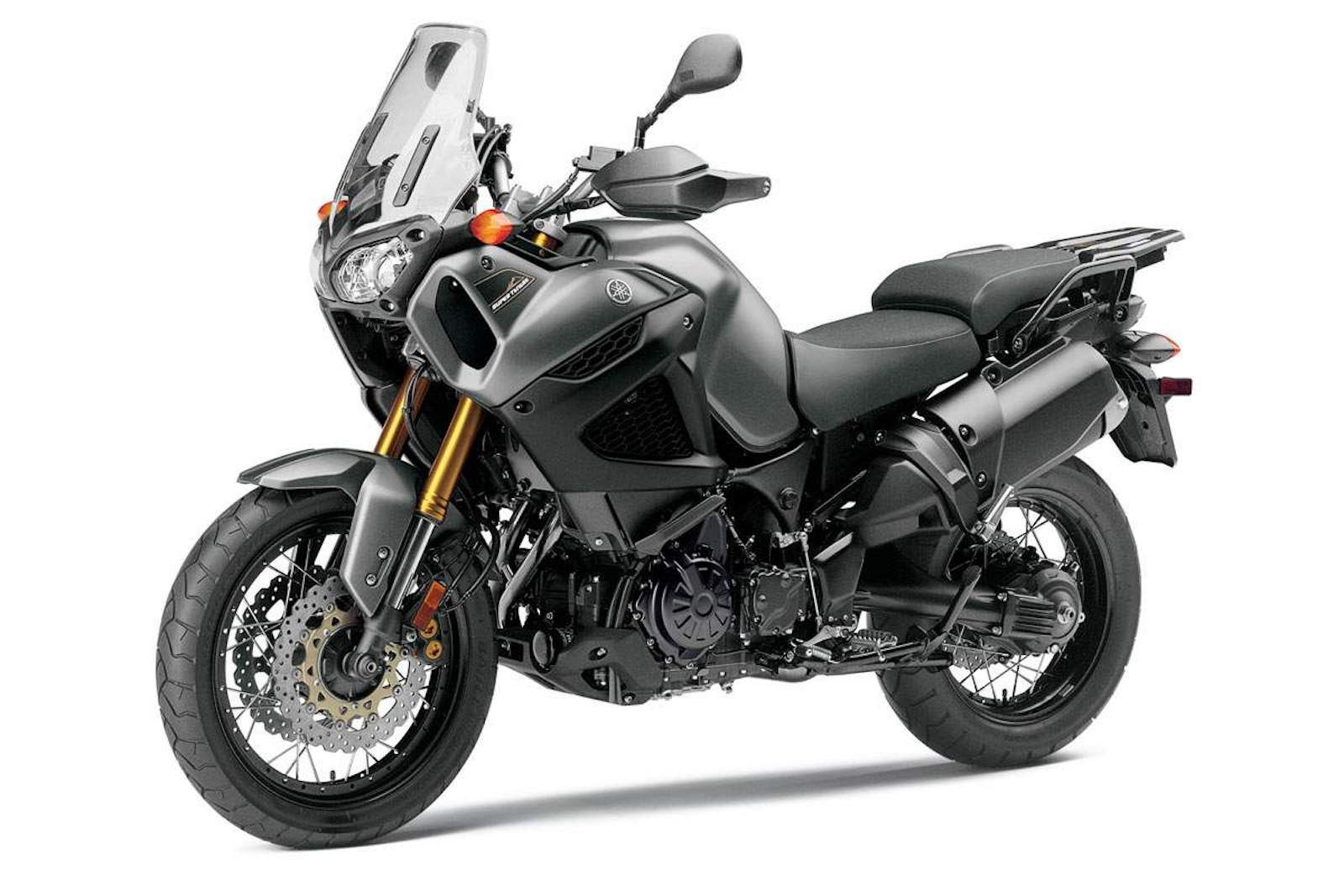 Yamaha Super tenere in black, front three quarter view
After Kawasaki and before the T7, Yamaha was also fairly laid-back about adventure bikes but the XT1200Z Super Tenere was a very good attempt at an adventure bike, only spoiled by too little ground clearance. However, it is an excellent adventure touring bike, the 1,199cc, 108 horsepower parallel twin engine being strong and muscular. It's well-equipped, with traction control ABS, cruise control and electronically adjustable suspension, a really comfortable seat, tall screen, hand guards and luggage attaching points, and it starts to make a good case for itself. If the bias is towards road riding, then at least its excellent in that role and, if adventure riding to you means long, fast journeys on-road to new places, then the Yamaha might just be the ideal choice.
| | |
| --- | --- |
| Engine | Parallel Twin |
| Power | 108 horsepower |
| Torque | 84 foot pounds |
| Weight | 575 pounds |
1
Avoid: KTM 390 Adventure
2020 – today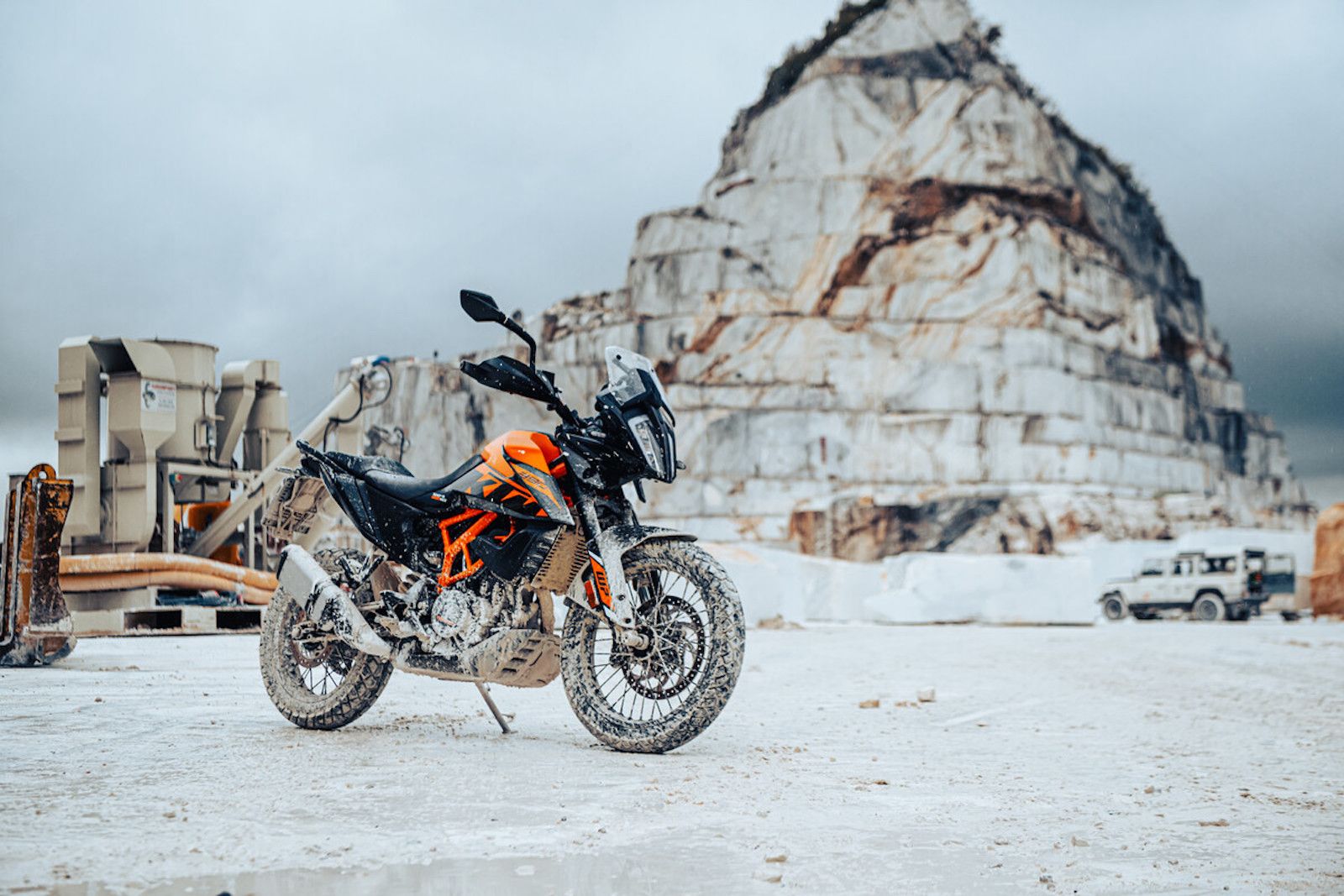 KTM 390 Adventure 
Again it seems a shame to relegate the 390 Adventure to the 'avoid' list, but there are reasons. Derived from the 390 Duke chassis and engine, there is too little ground clearance for it to be fully practical in any off-road situation: it will handle some off-road conditions, but not all. This is a shame, as the 44 horsepower single-cylinder engine gives punchy performance and can keep up with any traffic conditions, even on the highway and the small, light stature is perfect for throwing around off-road. It looks the part and is well-equipped, not to mention relatively cheap to buy new but long-term quality has often been a problem with KTMs, not to mention their slightly hooligan image not lending itself to be ridden with care, meaning you have to approach used examples with more care than usual.
| | |
| --- | --- |
| Engine | Single cylinder |
| Power | 44 horsepower |
| Torque | 27 foot pounds |
| Weight | 379 pounds |