A car parked under the sweltering summer sun becomes oppressive inside in a matter of minutes. In fact, temps can get lethally hot before you know it, which is why experts say no matter what you do, you should never leave humans or animals unattended in a car.
But there are some things you can do to make it a little easier to get in your car on a sweltering day. Parking in a shaded area, cracking your windows, and covering your front seats with a light-color towel are all free tips that can help slow the temperature increase inside your vehicle. We also tested a few cheap(ish) items that will get you in and driving sooner.
A sunray-blocking windshield shade
A1 210T Fabric Sunshade
This easy-to-install shade provides effective sun protection and fits a wide variety of windshields.
A windshield shade is one of the most effective ways to keep the temperature inside your car from skyrocketing, even if you're parked in the sun. We like the affordable A1 210T Fabric Sunshade because its metallic finish does a good job at redirecting the sun so that your dash, steering wheel, and front seats don't become oppressively hot to the touch. The shade's pop-up design makes it much easier to install than the accordion-style shades we tested, and it stows away just as easily into a circular carrying case that fits underneath your seat. And though it's usually difficult to recommend just one sunshade because vehicles vary in size, we like that the A1 shade offers enough sizing options to fit most windshields. If you want a customized shade (that's a lot more expensive), we like the WeatherTech SunShade from our list of road trip essentials.
Snazzy shades for passenger windows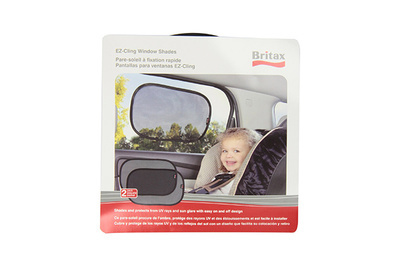 Sunshades for your car's passenger windows can keep the interior of the car cool when you're parked and help protect your passengers from sunrays while you're on the road. The Britax EZ-Cling Window Shade, made of transparent UV-blocking mesh, effectively blocks sunlight without reducing visibility. These shades, which come in packs of two, are similar to cling wrap and adhere to your windows easily without any wrinkles or bubbles. Just be sure to wipe your Britax shades with water before you install them to avoid waxy residue on your windows.
A spray bottle for spritzing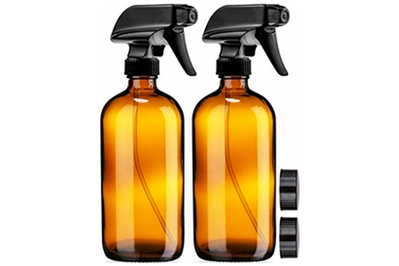 Metal seat-belt buckles, door handles, and leather steering wheels can become searing-hot safety hazards after hours baking in the sun. To avoid potential burns, use a misting spray bottle filled with water to cool down hot surfaces before handling them. We recommend using a glass bottle with a spray nozzle that has a misting setting, like Sally's Organics Amber Glass Spray Bottles. These bottles are more durable than plastic options that can warp and degrade in the heat. But they're also heavier to use, so younger kids might need help misting the backseat belt buckles. Store this leakproof bottle in a shaded area of your car, such as under the seat, to keep the bottle from becoming too hot to handle.
A mini fan to circulate air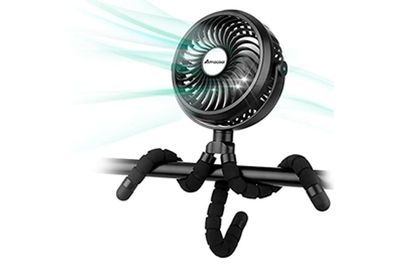 Amacool Flexible Clip-On Fan
This three-speed fan's twisty arms can easily be secured to the metal legs of a headrest so passengers in the backseat can stay cool before the AC kicks in.
A small electric fan can quickly cool down the interior of a hot car by encouraging air flow. The portable Amacool fan has three twisty arms that make it easy to secure to a headrest, and the fan's head can be adjusted both vertically and horizontally to send a breeze in any direction. With three speed options and a rechargeable battery, this affordable, tiny fan is a versatile summertime essential that can make a hot day a little more bearable.
Seat covers that promote airflow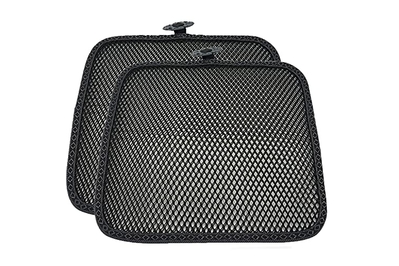 A breathable, mesh seat cover can protect the back of your legs from making direct contact with a hot leather seat. Made of lightweight mesh, the Carrotez car seat covers create space between your body and the seat, allowing for airflow that can quickly cool down your seat. These easy-to-install cushions, which are available in packs of two, also help prevent the sticky, uncomfortable sweat on your legs that often seems unavoidable in warm weather.
This article was edited by Alex Aciman and Catherine Kast.