Today, we dive headfirst into a riveting topic that combines sheer power with eye-watering price tags. Now, when you think of a pickup truck, you might imagine a trusty workhorse, a rugged companion that's always ready for hauling, towing, or rescuing your buddy's broken-down ride. But the vehicles that we are going to look at today are the unicorns of the truck world—the ones that make your jaw drop and your wallet cry.
Get ready to meet the automotive equivalent of a diamond-encrusted cowboy hat or a solid gold tow hitch. We'll cover all the bells and whistles, from mind-boggling performances to luxurious interiors that make the Queen's carriage look modest. So, tighten your seatbelts, hold onto your wallets, and let's dive into the mesmerizing world of the 10 most expensive pickup trucks in existence.
Prices and other information mentioned in this article have been sourced from the automakers and sites like MotorTrend and Edmunds.
RELATED: 10 Things That Make The Ford F-650 The Ultimate Super Truck
10
Ford Super Duty F-450 Limited
Price: $103,000
Ford F-450 Super Duty in its Natural Habitat
The Ford Super Duty is a lineup of heavy-duty pickup trucks produced by Ford since 1999. These trucks expand the Ford F-Series range from F-250 to F-600, with F-250 to F-450 as pickups and F-350 to F-600 as chassis cabs. The Ford Super Duty F-450 Limited is an imposing truck that demands attention wherever it goes. With its bold grille, muscular lines, and commanding presence, it stands out on the road as a symbol of power and capability.
Performance
| | |
| --- | --- |
| Engine | 6.7-liter Power Stroke V-8 Turbo Diesel |
| Power | 475 Horsepower |
| Towing Capacity | 24,200 lbs |
| Payload Capacity | 7,850 lbs |
Step inside the cabin, and you'll find a perfect combination of comfort and functionality. The F-450 Limited offers premium leather seats that provide exceptional comfort during your journeys. The attention to detail is evident, with high-quality finishes and luxurious accents that create an upscale environment.
Under the hood, this truck packs a punch with its turbocharged V8 diesel engine. The power and torque it produces are truly impressive, making light work of heavy loads and towing tasks. The F-450 Limited is designed to tackle demanding jobs and challenging terrains with ease, offering reliable performance for hardworking individuals.
9
Custom Ford F-650 SD
Price: $150,000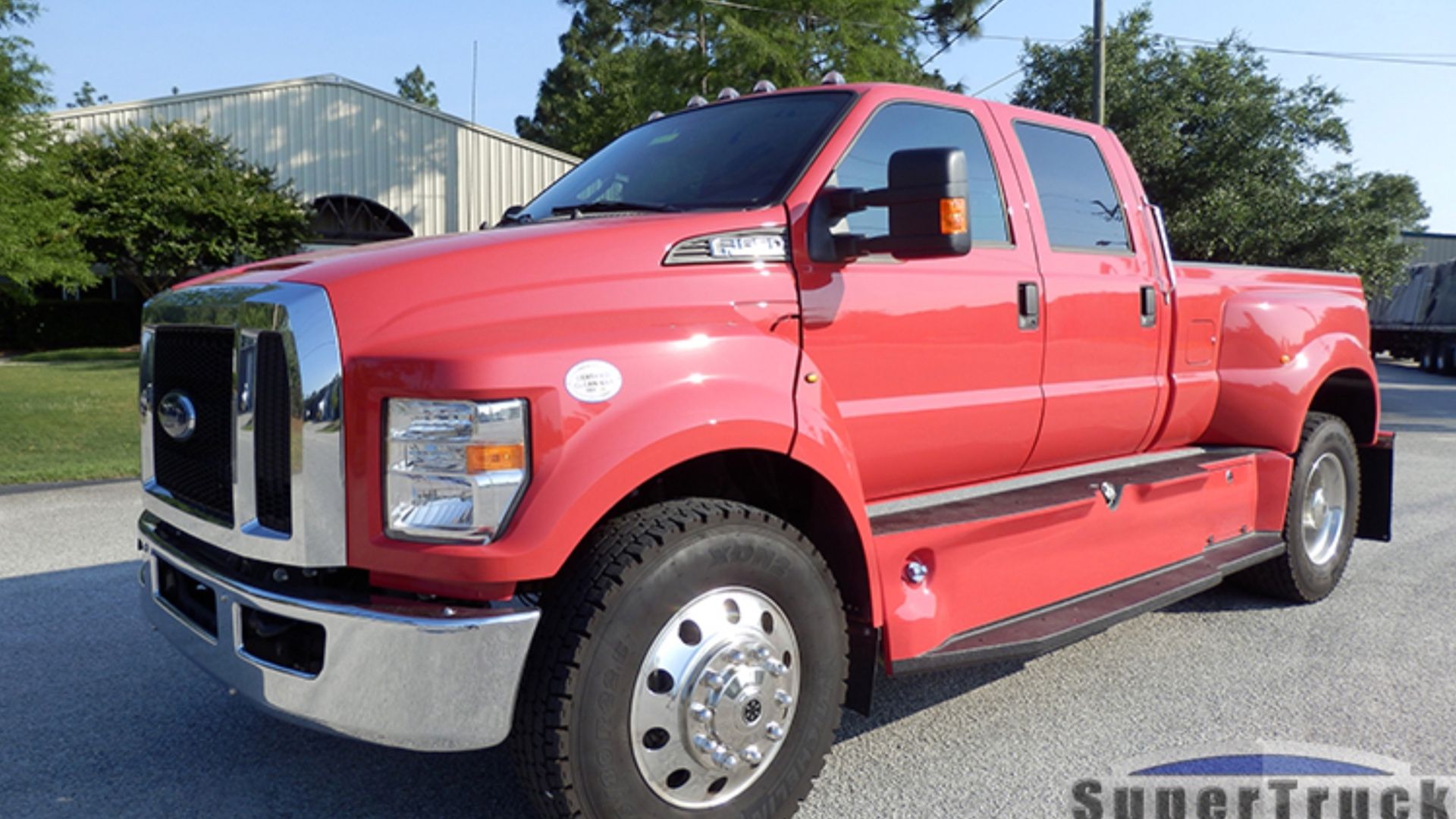 3/4 shot of Red 2016 Ford F-650 by Truck Customs
Released in 1999, the F-650 SD immediately made its presence known on the roads. With its massive stature, muscular lines, and a grille that could intimidate even the most fearless drivers, this truck demands attention. The F-650 is not your ordinary truck; it's a colossal titan roaming the highways.
But don't let its size intimidate you. The F-650 SD is not just a big brute; it's also a workhorse designed to handle heavy-duty tasks. With a robust chassis and a range of engine options, this truck means business. It's got the muscle to haul heavy loads, tow massive trailers, and take on the toughest jobs with ease. If you've got a job that requires serious grit, the F-650 SD is your go-to companion.
Performance
| | |
| --- | --- |
| Engine | 7.3-liter V-8 or 6.7-liter Power Stroke V8 Turbo Diesel |
| Power | 350 Horsepower |
| Towing Capacity | 14,000 lbs to 30,000 lbs |
| Payload Capacity | 8,000 lbs to over 20,000 lbs |
**The Ford F-650's towing and payload capacities highly depend on the truck's specific configuration and equipment.
But if that's not your cup of tea the F-650 can also be bought as a pickup. F650 Pickups specializes in customizing and distributing Ford F-650 super trucks and XUVs and for the price of $150,000 they will provide you with a pickup version.
Now, let's talk about the interior because comfort matters, even in a heavy-duty truck. Step inside the F-650 SD, and you'll find a surprisingly spacious cabin that feels more like a cozy den than a vehicle. The seats are plush and inviting, providing a comfortable spot to settle in during those long hauls. It's equipped with all the bells and whistles you'd expect from a modern truck. You'll find a touchscreen infotainment system, advanced safety features, and even some nifty gadgets that make your life easier, like a rearview camera and blind-spot monitoring.
8
Hummer H1 Alpha
Price: $215,000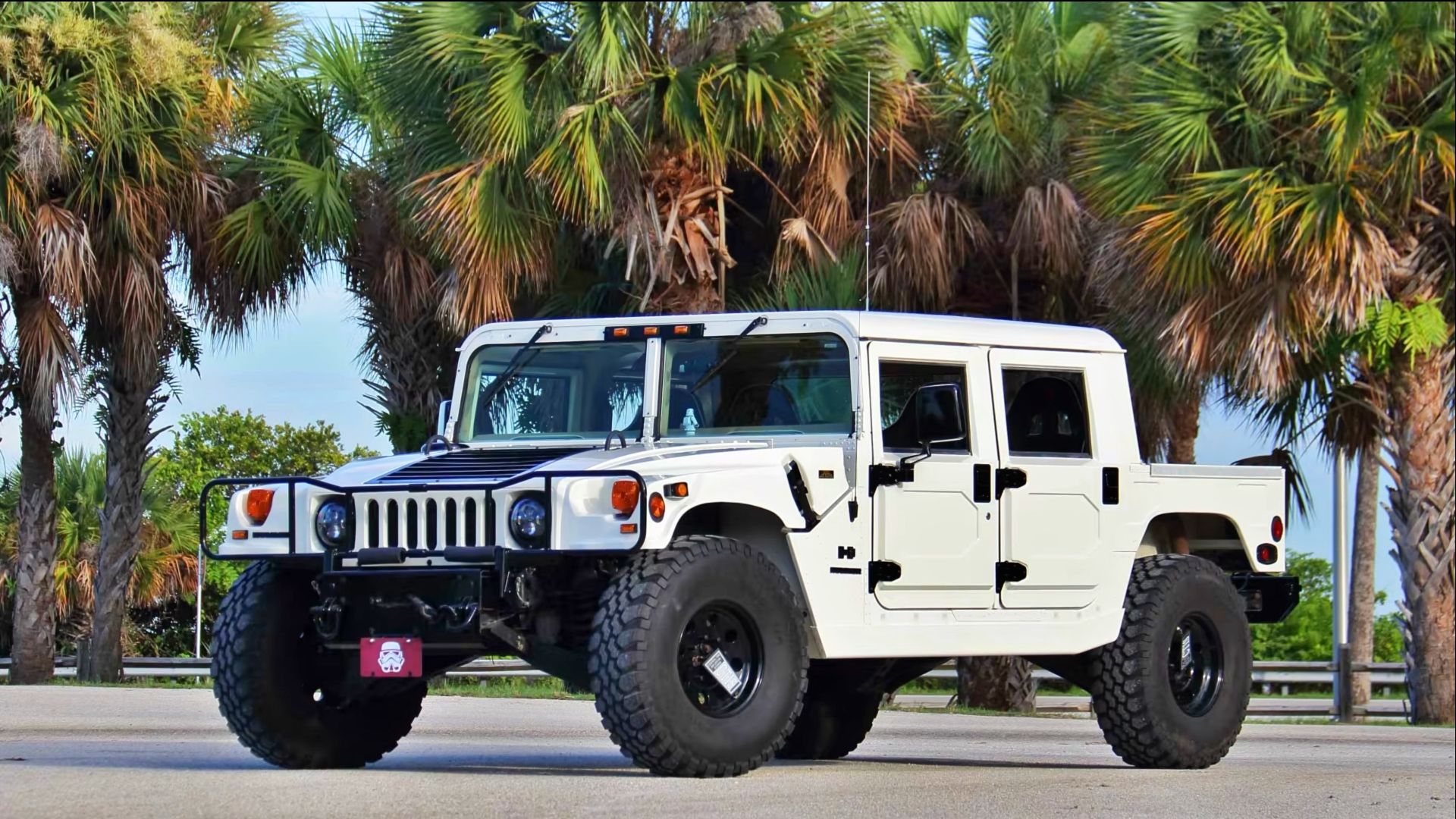 A front 3/4 shot of a 1994 AM General Hummer Pickup
The Hummer H1 Alpha, born in the late 1990s, was the civilian version of the military-grade High Mobility Multipurpose Wheeled Vehicle (HMMWV), also known as the Humvee. This rugged and imposing SUV was the brainchild of AM General, and it quickly gained a reputation as the ultimate off-road machine.
When the H1 Alpha made its grand entrance, it was a sight to behold. Its imposing presence, thanks to its sheer size and boxy design, made it look like it rolled right out of a military convoy. And it had the performance to back up its appearance.
Under the hood, the H1 Alpha boasted a mighty Duramax 6.6-liter V-8 turbo-diesel engine. This powerhouse delivered a whopping 300 horsepower and a jaw-dropping 520 lb-ft of torque. With that kind of brute force, conquering any terrain became a breeze for the H1 Alpha.
Performance
| | |
| --- | --- |
| Engine | 6.6-liter Duramax V-8 Turbo Diesel |
| Power | 300 Horsepower |
| Towing Capacity | 7,500 lbs |
| Payload Capacity | 2,700 lbs |
The H1 Alpha was equipped with a six-speed automatic transmission, giving you seamless gear shifts and control over this behemoth. And when it came to tackling the wild outdoors, it had an advanced four-wheel drive system, locking differentials, and a central tire inflation system that allowed you to adjust tire pressure on the go. It was a true off-roading champion.
But the H1 Alpha wasn't just about raw power. It also offered luxurious touches inside the cabin. Despite its utilitarian origins, it had leather seats, power windows, air conditioning, and even a premium sound system. You could enjoy the rough and tumble of the great outdoors while being cocooned in comfort.
RELATED: 15 Pickup Trucks With Best Towing Capacity In 2022
7
Mercedes-Benz Unimog U5023
Price: $225,000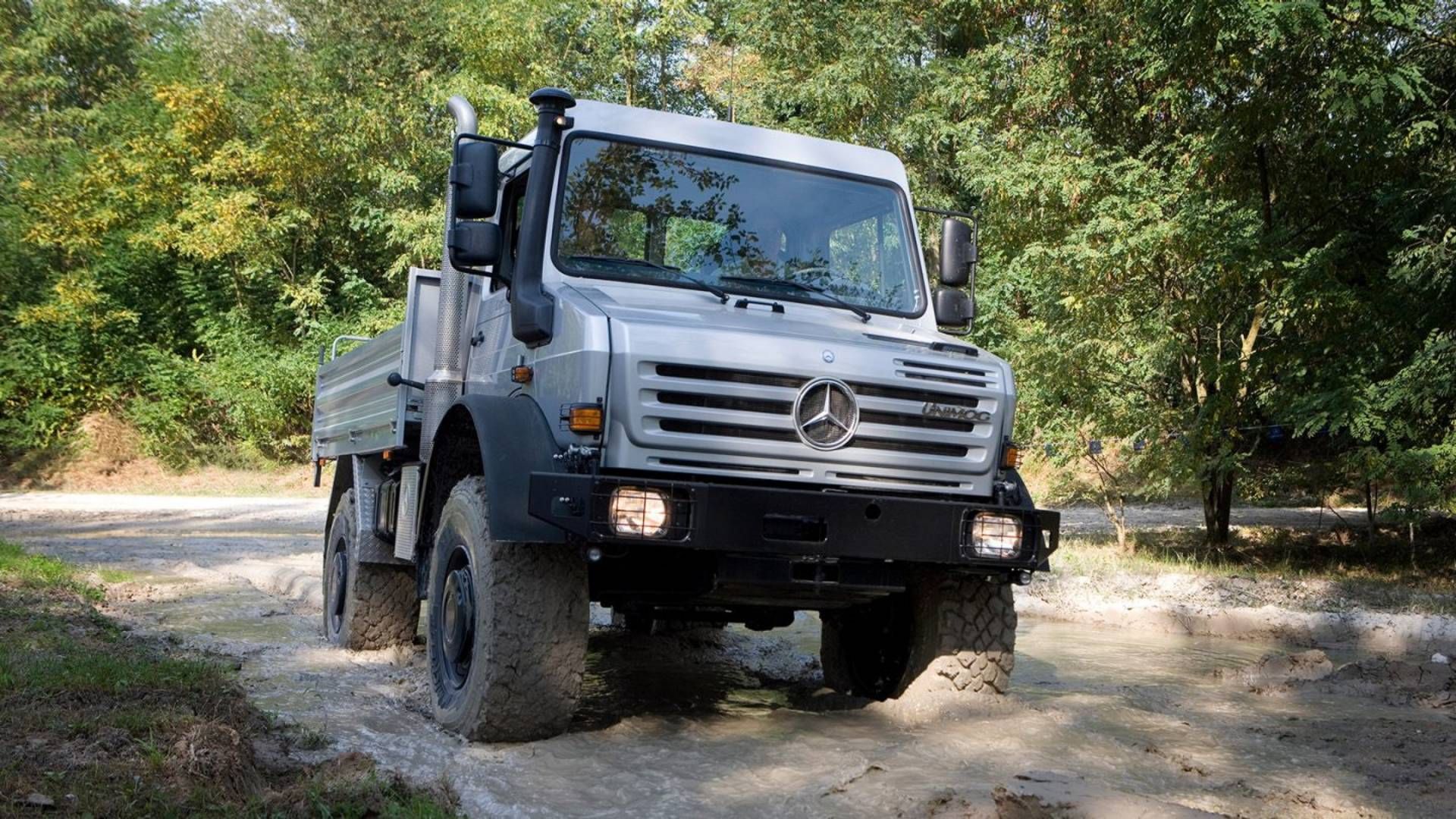 Front 3/4th View of Mercedes Unimog U 5000
The Unimog U5023 was introduced in the swinging sixties as a rugged workhorse from Mercedes-Benz. Its origins, however, can be traced back to the 1940s, when the first Unimog rolled off the production line. Combining elements of trucks and tractors, the Unimog U5023 stands tall and boasts an unconventional design that sets it apart from the crowd.
What makes the Unimog U5023 truly exceptional is its robust frame, massive wheels, and imposing presence. This beast is built to conquer any terrain. It's the go-anywhere, do-anything vehicle that seems to relish in the face of obstacles. Over the years, Mercedes-Benz has continuously improved the Unimog U5023, enhancing its off-road capabilities and overall performance. The vehicle's outstanding ground clearance enables it to tackle obstacles that would give other vehicles a run for their money.
Performance
| | |
| --- | --- |
| Engine | 5.1-liter inline-six diesel |
| Power | 231 Horsepower |
| Towing Capacity | 16,000 pounds |
| Payload Capacity | 15,400 lbs |
But there's more to the Unimog U5023 than its off-road prowess. Step inside, and you'll discover a surprisingly spacious and comfortable cabin. Mercedes-Benz understands the importance of a pleasant drive, even when conquering nature's hurdles. The ergonomically designed seats provide ample support, and the vehicle is equipped with modern technology to keep you connected and entertained throughout your adventures.
6
Lamborghini LM002
Price: $300,000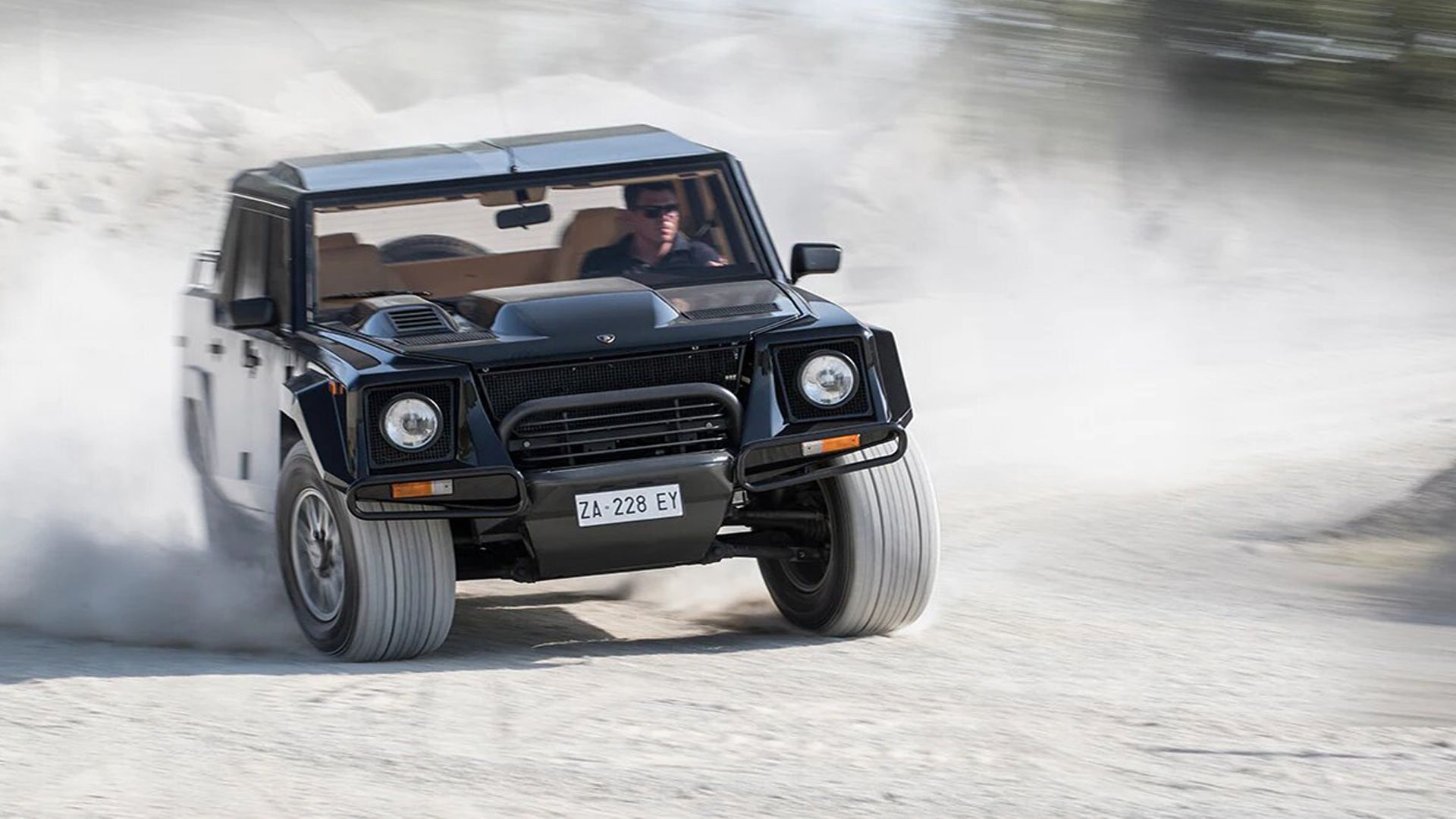 Front and side shot of a black Lamborghini LM002 driving off road
Back in the 1980s, Lamborghini, the renowned Italian automaker known for crafting jaw-dropping supercars, decided to venture into uncharted territory. They set their sights on creating a four-wheel-drive off-road vehicle that would make heads turn and jaws drop in awe. And thus, the Lamborghini LM002 was born.
It was a muscular beast that combined the ruggedness of a military vehicle with the luxurious flair of a high-end sports car. The LM002 was truly a sight to behold. It defied convention with its distinctive design, sporting a chiseled and boxy body that screamed power and dominance.
But what truly set the LM002 apart from its contemporaries was what lay beneath its hood. Instead of a tamed engine, this brute packed a V-12 powerhouse, borrowed from the iconic Lamborghini Countach.
Performance
| | |
| --- | --- |
| Engine | 5.2-liter V-12 |
| Power | 544 Horsepower |
| Towing Capacity | 7,000 lbs |
| Payload Capacity | 1,000 lbs |
But as with any bold endeavor, the LM002 had its fair share of hurdles to overcome. Unfortunately, the timing of its release coincided with an economic downturn, causing a slump in demand for such extravagant machines. As a result, Lamborghini only managed to produce a limited number of LM002s during its run.
5
Terradyne Armored Vehicles Gurkha
Price: $325,000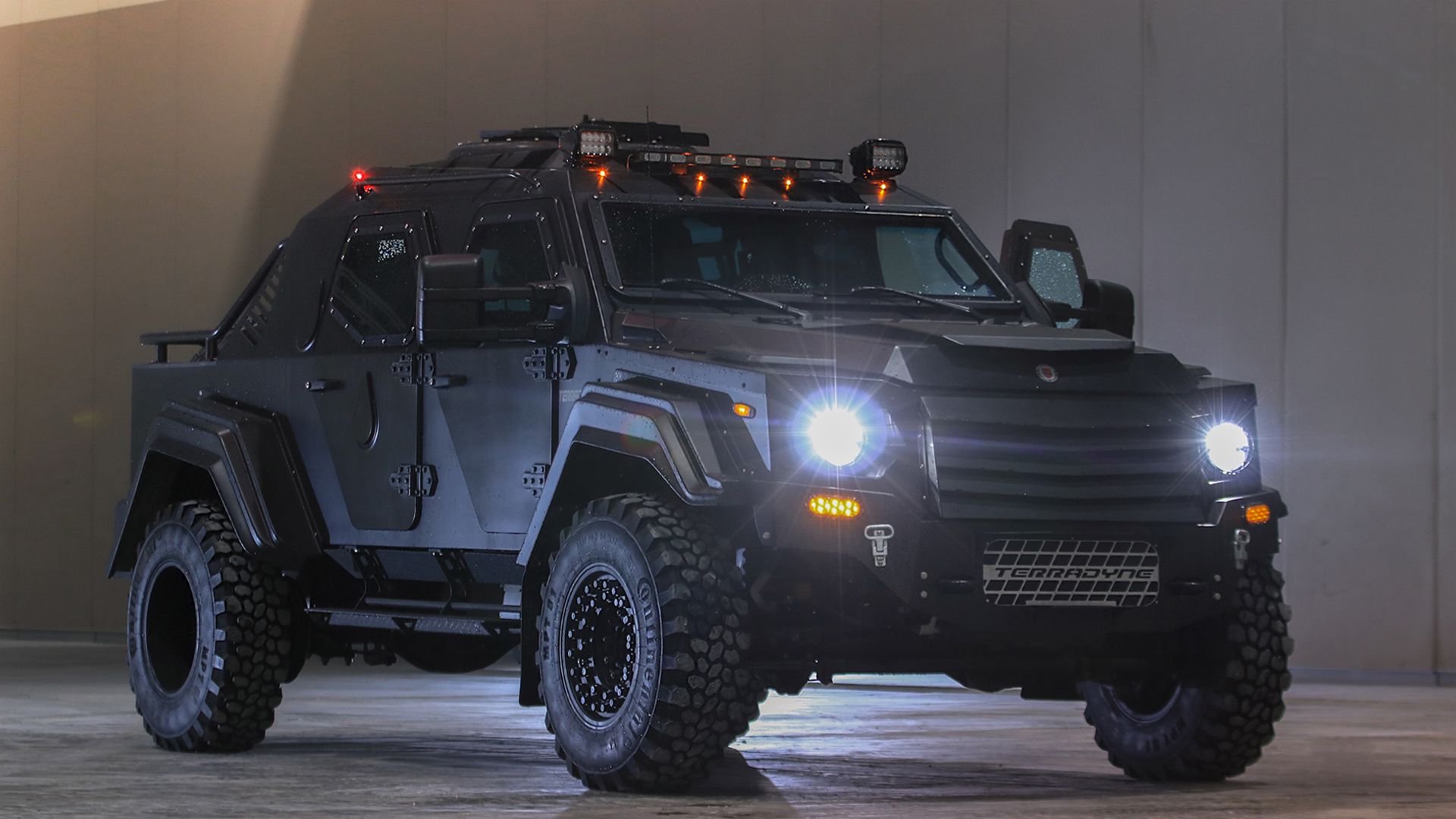 Front and side shot of a black Terradyne Armored Vehicles Gurkha parked indoors
The story of the Gurkha begins with Terradyne, a Canadian company renowned for its expertise in manufacturing military and tactical vehicles. They set out to create a vehicle that could withstand the toughest of challenges, conquer treacherous terrains, and provide unparalleled protection to its occupants. Thus, the Gurkha was born, bearing the name inspired by the legendary Nepalese warriors known for their bravery.
It was a time when the world needed a vehicle capable of tackling everything from intense combat situations to disaster response scenarios. With its origins firmly rooted in the realm of military engineering, the Gurkha emerged as the epitome of armored might, embodying strength, resilience, and sheer audacity.
Performance
| | |
| --- | --- |
| Engine | 6.7-liter V-10 |
| Power | 400 Horsepower |
| Towing Capacity | 10,000 lbs |
| Payload Capacity | 4,500 lbs |
The Gurkha was a visually striking behemoth, resembling a cross between a bank vault on wheels and a futuristic fortress. Sporting a sleek, angular body, it exudes an aura of power and authority. Its massive wheels are practically begging to conquer challenging landscapes, while the aggressive stance hints at its unyielding nature.
The Gurkha was purpose-built to withstand the harshest conditions, both on and off the road. Constructed with a reinforced steel body and bullet-resistant glass, it transforms into a fortress on wheels, impervious to all but the most formidable threats. You could say it's a true embodiment of the phrase "safety first."
RELATED: These 6×6 Trucks Dwarf Every Pickup Truck You've Ever Seen
4
Hennessey VelociRaptor 6×6
Price: $349,000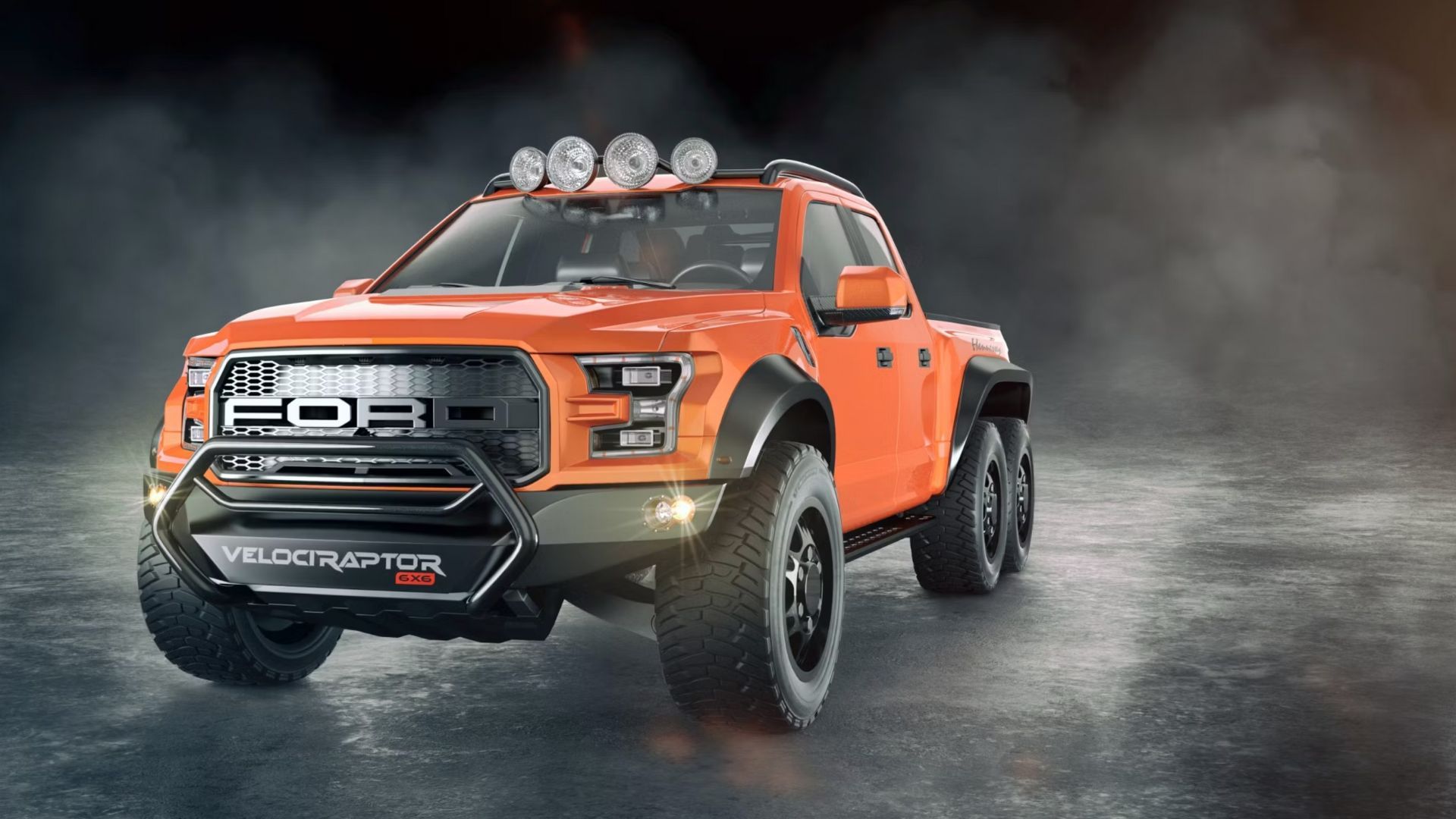 Make a statement with the ultimate off-road vehicle. The Hennessey VelociRaptor 6×6 is a force to be reckoned with.
The trend of 6×6 vehicles was kickstarted by Mercedes in 2013 when they introduced the G63 6×6. Since then, several companies have followed suit. The concept behind the 6×6 setup revolves around providing additional traction, improved payload capacity, and enhanced towing capabilities.
One prominent player in the 6×6 market is Hennessey, which has recently made significant strides in this realm. They offer the Mammoth 6×6 TRX, the Goliath 6×6 Silverado, and the VelociRaptor 6×6 F-150, all of which are creations from this Texan tuner. Hennessey's latest addition to their impressive lineup is the VelociRaptor 6×6, a remarkable six-wheeled super-truck based on the Ford F-150 Raptor R.
Performance
| | |
| --- | --- |
| Engine | 5.0-liter V-8 engine |
| Power | 700 Horsepower |
| Towing Capacity | 8,000 pounds |
| Payload Capacity | 1,200 pounds |
Unquestionably, the most notable feature of this build is the 6×6 configuration. To achieve this, Hennessey extended the frame of the F-150, creating enough space for an additional axle and set of tires. The factory rear axle was shifted rearward, while a custom axle and pass-through differential were added upfront. This pass-through differential enables rotational power to turn the ring gear and the driveshaft, which connects to the second rear differential.
To ensure stability and control, a lengthened leaf spring pack spans between the axles and is mounted on a bar positioned outside the frame rails. A four-link setup is employed to precisely locate each rear axle. Furthermore, upgraded Fox Racing shocks, similar to the ones found in the Raptor's stock setup, effectively manage the suspension system's rebound, offering enhanced performance.
3
Rezvani Hercules 6×6
Price: $395,000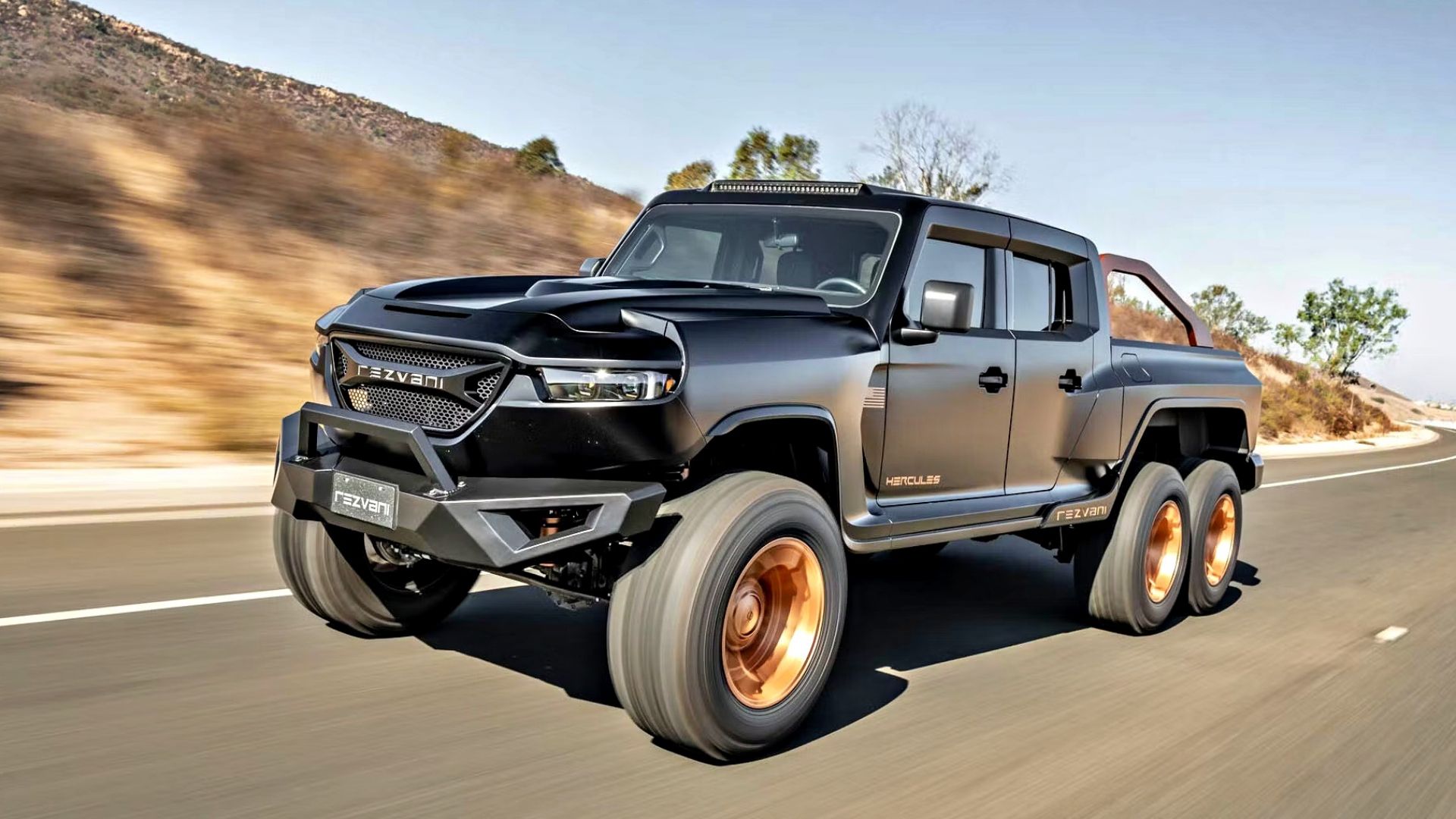 A front 3/4 action shot of a 2020 Rezvani Hercules 6×6
In 2014, California-based Rezvani Motors decided to make a splash in the automotive world. Known for their audacious and high-performance creations, they set out to push the boundaries even further. And thus, the seed of the Rezvani Hercules 6×6 was planted.
The folks at Rezvani Motors had a clear goal in mind: to create an unrivaled off-road vehicle that could conquer any terrain with style and brute force. They sought to design a machine that embodied power and ruggedness. Thus, the Hercules 6×6 was born, bringing a new level of adventure to the automotive world.
With its unorthodox six-wheel configuration, the Hercules 6×6 stands out from the crowd. This extraordinary setup provides unparalleled traction and off-road capabilities, allowing drivers to conquer the most challenging landscapes. Whether you're traversing sandy dunes, crawling over rocky terrains, or conquering muddy trails, the Hercules 6×6 is up to the task.
Performance
| | |
| --- | --- |
| Engine | 7.0L Supercharged V-8 |
| Power | 1,300 Horsepower |
| Towing Capacity | N/A |
| Payload Capacity | N/A |
The cabin of the Hercules 6×6 is a blend of luxury and ruggedness, creating a comfortable haven amidst the wild. High-quality materials, exquisite craftsmanship, and advanced technology come together to provide a premium driving experience.
2
International 7500 Crew
Price: $500,000
It all started back in the late 1990s when International Trucks, already riding high on the success of their 7000 series trucks, decided to up the ante. They set out to create a heavy-duty truck that could handle the toughest tasks while providing a comfortable space for the hardworking crew. Thus, the International 7500 crew came into existence.
The goal was clear: design a truck that exuded strength, power, and resilience. The engineers and designers took inspiration from nature, channeling the spirit of a charging rhinoceros. The result was a truck with a robust frame and a commanding presence that caught the attention of truck enthusiasts worldwide.
But it wasn't just about muscles. Inside the International 7500 crew, comfort was a top priority. The cabin was designed to feel like a home away from home, a place to relax and recharge during long hauls or demanding job sites. Plush seating, ergonomic controls, and thoughtful amenities turned the cabin into a sanctuary on wheels.
Performance
| | |
| --- | --- |
| Engine | A26 6.6-liter inline-six diesel engine |
| Power | 300 Horsepower |
| Towing Capacity | 40,000 lbs |
| Payload Capacity | 30,000 lbs |
Fast forward to the present, and the International 7500 crew has become a global sensation, trusted by industries such as construction, emergency services, and utility work. Its reputation as a reliable workhorse has been solidified through its exceptional performance in various challenging environments. A modified version of The 7500 can also be bought from a company called Super Truck. This specialized version of the truck looks like a traditional pickup with the added novelty of its gigantic size and six doors.
RELATED: 10 Biggest Pickup Trucks In The World
1
Mercedes-Benz G63 AMG 6×6
Price: $1.5 million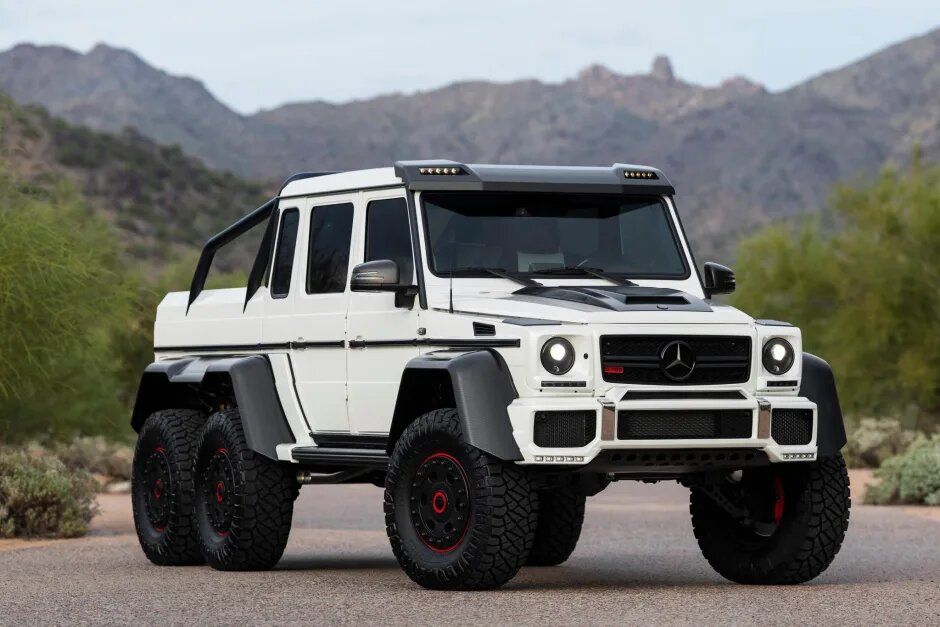 Front and side shot of a white 2014 Mercedes-Benz G63 amg 6×6 parked
The Mercedes-AMG G63 6×6 is a SUT derived from the iconic G Wagen and is an ultimate pickup truck that pushes the boundaries of conventional design. The Mercedes-Benz G63 AMG 6×6 combines a twin-turbo V-8 engine, 6×6 portal axles, a pickup body derived from the G-Class, and a luxurious interior, creating a unique and powerful off-road vehicle.
Standing tall and proud, it boasts six massive wheels, providing unparalleled off-road capabilities. Manufactured from 2013 to 2015 by Magna Steyr in Graz, Austria, it became the largest and second most expensive street-legal off-road vehicle at the time.
Performance
| | |
| --- | --- |
| Engine | 5.5-liter twin-turbocharged V-8 |
| Power | 536 Horsepower |
| Towing Capacity | 7500 pounds |
| Payload Capacity | 1,433 pounds |
Inside the G63 AMG 6×6, luxury and comfort reign supreme. The cabin is crafted with premium materials, exquisite craftsmanship, and modern amenities, making you feel like royalty seated on a throne.
When it comes to off-road prowess, the G63 AMG 6×6 is a true conqueror of the wilderness. With its six-wheel drive system, robust suspension, and monstrous ground clearance, it fearlessly tackles any terrain. From scaling rocky mountains to plowing through muddy swamps and conquering sandy dunes, this beast takes you where ordinary vehicles dare not tread.
Underneath its rugged exterior lies a heart of pure power. Equipped with a handcrafted 5.5-liter twin-turbocharged V8 engine, it unleashes a mind-boggling 536 horsepower and an immense 561 pound-feet of torque. Despite its weight and size, the G63 AMG 6×6 accelerates from 0 to 60 mph in approximately seven seconds, showcasing its formidable performance capabilities.